TheFork and Petal Search partner to boost restaurant reservations online in Europe
8 February 2021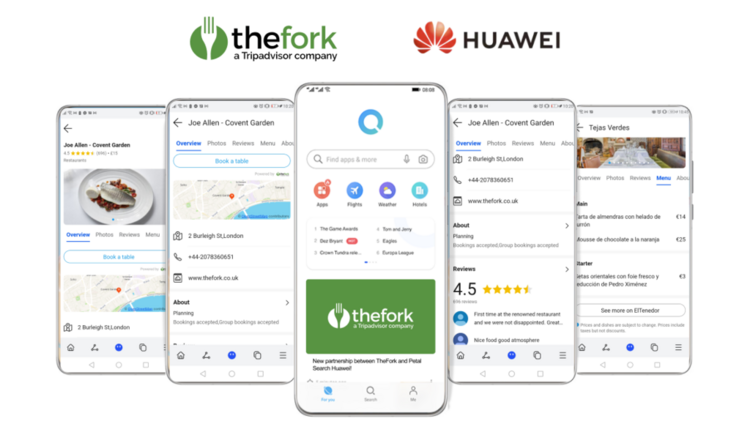 Petal search users can now easily reserve a table directly via TheFork. This partnership is a real opportunity for restaurants that allows them to increase their presence and online visibility towards the 700 million Petal search users.
TheFork, the leading restaurant booking platform, announced its partnership with Petal Search, the search engine preloaded on all new Huawei smartphones and available in AppGallery for the existing smartphones.
Through this partnership, TheFork will allow 700 milions of Petal search users to easily find directly in the search engine a restaurant from a selection of nearly 80 000 restaurants in 22 countries, check real time availability, book a table in just a few clicks and receive instant confirmation with or without special offers.
This collaboration will also increase, completely for free, the reach and visibility of restaurateurs, who can offer direct booking of their restaurant on TheFork through Petal Search, thus touching a new clientele and providing consumers with the most current, complete, and accurate information.
TheFork and Petal Search integration will go live in 15 countries where TheFork operates ( see below list) and will be available in the corresponding native languages. 
Argentina

Australia

Austria

Belgium 

Chile

Colombia

France

Germany

Italy

Mexico

Peru

Spain

Switzerland 

United Kingdom

Uruguay
This partnership is a great opportunity to boost online restaurant reservations in Europe and thus the digitization of the sector, especially at a time when restaurateurs need the support of diners more than ever. Thanks to this partnership, TheFork helps restaurants to extend their online presence and gives users another channel to discover and book the best restaurant experiences." Said Gary Burrows Country Manager TheFork in Australia.