5 menus of the day for building customer loyalty
02.18.2019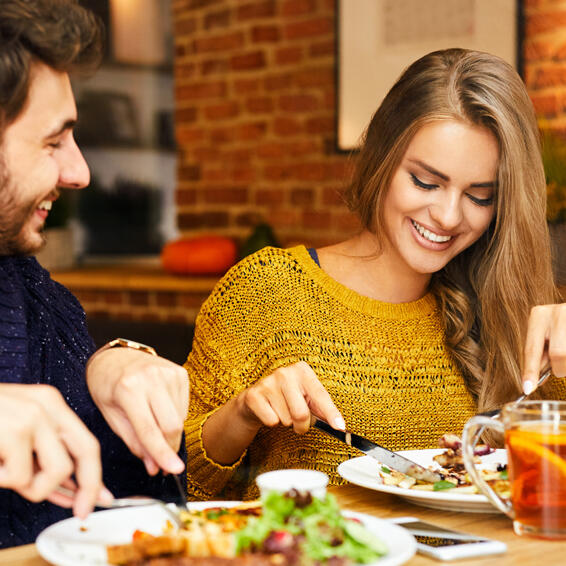 The menu of the day is one of the most utilized strategies for building client loyalty in the restaurant industry. It is a practical way to sell your most profitable products, make it easier for diners to make a decision, and ensure that your tables are full of diners who will want to come back again.
Your restaurant likely has a menu of the day. Now, does it make diners come back? Do you have repeat customers thanks to your menu of the day? In this post, we will show you some options for turning your menu of the day into a magnet for building client loyalty anytime of the year. We hope you can put them into practice!
But first...let's start with an important piece of information:
Determine your clients' preferences
If we want our customers to come back, we have to serve them food that they like. How do we find that out? By using TheFork's database, for instance. It is a tool that allows you to record your clients' consumption information and take advantage of it in order to offer personalised service. For instance, you can keep a continuous, month-long log of the dishes, beverages and desserts that your customers order and pinpoint the products that are repeatedly ordered.
By doing so, you can determine, if your customers consume more fish than red meat or if they love quinoa salads, if that feta cheese entree is frequently ordered, or if ice creams are the desserts that leave your kitchen the most. With this valuable list, you can now arrange your menus of the day based on your clients' tastes.
Fresh products menu
This would be a high-quality option for a menu of the day that is perfect for building loyalty among healthy food lovers, foodies, or clients with a great culinary palate. You can craft these menus based on the freshest products that your suppliers. deliver to you. In this case, the best thing is to have a kitchen team with the creativity and enough practical experience to assertively decide which dishes will be cooked with the available seasonal products.
The advantage of this option is that it allows you to have a varied culinary offering, provided that you know how to take advantage of these ingredients. It is also a menu that is highly valued by clients that follow the latest trends. If having it as a daily menu of the day is not very profitable for certain restaurants, then it can be done once a week together with a good promotion.
Very affordable menu
It entails setting up a menu of the day whose price is very affordable but equally interesting to clients. This options works very well for restaurants that are in very commercial and high-traffic areas, since it allows them to build loyalty among different types of clients.
Let's think about an Asian restaurant that launches a $15 menu of the day that consists of a noodle soup entrée, a main course of 6 rolls and a beverage.  How do you think customers would react? Definitely in a very positive manner, and even more so if they are customers who love this type of food and could consume it more often, customers who do not like to eat excessive amounts, customers with a tight budget, and even customers that are curious to try this specialty without incurring too much risk.
It is also a good idea to have this affordable menu as a complement to your full menu of the day.
Combined menu of the day
In this case, it would be a combination of the previous two examples, mixing fresh and high-quality products with lower-cost products, as well as prepared dishes together with simpler recipes. For instance, you could vary this menu three times per week instead of changing it daily or keeping it over long periods of time.
The key here is knowing how to combine these different product categories very well based on customers tastes. Therefore, this menu could include the following:
One entree with fresh products and two with lower-tier ingredients. One main course with sauces, oven-roasted or more refined recipes with two other dishes with simpler ingredients and more modest flavors. And two dessert options with one being the most-requested recipe by your customers and another delicious, more profitable option.
The goal is to create a menu with a wide range of tastes, preparations, textures and costs to satisfy different tastes, be profitable for the restaurant and be tailored to customers budgets.
Themed menu
It is becoming increasingly common to find International or world days that can be advantageous for winning over our clients. In this vein, we can create themed menus of the day based on what is celebrated globally, thereby letting us play with diners' curiosity.
In addition to Mother's Day or Valentine's Day, there are dates like World Chocolate Day, Vegetarian, Squid, Cheese or Apple Day. Do these days exist? Yes! and most important of all: diners are increasingly up to date thanks to all the related content that is shared on social media.
So, if your customers know that once a week they will find a themed menu of the day that will surprise them, their curiosity will bring them back. One example is United Nations Day, where they could find a menu of the day that is composed of recipes from many different cultures.
A menu customized by customers
Social media is the perfect universe for creating recipes together with your clients. By using contests, polls and surveys, you can make your followers choose from different kinds of dishes and ingredients and determine a menu for certain days.
This option also lets us play with the element of surprise, since customers will be hooked to your social media in order to find out the winning menu of the day, and they will want to try them every time. For example, it is the perfect activity for a restaurant specialising in hamburgers. It lets them vary the ingredients that make up their hamburgers based on diners virtual suggestions. This option forms a closer bond between the customers and the restaurant in a clear and emotional way.
Of course, we should advertise all these options to the greatest extent possible to ensure their effectiveness. Take advantage of the restaurant's blackboards, signs and menus along with social media, website, and profiles on specialised websites.
In the case of TheFork, our member restaurants can publish their special menus on their profiles, edit the information and advertise them with special discounts. You can also adjust the system to open up availability of reservations with the menu of the day during the seasons, in which they are needed the most.
Click here to give your menus of the day greater visibility with TheFork.