Desserts For a Restaurant Menu: 10 Ideas
Published 08.07.2019 - Last update 09.05.2023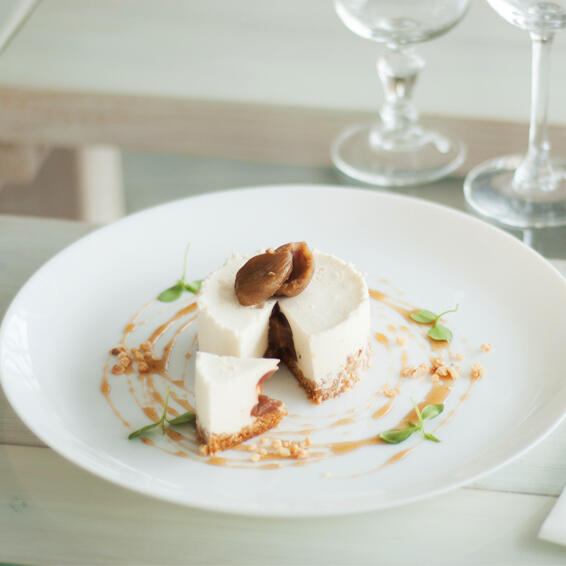 We love talking about desserts! These products captivate clients because they're so satisfying and enjoyable to eat. That's why including a delicious array of desserts always boosts a restaurant's reputation.
If your offers are also on-trend and take their cues from the most-shared recipes on social media, your sales strategy is already oriented for success. To give you an idea of where to start, the most popular desserts of 2019 are those that contain more natural ingredients, fewer chemicals, and less refined sugar, like fruit-based desserts, for example. Cake is the most in-demand type of dessert, and gluten-free and vegan versions are gaining ground.
In this article, we mixed up all these variables, put them in the oven, and prepared 10 dessert ideas to help you brighten up and sweeten your menu. You'll be licking your fingers!
1. Mixed berry mousse
A mousse is always a great dessert option, thanks to its texture and its simplicity. Especially now that artisanal food and authentic flavors are in vogue. Offer a mixed berry version of this creamy dessert for a delicious combination of sweet and tart. This is the perfect light option to offer clients after a hearty meal.
2. Mango and coconut soufflé
Continuing with the theme of fruits and creamy textures, here's an option using more exotic fruits. We suggest adding a classic French soufflé to your menu, and taking it to the next level with mango morsels and a coconut topping. These two fruits are very appealing to clients, thanks to their natural sweetness, delicate flavors, and distinctive textures, since mango is soft and coconut is both crunchier and creamier. Go ahead and surprise your clients with this dessert!
3. Homemade carrot cake
Carrot cake is one of the most popular cakes around these days. This home-style cake has been re-invented with a thick, sweet frosting made from cream cheese and nuts, and the use of whole cane sugar. Clients definitely prefer this cake when it highlights all the natural sweetness of the carrots, so that they can treat themselves without forsaking health entirely. Include it in your menu and add a personal touch, like a gluten-free version for patients with Celiac's disease.
4. Matcha cake
Matcha is still a leader in the health trend. It is commonly found in traditional Japanese mochi, as a filling, and as a base for cookies. As we mentioned earlier though, 2019 is the year of the cake, so serving a slice of matcha cake, with its striking green color, could be a great option for your menu. You'll be surprised at how popular it may prove to be.
5. Vegan chocolate cake
For environmentally-conscious clients, any vegan dessert is a plus. In this case, the most popular vegan cake is the chocolate cake, so offer one made with 70% cocoa or higher, for example, with raspberry jam filling, and watch your clients fall in love.
To create this version, you can use vegan cream and a mix of chickpea flour and water to replace the egg.
6. Praline and ganache cake
Pralines, which are almonds or hazelnuts mixed with caramelized sugar, and ganache, which is a mix of cream and chocolate morsels, are two other very fashionable desserts right now. Both make ideal fillings to complement a vanilla cake with some dried fruit, leaving everybody wanting more. It could become your most in-demand dessert.
7. Blondie with vanilla ice cream
We're pleased to introduce you to another popular dessert. Her name is Blondie! Actually, it's a brownie with less chocolate and more whole cane sugar, making it more "blonde" than the traditional version. It also has a much airier texture than the dense chocolate brownie, so it pairs well with a touch of liquor, like rum, or with a scoop of vanilla ice cream for contrasting sensations.
Your younger clients are sure to share their experiences on social media.
8. Re-invented cheesecake
Take the classic American cheesecake and add other ingredients to bring out the flavors. We recommend one of these 3 options: a lush coating of dulce de leche, which is made from caramelized condensed milk. Or try an oreo topping, as the classic chocolate-and-vanilla cookies are currently very on-trend in desserts, or passion fruit jam, whose tart notes are ideal for cheesecake. Any of these 3 options will spark your guests' curiosity. You can also offer a dessert option for sharing with friends, or for couples, at a higher price, that includes a smaller portion of each of the 3 cheesecakes. Your clients won't be able to resist!
9. XL lemon meringue pie
Meringue makes everyone's mouth water, and this recipe remains a popular crowd-pleaser. With that in mind, we suggest offering a version of the famous lemon pie and adding an extra-large meringue topping. This dessert is a guaranteed winner for your menu, and is sure to be a hit among all kinds of guests.
10. Tea and herbal tea ice cream
Swap traditional vanilla, chocolate, or strawberry ice creams for equally tasty but more modern flavors. For example, you could use a traditional green tea base, including matcha, or black tea with hints of cinnamon and orange. You can also stand out by serving rose sorbet, for example, made using rose water, or a mint-and-honey version. The idea is to be creative and experiment to create delicious ice cream flavors that respond to current trends.
Desserts make people happy, even if you're just looking at them and reading about them in an article like this one. We hope you enjoyed hearing from us, and that these dessert ideas may inspire you. And if you already have an amazing dessert menu, remember to promote it on TheFork. Thousands of clients are waiting to try them!
If your restaurant is already on TheFork... click here.