TheFork diners will boost your bookings during TheFork Festival
12 September 2022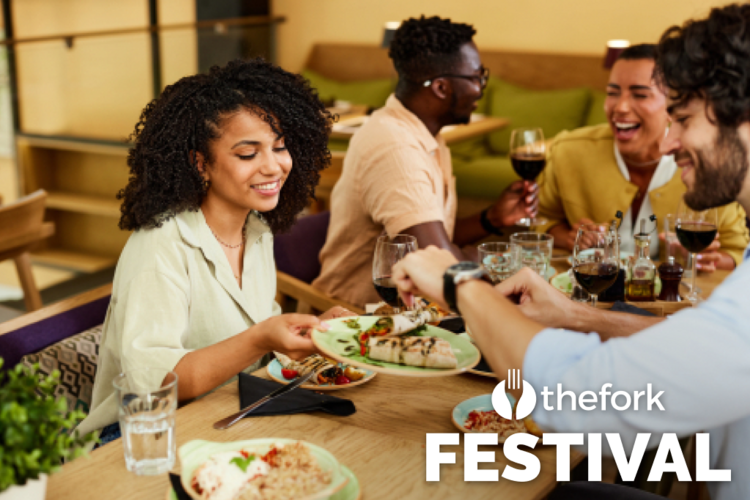 Boost your bookings by x4.3* times thanks to TheFork Festival!
Thanks to the high-visibility marketing, media and communications campaign, restaurants participating in TheFork Festival have the opportunity to increase their visibility and reach a new pool of potential diners. In fact, our restaurant partners affirm that the three most effective marketing levers to boost their bookings are special offers, online advertising and TV campaigns.
Why are special offers important to your restaurant? Restaurants participating in previous TheFork Festivals have experienced an impact of x3.3* on new customer acquisition.
Join TheFork Festival from 13 October to 13 November to grow your customers by x3.3* times!
This Spring, restaurants participating in TheFork Festival will have the opportunity to not only maximize their revenue but also acquire new, high-quality customers: TheFork users.
Maybe you're wondering why we are saying that our users are different from other diners. A recent study undertaken by TheFork revealed that TheFork users are higher value diners compared to non-users. And that's because…
🚀 TheFork diners eat out 2x more often vs the average customer
TheFork users are real food lovers. They're always seeking new restaurant experiences which makes it more probable that they find you within our app.
🤩 Are -15% less likely to no show vs customers who book via restaurant websites
Will help of TheFork tools to fight against no-shows like booking confirmation, reliability index and reconfirmation push notifications, our users are more likely to honour a booking, giving you the confidence you need to manage your restaurant.
🍽️ Spend +15% more when dining out vs the average customer
As TheFork users are really passionate about gastronomy, they are more willing to try and enjoy more dishes and end up spending more on the final bill.
Join TheFork Festival
Acquire new diners & boost your bookings
Why do all restaurants benefit from TheFork Festival?
Whether you are a restaurant in high demand or lower demand, TheFork Festival brings great success in growth and occupancy. How?
Restaurants in higher demand will be able to build customer loyalty and continue to grow their reputation. Participating in Festival will also help them to ensure all their tables are booked, as the campaign is an opportunity to reach new customers above their regular customers.
Restaurants currently in lower demand will have the perfect opportunity with TheFork Festival to showcase their restaurant and attract new diners, thanks to the huge media campaign that will boost their visibility on different channels. Thanks to the special offers, they'll also be able to attract new customers.
Did you know that when diners have the opportunity to dine with special offers, they are more inclined to discover new restaurants and book with those that they haven't tried before?
Discover more about TheFork Festival and join us for the Spring 2022 campaign!
* Internal study conducted by TheFork in all operating countries for restaurants that had a -50% special offer activated during TheFork Festival event (Oct. - Nov. 2021), ** Dinners Qualitative Study, developed by Ipsos, August 2022.