Keys to a good restaurant digital image
11.11.2018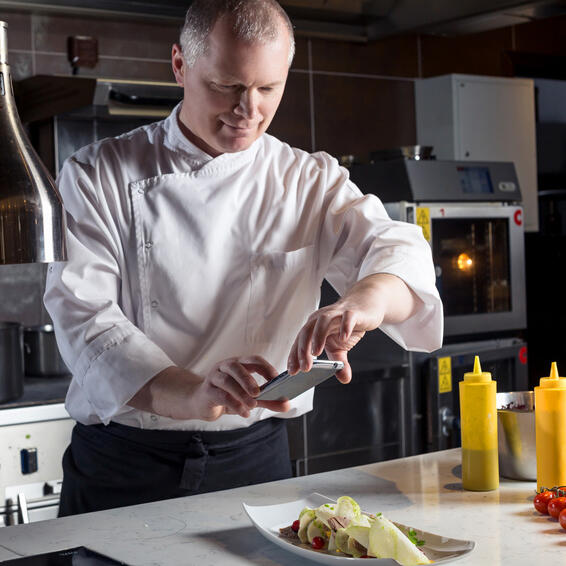 One of the most important areas to help you attract customers is your restaurant's digital image, whose purpose is to enchant customers through online strategies and ensure your tables are continuously booked. It is a complex process that covers everything that identifies your restaurant and its reputation in the digital world.
In this article, we summarise the essential steps you need to take to ensure you have the best brand image, so you can stand out in these very competitive times. If you are opening a restaurant, making changes to attract more customers or simply want to improve your business image, this information is for you:
The basic ingredient is authenticity
Make your brand image one that transmits your restaurant's true personality. Not only to differentiate yourself from the competition, but to deeply impact the customer, and become part of their lifestyle and daily life.
To do this, you need to take 3 steps:
Define your restaurant's essence and describe it simply, for example:
"a place where you can feel at home, we use our grandmothers' traditional recipes"
 or,
"a creative culinary space where you can discover new flavours and experience a different adventure each time you visit"
Define the restaurant's language, for example:

Casual, easy-going, friendly
Fun, playful, cheeky
Sophisticated, sober, elegant
What tone and style best describes your business?
Using other restaurant digital images as a reference, you can make a list of characteristics that do not identify your restaurant, this can help clarify what you want to transmit and make your digital communication work easier.
Remember to develop a strong story, one that is coherent and makes sense. This requires consistency in all your brand's elements: graphic designs, logo, images, videos, texts and interaction with users, influencers and digital media.
In the digital age, customers are no longer attracted through self-glorification. In fact, doing so is a mistake and its consequences are quickly noticed. Exaggerating your restaurants characteristics to get attention is no longer viable, today customers want to establish an emotional connection with the restaurant's personality and values.
Avoid phrases such as "we are the best" or "only in our restaurant can you…", and instead go for a simple and positive discourse such as "come and share…" or "we are proud to offer…".
√ An updated restaurant digital image
Any restaurant should currently cover three basic online visibility areas:
a complete profile on specialised platforms such as TheFork and TripAdvisor
a presence in social networks
a responsive website that works smoothly on mobiles
Continuously interacting with users is also essential. If your restaurant's potential customers are millennials for example, you should be very active on Instagram: post attractive stories and videos on Instagram TV. The good news is that restaurants and food guarantees loads of stories to tell!
What would happen if I stopped posting updated content regularly, even if I still had a digital presence? Customers would think you don't have anything interesting to offer them in real life either. The consequence? Empty tables.
√ Get good ratings and reviews
Yes, users love high scores because they generate trust when choosing the restaurant. So, if your customers are satisfied with your service, make sure they tell everyone about it, because that will increase your restaurant's brand image quality.
You can send your customers messages through TheFork after they leave your restaurant, and ask them to rate their experience and leave a review on our platform. If you have good ratings and excellent reviews, your brand reputation will spread like wildfire.
√ Ensure you have good online customer service
Another important part of the restaurant digital image is to properly communicate with customers who use digital channels. This is especially important on social networks and specialised platforms because anyone can read comments left by users and the replies they have received from the restaurant.
It is also ideal that your Facebook profile reads "Normally responds in a few minutes", as this shows that your response level to private messages is high. This also goes for any messages received by email: questions, queries, changes to the reservations, special requests, etc. Replying to both positive and negative opinions received on platforms such as TheFork and Tripadvisor is also recommended as this shows that the restaurant is interested in its customers' feedback.
In these times of information overload, continuous interaction and a plethora of tools, attracting customers is an art, so we encourage you to actively work on your restaurant's brand image, the results will speak for themselves. Remember that if your speciality is offering excellent service, your digital branding should transmit that to your customers.
To learn more about managing your restaurant's digital image, please click here to contact your local TheFork account manager