How to create a New Year's Eve menu and other New Year's ideas for restaurants
Published 12.20.2022 - Last update 12.21.2022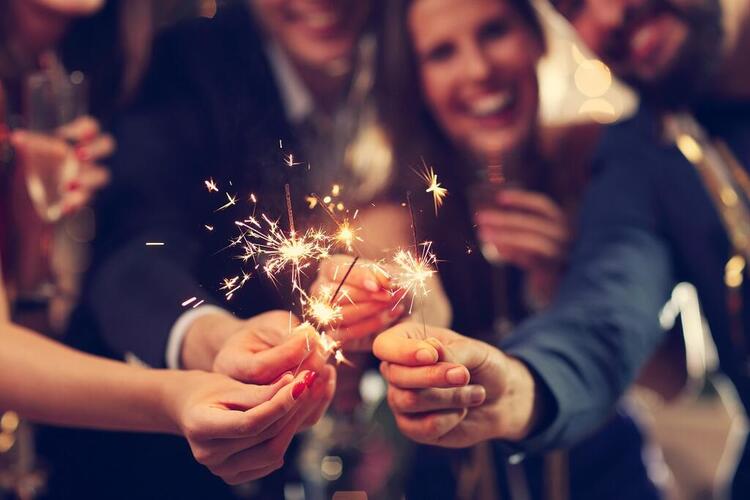 One of the most festive holidays of the year, New Year's eve is often an incredibly busy evening for many restaurants. Clearly, with customer expectations running high on the last celebration of the year, the pressure is on to please.  
Yet keep in mind that New Year's Eve is above all a wonderful opportunity to show your loyal customers your appreciation for their business and to remind them of why they love your restaurant. It's also a great way of attracting new diners looking for the perfect venue to celebrate. Whether you choose to organize a fairly low-key celebration or an over-the-top New Year's Eve dinner extravaganza, be sure to plan well ahead for the occasion (staff scheduling and logistics are especially critical). And above all be true to your unique style and talents.
Here are a few ideas to make your New Year's Eve event a memorable one for your customers and potentially create a new New Year's tradition!
🥟 Feed them a finger food feast 
Looking for a festive, fun New Year's menu? Bring on the finger food to keep people in high spirits through the wee hours and consider offering the option of an open bar. Try designing a New Year's Eve menu based exclusively or mostly on fantastic finger foods highlighting your chef's creativity,  or featuring favourite finger foods from around the world.  Create a mood of anticipation while people wonder what irresistible bite sized delicacies are coming next with your own signature versions of savoury filled puff pastry bites, dips galore, tartlets, crostini, brochettes, meat, fish, chicken or cheese balls, and dumplings galore! Note that according to Chinese tradition, dumplings will bring you wealth and prosperity all year long and are a traditional New Year's food.
🍽️ Wow them with a fancy menu
For New Year's Eve, some people are looking for a fancier, more extravagant dining experience and they are often ready to splurge to indulge in dishes they wouldn't necessarily order on an everyday evening. A premium New Year's menu could showcase dishes with more luxury or high-end ingredients such as salmon gravlax, yellowfin tuna tartare, wild-caught roasted sea scallops or shrimp with garlic and herb butter, dry-aged bone-in ribeye steak with truffle mashed potatoes, sweet and sour crispy whole roasted duck with chestnuts, or seared duck breasts with chutney (apple, pear or mango are all delicious), foie gras in its many forms-Torchon, seared, in sauces…caviar and of course Champagne!
Boost your business now
with our PRO version
🍹 Captivate with gorgeous cocktails and mocktails
If there is any time to serve great cocktails or mocktails it's New Year's Eve! For many people, the last evening of the year is a time for letting loose and splurging before setting out to stick to one's New Year's resolutions. Indulge your customers with dazzling cocktails and mocktails. Serve them in an array of beautiful glasses with standout garnishes. Think warm and spicy with cinnamon, allspice, cardamom, ginger, saffron, cumin and jalapeno or heady and herbal (sage, rosemary,  thyme, fennel….) or other wintery aromatics such as pine or bark. For colourful fruit-based cocktails think blood orange, clementines, pomegranate and cranberries.  
💃 Keep the energy going with fun & entertainment
If you have the space, hiring a DJ set and dance floor is a great way to kick-off the after dinner countdown. Why not host a dance class or a dance contest to keep people entertained? However even smaller restaurants can keep customers amused while waiting for the midnight hour. No room to dance? Consider hiring a musical duo or ensemble, a stand-up comic, magician, or cartoonist to keep clients entertained. You could also create a 2022-based trivial pursuit quiz with a free meal for two as a prize, rent a photo booth and provide picture props, organize a karaoke or livestream New Year's celebrations from around the world.
Don't forget to supply some fun accessories like glasses, hats, noise makers and party poppers. You could also host a themed evening such as the roaring twenties, casino royale, a masquerade ball, or tropical paradise vibe, to name just a few possibilities. The key is to advertise well in advance so people have the time to put together the perfect look for the evening and make sure that you have the appropriate playlist, decoration and accessories to fit the mood. 
🥞 Celebrate the start of the New Year with a brunch menu
Why not keep the festivities going and celebrate the start of the New Year with a special brunch menu? Many of your customers will have stayed up late partying; what better way to help them relax and enjoy the first meal of the Year than with a mouth-watering brunch featuring eggs in all sorts of ways (try eggs benedict with hollandaise, simple poached eggs with avocado toast, frittatas, egg wraps, omelettes and more…), along with an irresistible choice of breakfast baked goods such as muffins, scones and crumpets, sweet and savoury breads, pancakes, waffles, crepes and more!    
Whether you are celebrating New Year's Eve or New Year's day or both in your restaurant, be sure that you and your staff let customers know how very pleased you are that they have chosen to ring in the New Year in your company. Why not offer customers a small gift featuring your name and logo (a button, pen, postcard, notebook…) and the date as a souvenir. Don't forget to raise a glass to your guests, thanking them for their loyalty, and hoping to see them again throughout the year! 🎉