Key factors for the perfect restaurant service
03.21.2019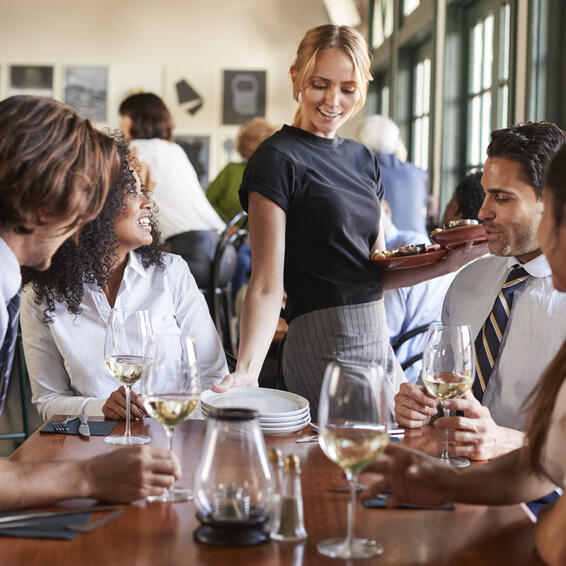 A perfect restaurant service is when the customer leaves the establishment completely satisfied. How often does this happen at your restaurant? The truth is that making our entire service run smoothly every day is a difficult—but not impossible—challenge. A supplier can fail to deliver one day and affect the briefing, and on a different day, a waiter can become sick or product can become damaged. However, the important thing is for customers to have a great experience in spite of unforeseen events.

.

Let's start with an initial exercise where you put yourself in your customer's shoes, which is something we suggest that you always do:
Enter your restaurant as if it were any other one and think about what would be your minimum service expectations and write them down. You would surely expect something like the following:
You would be greeted with a warm hello upon entering.
Quick service to seat you at a table.
An appropriate and convenient location.
The smell, temperature, music, and lighting of the establishment must be comfortable or at least not bothersome.
You quickly receive the menu.
The prices are accurate.
The waiter properly explains the food selection and helps you make a purchase decision.
The waiter gives you time to choose.
You have all the basic utensils without having to ask for them (napkins, silverware, bread, water, etc.).
Drinks are served to you in a timely manner.
They quickly take your order.
There is free Wi-Fi.
The food arrives on time, at the proper temperature, in the advertised portions, and is delicious and hearty.
Dishes are more or less brought at the same pace.
Restrooms are easily accessible, clean, and have all the amenities.
General hygiene conditions are also satisfactory.
Staff is always responsive to your needs.
You can finish your meal without feeling pressured.
The bill is brought to you on time and there are various payment options.
The farewell is equally cordial and without delays.
It is an exercise that lets you familiarize yourself with the most basic service characteristics that your restaurant offers and the measures needed to deliver them on a daily basis. With this starting point, you will have already made a lot of progress at your restaurant.


Second, it is ideal to define at least 3 more types of services so that you can be ready to satisfy different types of customers.
Service protocol for families with children:
- Have special chairs
- Have a menu that is tailored to them.
- The waiters must be extra patient and provide special treatment for these cases.
- Prioritize the children's food in the kitchen.
- Your kitchen should be flexible with changes to dishes.
Service for large groups:
- A waiter should be particularly attentive to their needs since there are more people than usual.
- Determine the leader of the group so that they can be served in a more orderly manner.
- Have shareable dishes.
- The kitchen should be ready to timely fulfill the order.
- Offer the option of splitting the check.
And do the same with other types of customers such as couples, millennial friends, birthdays, etc. Naturally, this will depend on your restaurant's characteristics, but it will always important to define the service steps according to each type of customer.

In a nutshell, the perfect restaurant service depends on the number of specifics that are taken into account and can be undertaken. Restaurants that establish protocols and follow them over the long term will definitely achieve the greatest success. We hope that this is the case with your restaurant as well.