New initiative to help save the restaurant industry
04.29.2020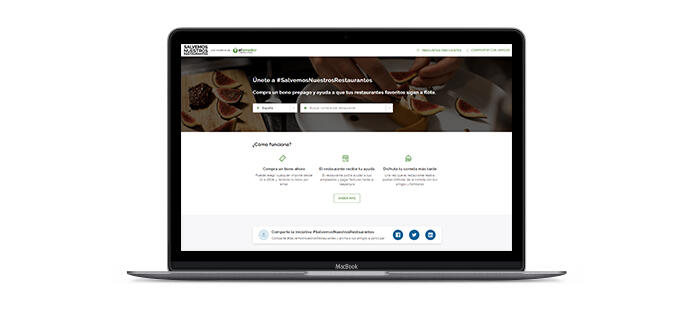 TheFork has introduced a new initiative to help support the restaurant industry with the launch of www.saveourrestaurants.com.au.
The new platform aims to provide immediate relief for restaurants currently facing enormous financial pressure due to the COVID-19 crisis. Through this website, diners can support their favourite restaurants, by purchasing a voucher to use when the restaurant later reopens.
How does the prepaid voucher work?
Users can search in one click for their favourite restaurants through the platform

www.saveourrestaurants.com.au

or directly on TheFork app and website
Once the restaurant has been selected, users are directed to a dedicated page where they can choose the amount and pay for the voucher
The amount will be directly credited to the restaurant, and the user will receive the voucher by email
An email will be sent to the user when the restaurant reopens, notifying them that they can make a reservation
TheFork is committed to supporting restaurants and helping the entire restaurant industry in these difficult times. All restaurants, whether they are currently using TheFork or not, can be listed on the platform and accept donations from generous supporters. We won't be charging any fees to restaurants to receive vouchers and proceeds from the voucher sale will be paid directly to the restaurant.
Along with the new SaveOurRestaurants.com.au platform, donating to a restaurant will also be accessible directly from TheFork app and website, where users can easily purchase a voucher on the restaurant's page.
"We know that restaurants are really suffering, revenue has stopped and hard-working teams have been stood down. We encourage all restaurants in Australia to register on the platform to accept prepaid vouchers. We'll then ask diners to dig deep and help our restaurants survive the crisis. We want to see the industry that we all love bounce back quickly when this is over," explains Gary Burrows, TheFork Australia Country Manager.
How can your restaurant join?
If you are using TheFork, login here
Inform your regular diners, friends and followers about the initiative by sharing your link via your restaurant's channels
When a diner purchases a prepaid voucher for your restaurant, you'll receive the voucher amount in your bank account after a few days, less any fees deducted by Stripe.
The new voucher initiative is one of the many ways TheFork is helping to ensure business continuity for our restaurant partners. Since having to cease taking restaurant reservations, we've also implemented a free search function on both the app and website. This enables diners to easily identify restaurants now offering takeaway, and call the restaurant directly off their listing to place their order.
TheFork Support Team is in full operation from home and continues to be available to restaurants at all times. If you're interested in receiving vouchers or being listed on the takeaway search, please contact TheFork on support@thefork.com.au.
Get your personal prepaid voucher link
If you are not using TheFork, you can register here
Share the link with your network
Receive the money directly in your account