15 ideas to open a successful restaurant
03.15.2019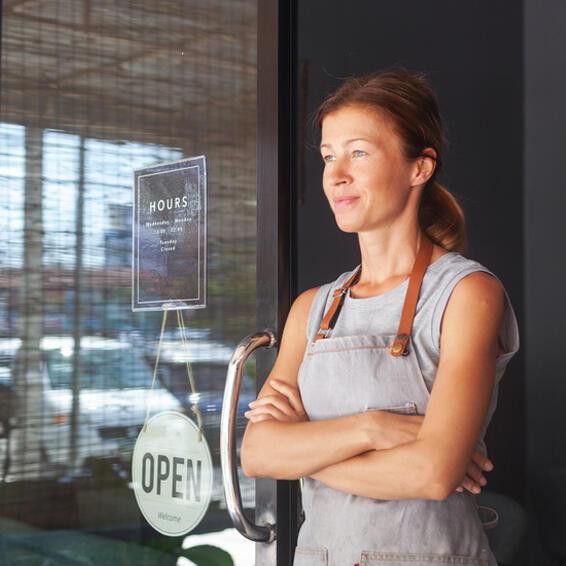 If you are beginning your journey in this industry and assuming the challenge of opening a restaurant, we congratulate you for joining the restaurant industry. Here are 15 ideas to help you get off to a smooth start:


Have a unique offering or signature dish that helps you stand out from the competition. You can opt to specialise as a hamburger restaurant, or a restaurant specialising in meat, or even seafood products. The important thing is to have something that distinguishes you and makes you special.

Accurately determine your potential clientele. Depending on the food that you wish to serve and the type of establishment, it is crucial to have a very clear idea of which customers you are interested in attracting and what they are like. You should create a detailed profile in terms of age, gender, purchasing power, culinary preferences, needs, lifestyle and life philosophy and generally tailor your actions toward this type of diner.

Take into account the preferences of potential clientele. It has always been said that the percentage of restaurants that achieve success upon opening their doors is not very high, and this could be due to the fact that they don't take into account their customers' needs. Nowadays, things are different. In order for a business to survive, it is essential to think about the customer and how to please them. What does your potential clientele seek when they eat out? A memorable experience, good value for the price, personalised customer service...it's important to have a clear understanding.

Select a strategic location based on the potential clientele. Restaurants should usually be able to receive different types of customers, with one of them being walk-in customers, which is why it is ideal to be in a crowded or high-traffic area. However, it will also depend on your potential clientele. For instance, if they are male executives between 25 to 35 years of age, the restaurant could be located in an area with modern offices.

Define a good business plan. Outlining a good road map from the start can help the restaurant achieve success more quickly. You should particularly consider these 3 variables for your business plan:
1 - Know the costs of having everything in order. We're talking about costs for permits and licenses to open a restaurant as well as security installations and hygiene. Some entrepreneurs underestimate the costs that these measures entail, which are essential when starting with your best foot forward.
2 - Accurately define the restaurant's actual capacity, i.e., how many diners could be served during each dinner service according to the size of the restaurant and thereby familiarize yourself with the productive capacity and ways to capitalize on those spaces.
3 - Set the right meal prices based on the cost of production, distribution, storage, etc. so that sales revenue can at least be twice these costs.

Hire staff who are passionate about gastronomy. Although this statement may seem obvious, many restaurants hire people that work only to make ends meet, to earn a wage, and who are not interested in the restaurant industry. To that end, it is worthwhile to have a rigorous selection process and hire people who are truly motivated to work at a restaurant.

Conduct a good analysis of the competition. The best way to stand out among so many restaurants is to familiarise yourself with their offerings, their behaviour toward diners, the strategies they employ, as well as their weak spots or shortcomings. In so doing, you can draw inspiration and get ideas on what works for them and avoid doing things that incur losses for them.

Create a marketing plan. It is crucial to have a plan with the different measures that will be taken to advertise your restaurant and to woo those first customers that you receive. In this respect, you can conduct operations such as welcome cocktails, special grand opening promotions, ads on Facebook or Instagram to promote it, and then map it all out on a chart and organize it by time frames, objectives, person in charge, etc.

Have profiles on various digital channels. Nowadays, it is essential to have a presence on various digital channels in order to consistently attract customers. What are the essentials? A profile on Google to appear in many users' search results, and another on TripAdvisor, the world's largest travel website, a profile on a website that specialises in the restaurant industry such as TheFork to gain visibility and receive reservations online, at least one profile on social networks such as Facebook or Instagram and, of course, a website that has all the restaurant's information.

Create a menu that sells. To do so, you can use some neuromarketing tricks such as placing products in strategic areas on the menu, using dish names and descriptions that make your customers' mouth water, placing succulent images of signature dishes, using colors that stimulate the appetite, etc. If you open your restaurant with a menu that is designed to sell, you will have a great advantage from the start.

Have technological tools. Writing down reservations on a paper book? Forget about it! Nowadays, there is a great variety of resources on the market that allows restaurants to manage their business as quickly and efficiently as possible. That is precisely our mission here at TheFork, to create tools so that restaurants, especially new ones, can have their tables filled most of the time.
This is the case with TheFork, we have software that allows you to manage various aspects on one single platform, such as reservations, customer databases, table occupation, etc. Click here to make it part of your business from day one.

Have products for special needs. Irrespective of your main offering, nowadays it is very important to factor in changes in consumption habits and make accommodations to the greatest extent possible. One example is the increase in celiac diners with food intolerances, as well as the proliferation of healthy eating as a lifestyle. For instance, having some gluten-free, vegetarian or lactose-free products can be a very good differentiating factor.

Use decoration that is more natural and in line with trends. Using organic materials in your decoration such as wood, stone, and bamboo helps your customers feel at home and makes them want to stay. Having an open kitchen where you showcase your food preparations is also very attractive and a magnet for acquiring customers nowadays.

Choose good suppliers. Another current trend is to have good suppliers that are local and guarantee fresher and more natural, locally-sourced products. This also helps to lower transportation costs and supports local businesses. If you have local suppliers, it will prove very strategic to disclose them to your customers since it is a highly-valued quality.

Take into account the restaurant's carbon footprint. People also greatly appreciate when a restaurant is aware of the environmental impact of their activities and takes action to reduce it from the start, such as using recyclable kitchenware, preventing waste production, adopting a recycling policy, etc. If your business will adopt this philosophy, don't forget to advertise it to your customers.