Top 5 ways activating TheFork PAY can benefit your restaurant
05.25.2023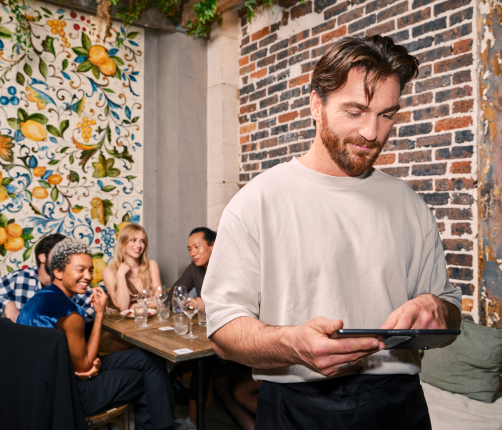 As a restaurant owner, you know the importance of good customer service. Good service leads to good reviews and there's nothing better than great reviews to attract new customers. So, chances are you're always looking for ways to offer the best possible customer service. You're also likely tired of long queues at checkout during peak hours and managing payments for large groups of customers. We've got some great news for you! TheFork PAY is here to save the day with hassle-free payments. The result? Happier customers and speedier service.
So, what exactly is TheFork PAY? It is a free solution that lets you focus on what you do best - serving delicious food and creating memorable experiences for your customers. Let's go over the top 5 ways activating TheFork PAY can help your restaurant. You'll see it's a no-brainer! Let's dive in and discover how TheFork PAY can make your life easier.
Accelerate the digitisation of your establishment and save money
In the highly competitive food and hospitality industry, keeping up with the latest technology can give your establishment a competitive edge. According to a 2022 survey, 71% of consumers say restaurant technology, both online and on-premise, improves their guest experience.
One of the most significant costs of running a restaurant is bank charges. By activating TheFork PAY, a digital payment solution, you can cut down on these costs and potentially save up to 1300€ per month. That's a substantial amount that can be redirected towards improving other areas of your establishment.
Not only does TheFork PAY help you save money, but it also offers a seamless and modern payment experience for your customers. No more fumbling with cash or waiting for card machines to process payments. With TheFork PAY, your customers can easily pay their bill with just a few taps on their phone.
Save time during services and create happier customers
As a restaurant owner or manager, you know that time is a precious commodity during peak hours. That's why TheFork PAY can be a game-changer for your business. By allowing your customers to pay quickly and easily via their phone, you can save up to 10 to 15 minutes per table. That may not seem like much, but it adds up over time and can make a significant difference in the flow of your operations.
But it's not just about saving time. TheFork PAY also offers a convenient solution for customers who want to split the bill. In the past, splitting the bill meant calculating the exact amount owed by each person and handling multiple payments. It was a cumbersome process that often resulted in arguments and frustration. With TheFork PAY, customers can split the bill in just one click, which means no more disputes over who owes what. This feature alone can make a big difference in the customer experience and leads to happier customers who are more likely to return and recommend your restaurant to others.
Benefit from free QR Codes and customisable pages
​Digital menus and payment solutions are becoming increasingly popular among diners. With TheFork PAY, you can offer your customers the convenience of paying via their phone with just a scan of a QR code. The best part? TheFork PAY offers free QR codes that you can customise with your restaurant image and colours. This not only adds a touch of personalisation to your establishment but also makes it easier for customers to identify your brand.
In addition to the free QR codes, TheFork PAY also allows you to customise your payment page. You can choose from a range of templates and add your own images and content to create a page that reflects your restaurant's style and personality. This customisation extends to your menus too, which can be translated into 10 different languages. This feature is particularly helpful for foreign customers who may struggle to understand the menu or payment process in a different language.
Welcome TheFork Gift Card holders and increase revenue
Did you know that TheFork Gift Card holders spend on average 53% more than the average customer? So, if you're looking to boost your restaurant's revenue, TheFork PAY has got you covered. By accepting TheFork Gift Cards, you can welcome a whole new group of customers who are likely to spend more than the average diner. That means activating TheFork PAY not only saves you money on bank charges but also brings in more revenue.
What's more, when customers use TheFork Gift Cards at your restaurant, 100% of the amount goes to your establishment. This means that every time someone uses a gift card to pay for their meal, you're getting paid in full. By accepting TheFork Gift Cards, you're not only providing a convenient payment solution for customers but also tapping into a lucrative source of revenue.
Generate more reviews and create a loyal customer base
In the age of social media and online reviews, having a strong online presence is critical for any business. With TheFork PAY, you can generate more reviews for your restaurant, which can help you build a loyal customer base and attract even more business. Almost 1 out of 2 payments made through QR code generate a review for your restaurant. This means that by digitising your payment process, you can leverage the power of customer reviews and build a strong online reputation that will help your restaurant thrive. Plus, by providing a seamless and modern payment experience, you'll be able to create a positive impression that will make your customers want to come back again and again.
 TheFork PAY is a hassle-free payment solution that can help you save time and money, and create happier customers. By activating TheFork PAY, you'll be able to accelerate the digitisation of your establishment, benefit from free QR codes and customisable pages, welcome TheFork Gift Card holders, generate more reviews, and create a loyal customer base. So what are you waiting for? Activate TheFork PAY today and take your restaurant to the next level!