Tips For Opening a Restaurant
Published 12.10.2021 - Last update 09.05.2023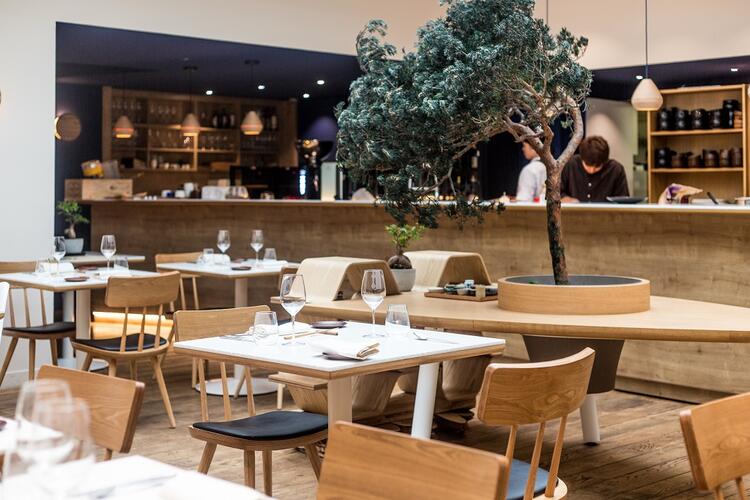 Your restaurant opening is the moment to share all your hard work and finally start welcoming diners. Feel confident opening your restaurant doors with an essential checklist and tips for opening a restaurant.
From events, to marketing, to planning, a restaurant opening can be a lot to think about and implement, so we wanted to share some tips on how to make it a success when opening your doors to diners for the very first time.
The Essential Restaurant Opening Checklist 📝
Steps to opening a restaurant can be done in different phases as all restaurants are different, but here are a few things to be sure you have crossed off your to-do list before the opening of a restaurant.
✔️Understand Your Food Production Requirements
Your restaurant can't function at its best without access to your key ingredients. Before the opening of a restaurant be sure to lock in food suppliers and vendors , and verify the availability of all ingredients and foods you will need in your inventory for an extended period of time.
✔️Equipment check - Temperature monitoring , Storage space, etc., 
Once you know your production load of foods and supplies, it is important to ensure you have not only the right equipment for preparing all meals but also adequate space to store all ingredients, foods, utensils, and any other restaurant stock.
✔️Notify vendors and suppliers 
Be sure to notify all your food suppliers and vendors of your opening date and planned hours of operation, so a delivery schedule can be made that will keep your restaurant stock always available.
✔️Onboard your staff  
Solidifying your restaurant staff is an important step as they will help smooth restaurant management and improve the experience for your diners to ensure they are satisfied and coming back. Ensure they are thoroughly trained and feel 100% comfortable with work procedures and communicating the values of your restaurants and dishes.
✔️Verify Permits and safety protocols
If you are already approaching your restaurant opening date, it is safe to assume all the technical things like permits, licenses, and insurance policies have been taken care of but it's always great practice to verify all documents and their validity before opening so you don't run into any problems that could later halt business. In addition, verifying your restaurant is inline with safety protocols for both diners and staff, as well as outlining safety operational guidelines is crucial. 
✔️Establish Payment Protocols
As your restaurant will be accepting payments from diners, be sure all POS systems have been set up and tested. Ensure that  your restaurant has in a place a  protocol for collecting, handling, storing, and depositing cash. Also be sure to take advantage of setting up digital mobile payment options like TheFork Pay, to offer diners an easier, quicker, mobile solution to pay their check.
✔️Set-up menus
In a new restaurant, menus are so important as diners will be discovering your cuisine for the first time. Ensure your menu is clear, has finalized pricing, and represents all your great recipes in the best and clearest way possible. In addition, be sure all digital or qr menus are live and available for access and viewing.
✔️Have everything documented
Pre-opening is the essential time to document everything! From restaurant training materials, to recipes and inventory information, to all operational procedures, you want to have everything written down for reference. 
✔️Do a Test 
Even before a soft opening which we discuss later in the article, you should run a test of just you and your staff. Have staff act as diners and go through the whole dining experience to be sure everything runs smooth. 
✔️List your restaurant 
Utilizing online reservation platforms like TheFork can really benefit new restaurants  by attracting diners, boosting visibility, and collecting diner reviews, so it can be a great thing to do ahead of your restaurant opening.
Once your restaurant is all set to welcome guests, it's time to plan your restaurant grand opening. 
How to plan a restaurant grand opening?
A restaurant  grand opening is the big debut of your restaurant to diners. You can have a big celebration event or just unveil your open sign and see what happens. Either route, below we have a few tips to plan a restaurant grand opening. 
While every restaurant opening will be different, the goal remains the same to inform diners you are ready to welcome them. Here are some ideas to help on how to plan a restaurant opening:
Have a menu tasting event so diners can have a taste of all your menu has to offer  
Partner with a local business to host the opening event 
Have a themed restaurant opening event 
Partner with and influencer to host an event 
Partner with a charity to host an event with a good cause 
Your restaurant's grand opening can be as unique, fun, luxurious, or creative as you imagine it to be, as long as it is memorable for your first guests so they want to dine with you again and spread the word about your restaurant. While planning the event and deciding how you want to welcome your diners is important, attracting diners is a crucial step. 
Restaurant opening announcement
Here is where your marketing skills come into play as you will have to get the word out to diners that you will be officially open! Restaurant opening advertisement is important and can even be included in your restaurant investment costs as you may want to run paid ads or promotions depending on the size of your personal network. 
Create a restaurant opening soon message or campaign 
Create messaging around your restaurant opening to share on social media channels, in a 360 marketing campaign, in print advertisements, and on any other channel that is relevant and available for your restaurant. In addition, you can offer promotions, giveaways, or contests to create buzz and excitement around your opening and attract more diner interest. 
Your restaurant opening message/communication can be presented in many format but should be sure to include:
Grand Opening date and hours 
Address of your restaurant 
Details about the grand opening if needed (guest capacity , event information, vendor information etc.,)
Also to give diners a better idea of your restaurant,  don't hesitate to include things like:
Restaurant visuals 
Cuisine Type 
Find more creative ways to spread the word before and after your grand opening by doing things like:
Encouraging diners attending your grand opening to come back by offering promotions they can use their next visit 
Print window posters sharing with people passing by you are now open
Share business cards or qr codes with local neighboring businesses 
What is a soft opening for a restaurant?
Another way to open your restaurant doors for the first time is with a soft opening. Some restaurateurs have both a soft opening and grand opening, while others just do one or neither. A soft opening is an unofficial restaurant opening day that allows you to test your dining experiences and menu offers on  diners, incorporate feedback, and make adjustments before the true restaurant opening. 
It is common for restaurateurs to extend their restaurant soft opening invitation only to friends, family, and other members of their personal network as opposed to diners from the public. This way in the case , the restaurant can not face negative implications or loss of diner interest if things don't go as smoothly as planned. The soft opening is a lot less pressure and a chance for restauranteurs to celebrate the opening of their restaurant with people important to them, making it a great and inspiring experience.

A restaurant opening is an exciting moment! Make the most of our tips for opening a restaurant and find more tips here on how  to improve your restaurant management, marketing, and more when your restaurant is fully open and welcoming diners!