We are sorry but your restaurant does not meet all the conditions to be published on TheFork
However, TheFork is a Tripadvisor company and we can help your business succeed bringing your restaurant more visibility and potential dinners. Tripadvisor offers solutions to boost the attractiveness and efficiency of your restaurant Tripadvisor page.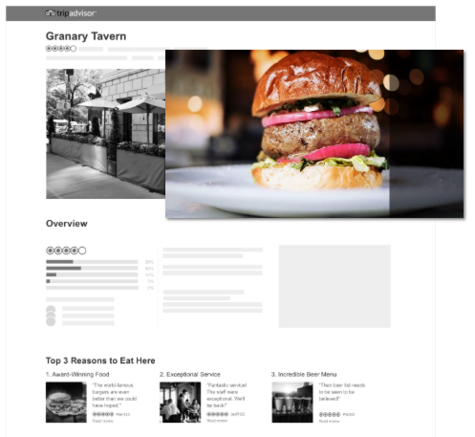 Tripadvisor Premium
Enhance your Tripadvisor page with powerful new features that showcase your restaurant at its very best:
Capture attention with a dynamic storyboard showcasing your "best of" photos and reviews.
Show the world why diners love you with top 3 reasons to eat here
Pin your Favorite Review in the #2 review space on your page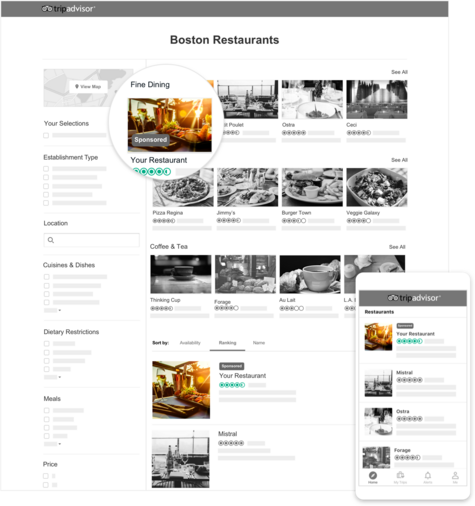 Tripadvisor Ads
Gain more visibility from potential customers with preferred placements on Tripadvisor and drive traffic straight to your listing:
Benefit from highly qualified traffic, travellers looking for a good restaurant near them.
No risk. Only pay for clicks that we send to your page. Cancel at any time, no commitment, no hidden fees
Get your restaurant listing above though exclusive sponsored placements to a targeted audience of diners searching for a place to eat in your area.
Tripadvisor isn't just the world's largest travel site. It's also one of the world's largest restaurant sites.
490 million average monthly visitors
50+ million restaurant reviews