Open your doors to the UK's largest community of food lovers with TheFork Festival
Published 01.09.2023 - Last update 09.22.2023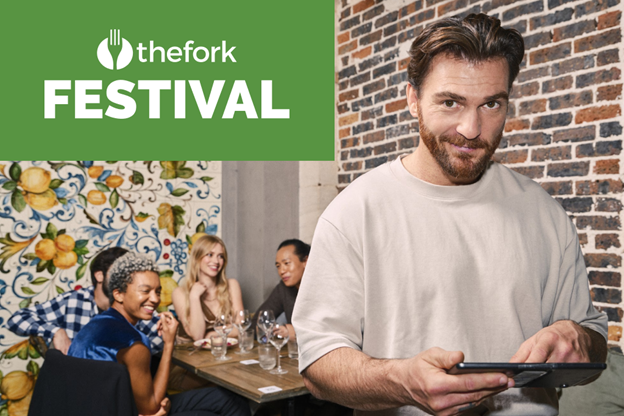 TheFork Festival is back and presents the perfect opportunity to make your restaurant known within a large community of restaurant lovers and attract new customers in London and across the UK. This event will also bring you the perfect opportunity to boost your visibility, increase your bookings and maximize your revenues! 
What is TheFork Festival? 
TheFork Festival is OUR BIGGEST DINING CAMPAIGN of the year and the perfect opportunity for restaurants to enhance their marketing and get in front of a vast audience of hungry diners. TheFork Festival will take place from 16th February until 2nd April, in which participating restaurants will offer discounts of 50% off. This encourages people to dine out, explore new restaurants and enjoy new dining experiences at the best price of the year.
TheFork platform benefits from huge increases in app and website traffic during TheFork Festival 
During TheFork Festival, there is a huge visibility boost for participating restaurants. TheFork platform gets an additional traffic increase of +1M users per week* so participating restaurants will benefit from enhanced visibility. As people will be encouraged to discover new places to dine out, this is the time to ensure your restaurant is under the spotlight and ready to attract new diners. TheFork Festival events have been running for years and we have seen a number of benefits for all restaurants that have been part of it. In fact, we know that: 
Restaurants that previously participated in TheFork Festival saw an increase of x2** Impact on bookings.
And not only that, participating in the TheFork Festival brings many more advantages to restaurants. By joining TheFork Festival, you can: 
🌟 Showcase your restaurant by boosting your restaurant visibility both online and offline thanks to TheFork's multichannel Marketing campaigns (email, TV, social media, Press, online advertising).
TheFork Festival banner (2022) - Tottenham Court Road, London
💞 Acquire new online diners and keep your loyal ones happy
💥 Boost your occupancy rate during these months when diners typically eat out less
📈 Increase your restaurant revenue 
Interested in joining TheFork festival? Click below for more information.
*Internal study conducted by TheFork - Awareness media Analysis  TheFork Festival Q2 2022 vs previous period - All operating countries
** Internal study conducted by TheFork in all operating countries for restaurants participating in TheFork Festival Q2 2022 vs pre-Festival period