Add Instagram to your restaurant's marketing strategy and entice your customers!
12.07.2015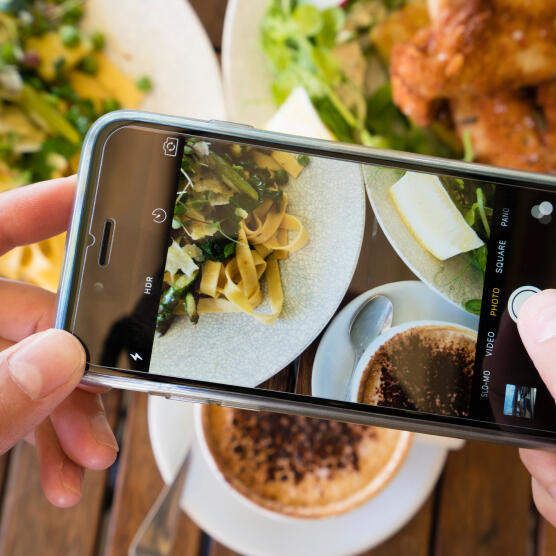 There is no doubt that food is one of life's true pleasures. One that speaks to our senses – taste, smell, and, of course, sight. This is key to any restaurant's marketing strategy, and even more sotoday when eating with your eyes is fast becoming the favorite new delicious pursuit. And what is the perfect place to satisfy this new urge?  Instagramof course.
People love to see photos of food and they love to take and share their own photos even more. According to Webstagram, there are more than 90 million photos with the hashtag #food currently. It's therefore unsurprising that those gaining the most from this platform is restaurants.
Take Carmel Winery for example, an Israeli restaurant that has created a concept called Foodography. In order to attract younger clientèle and moreinstagrammers, it presents its food using a special plate that allows diners to take professional quality photographs of their food, as well providing as a talk in food photography. The result? $400,000 in free promotion, giving it global media coverage and increasing its sales by 13 %. To learn more, take a look at this video.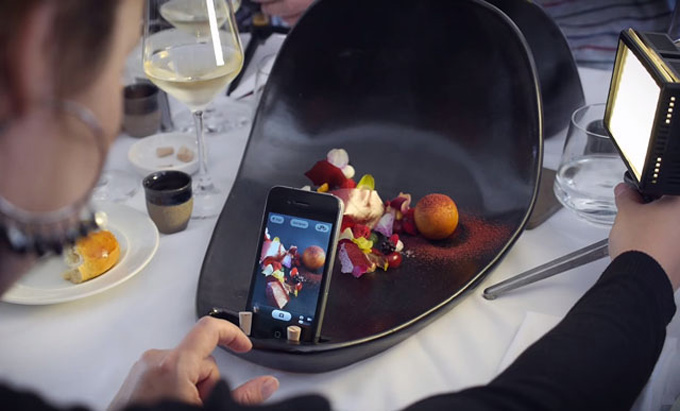 Carmel Winery
Dinner is served. Instagram should definitely form part of your restaurant's marketing campaign. To help you, we've put together some key advice to assist you in clarifying your objective on this social network.
What do customers look for on your Instagram page?
First and foremost, stimulation. As human beings, we want to stimulate our senses with fantastic photos of delicious food, just waiting to be tasted, that you showcase on your restaurant's Instagram page. It's therefore essential that the photos or videos you post are irresistible because this is what the customer will associate with your brand.
They also want to be inspired by your creations, to want them on their own plate, to have a go at being chefs themselves and creating new dishes at home, or even paying a visit to your restaurant to take their own photos, and then see what reaction they'll get on their own profiles.
Statistics show that taking a photo before tasting food makes it more apetizing, enhances your senses, and creates the ideal conditions  for eating it and, if the customer enjoys it, it's a great Instagram strategy that creates the perfect conditions to attract new diners to your restaurant.
What can you offer your customers through your Instagram page?
Firstly, you can offer them your primary product, food, served in full color. with art and creativity.
Secondly, you can offer them the promise of experiencing a moment of happiness in your restaurant with photos of your customers already enjoying your food and having a great time in your restaurant. And, of course, the possibility of them sharing their experiences in your restaurant using hashtags.
The third thing you can offer is a  personal bond. Videos and photos that show the hidden side of your restaurant make a huge difference. Open up and share your daily life, show how the magic is created and who it is created by, the great team spirit between the people that work for you, lending customers an insight into your life every time you post something. The objective? To create a community and reinforce your brand image.
You can also create offers and incentives to visit you through special promotions, events, competitions, and price discounts via Instagram. "Take your best photo, post it using this hashtag, and win a meal!" is the simplest example.
And of, course, you can offer them quality content. These are gifts that reflect the importance you attach to your users beyond the merely commercial aspect by sharing information, advice, tips, and recipes. Instagram's short videos are an ideal way to share a short story (for example, introducing a new creation) and generate interest.
What can Instagram offer to your restaurant's marketing campaign?
The most interesting thing about Instagram is that it allows you to promote your restaurant in a refreshing, dynamic, and spontaneous way. It's a platform with a mobile approach that allows you to develop strategies with immediate impact.
This constant movement also allows you to be more innovative and to test new ideas more easily on Instagram than other media. The fact that users can also take part in the community is an advantage because this allows you to promote your restaurant with very little investment from you.
Maybe attract a younger audience? Yes, even if this is already changing and evolving.
Show that you can predict trends
As with any marketing strategy, Instagram also has its rules. Such a wide scope of access can lead restaurants to abuse this and it is important to know the limit between offering relevant content and overwhelming users. The response is so quick that if you saturate people with photos and information, you'll quickly notice it. It's also even more important that your restaurant's Instagram acount is easy to follow.
As always, it's a question of common sense, having a good strategy, knowing your target market well, and having a clear idea of the message you want to convey; this is the key to success for your restaurant's marketing campaign on Instagram.
Is your restaurant #Instagrameable ?