Boost your restaurant occupancy with TheFork Festival!
Published 02.17.2022 - Last update 03.29.2022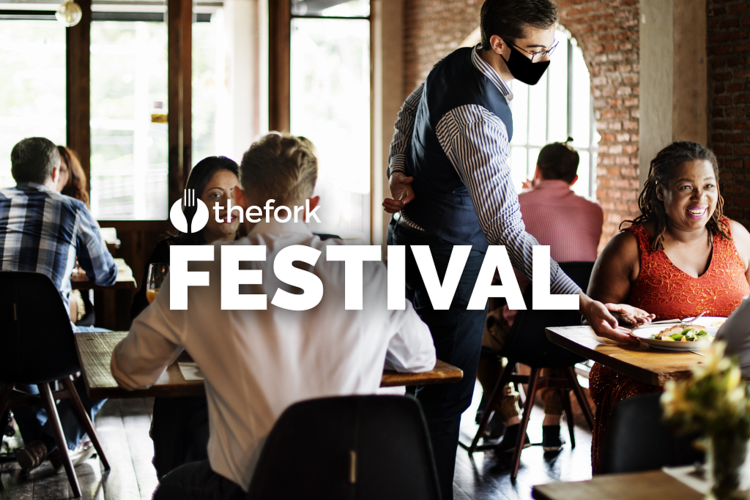 Diners anticipate all year the opportunity to dine out with restaurants participating in TheFork Festival. 
Be a part of TheFork Festival taking place between April 21st and June 05th to achieve maximum occupancy and a positive overflow of bookings!
Learn more about TheFork Festival
80%* of restaurants that set up a special offer see a growth in their bookings
As our goal at TheFork is to help restaurants receive booking numbers beyond what they ever have before, we host TheFork Festival to provide restaurants an impactful and highly visible opportunity to offer the best special offers easily to diners and boost occupancy to new heights. 
71%*** of restaurants that participated to 2021 Autumn Festival had already participated to former edition
Diners are highly motivated by great dining offers 
Based on a survey conducted by TheFork, we found restaurants that offered a discount of 50% saw an increase of 2.5x** average booking growth! 
Coupled with this data, we also heard from our restaurant partners and it was revealed they believe the most effective marketing levers to activate to fill in their empty tables would be:
DISCOUNTS 
ONLINE ADVERTISING
TV CAMPAIGNS
These three levers are the main driving forces around the TheFork Festival and how it in turn brings great success for restaurant's growth and occupancy.
Enroll in TheFork Festival
Boost your Occupancy!
Restaurants of all sizes can bet on TheFork Festival to increase occupancy  
Restaurants in higher demand can be sure not to have a dining time not booked as the anticipated high demand will be topped with an extra incentive for already eager diners, giving more opportunities to restaurants to build customer loyalty and a strong reputation. 
Restaurants currently in lower demand can utilize TheFork Festival as an opportunity to attract more diners with special offer incentives and build a strong customer base. In fact, when diners have the opportunity to dine with special offers they appear to be more inclined to book with low-demanded high value restaurants.
Keep your occupancy high after this winter by participating in TheFork Festival, and benefitting from both new diners and regulars, and receiving maximum bookings.
Join TheFork Festival today by activating the 50% special offer from April 21st to June 05th and benefit from an increase in bookings and maximum occupancy.

*Internal study conducted by TheFork  about restaurants who participated in special offers 06/21
** Internal study conducted by TheFork in Europe for restaurants that had a -50% special offer activated during TheFork Festival event (October 2021)
*** Internal study conducted by TheFork about restaurants who participated in 2021 TheFork Festival in Austria, Belgium, France, Germany,Italy, Netherlands, Portugal, Spain, Sweden, Switzerland and United Kingdom