Boost your visibility with TheFork Festival Toolkit
Published 03.23.2022 - Last update 03.23.2022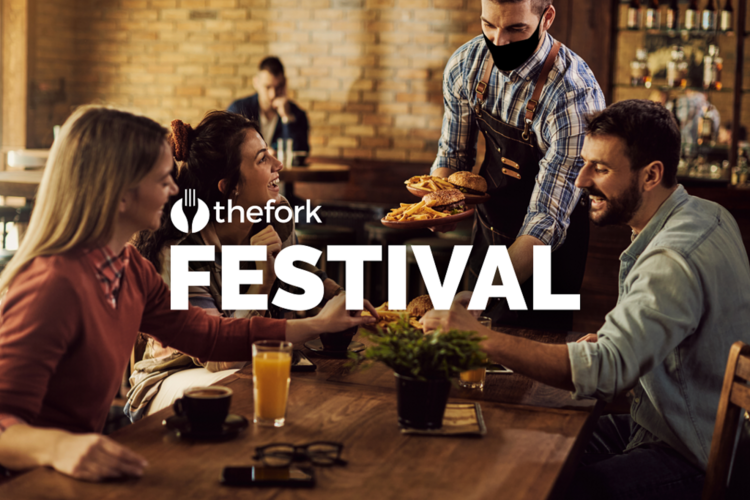 While participating in TheFork Festival can boost your occupancy and bookings, there is another benefit you can bet on; Increased restaurant visibility. 
TheFork Festival will begin April 21st to June 05th. and  is one of the BIGGEST events in the restaurant industry, where TheFork participating restaurants offer a 50% discount to attract more diners. 
DOWNLOAD YOUR TOOLKIT
This year we will be investing millions of euros to visibility and marketing campaigns for TheFork Festival to really propel participating restaurants and ensure we aid in filling your empty tables and increasing your restaurant exposure. Through this massive budget TheFork will be aiding to boost your restaurant page views and increase your visibility through levers like: 
Online/Offline campaigns
Social Media & TV
Lifestyle News Outlets
Diners love great booking deals, and while you can count on us to get the word out, it is still an important step and extra boost to let your diners know on your communication channels that your restaurant is taking part in TheFork Festival, one of the best deal offerings of fall.
Enroll in TheFork Festival
Boost your visibility & multiply your bookings
To support your communication strategy towards your diners, we have developed a TheFork Festival communication Toolkit for you with ready-to-use examples to promote your restaurant.
Feel free to follow this guide!
Social networks - Posts for Instagram
Below we have ready-made Instagram posts for your News Feed and Story, with suggested texts that you can use as is or adjust to your preferences. 
Publication
Text/Caption : Dear Diners, 
We are excited to share from April 21st to June 05th, you can dine with us with -50% for TheFork Festival and we are happy to welcome you with this offer!  
🍴  Reserve a table with us now on TheFork.fr!
Story 
Instagram stickers for stories
Spice up your Instagram stories a little by adding TheFork Festival-specific stickers, easy to add to photos or videos in a few simple steps: 
Choose a photo or video and add it as usual to your story.
Click on the square smiley icon (fourth icon at the top right of the story screen) to access the stickers
Use the search bar to locate stickers from our campaign, by doing a search for "TheFork Festival"
To add the sticker, click on it and drag it to the desired position to put the finishing touches on your photo or video.
Share your story in your News Feed as you normally do.
Your customers will not only be able to see your story, but will know that you will be offering the -50% off with TheFork Festival 
Restaurant Poster
Email/Newsletter example
Subject: Dine out with us with -50% off on TheFork!
Content: Spring is here and our restaurant [NAME OF RESTAURANT] is ready to welcome you with an offer you can't resist! 
From April 21st to June 05th, Book a table with us with -50% off on TheFork! Come enjoy delicious XXXX (restaurant cuisine style) cuisine with this great offer and book now!
We look forward to welcoming you to dine with us and enjoying -50% off!
Book a table with us now!
Regards,
The [NAME OF RESTAURANT] team
Take advantage of the opportunity to provide your diners a highly visible offer they will love!