Enhance your visibility with TheFork Festival toolkit
09.15.2022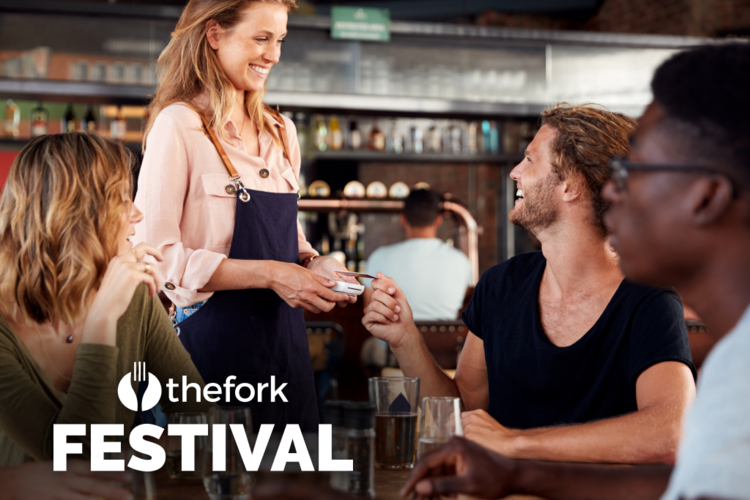 TheFork Festival will help you boost your restaurant not only by increasing your bookings but also by expanding your restaurant visibility. 
TheFork Festival will take place from 1st to 31st July and is one of your opportunities to boost your restaurant visibility. Restaurants participating will offer a 50% discount that will bring the attention of potential new diners and hence, increase your bookings and revenues. 
To help you boost your visibility without limits, we have created the Festival Toolkit with different materials that you can share to let everyone know that you are participating in this amazing campaign and encourage them to go out and enjoy time together in your restaurant. 
DOWNLOAD YOUR TOOLKIT
While participating in TheFork Festival, you will profit of high-visibility thanks to the marketing campaigns that will take place around this event. We want to help you boost your restaurant page views and social media channels through different channels.
We know that maybe this season might be a little bit quieter than normal and that's why is important to spread the word and let your diners know that you're taking part in TheFork Festival. Count on us to help you with this Festival Toolkit. 
Find out below all our ready-to-use materials created tailored-made for you! 
Enroll in TheFork Festival
Acquire new diners & boost your bookings
Social networks - Posts for Instagram
Instagram is one of the most important social media channels that will help you attract more diners to your restaurant. Check below our ready-made Instagram posts for your News Feed and Story, with suggested texts that you can use as is, or adjust to your preferences. 
Text/Caption:  
We're at TheFork Festival! 🎉
Dining with us and getting 50% off? 😮 For sure! From 1st to 31st July, you can pay half of your bill when you book with us through TheFork! Do not relax because spaces are limited! #TheForkFestival
Email/Newsletter example
Email marketing is the perfect way to keep in touch with your diners and let them know your latest news. This time, let them know that you're participating in TheFork Festival and that you have an offer that they won't resist. 
Subject: Dine out with us, pay 50% off on TheFork!
Content:
[Name of restaurant] is taking part in TheFork Festival! 
Dining out and getting your crew together, we bet is something you don't want to miss! From 1st to 31st July, you can get 50% your food bill when you book a table with us on TheFork.
Save the date, download TheFork app and book a table before they book out!
Can't wait to see you! 
The [NAME OF RESTAURANT] team
Get ready to let diners know about your irresistible restaurant offer!