Maximize your bookings with TheFork Summer!
06.22.2022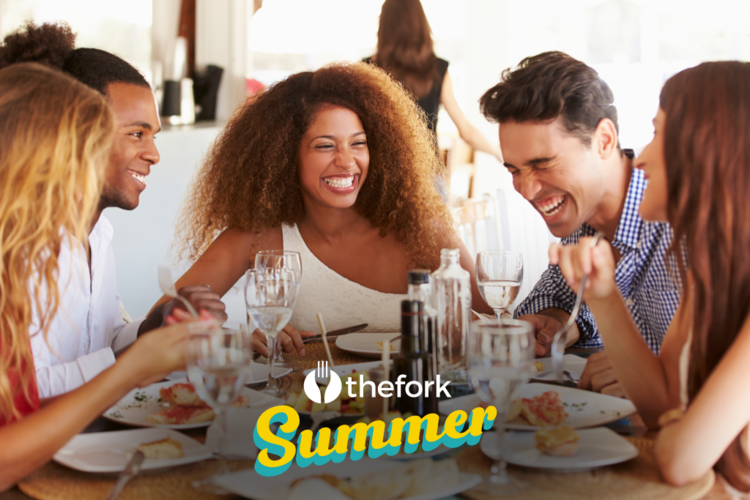 For the first time, restaurants will have the opportunity to make the most of the best season for bookings to increase their occupancy and boost revenues with TheFork Summer! 
Join TheFork Summer taking place between July 1st and September 4th to increase occupancy and see a growth of bookings!
Discover more about TheFork Summer 
Restaurants setting up a special offer can multiply their bookings up to x7.7 times! * 
At TheFork we believe that summer is one of the best times of the year for restaurants to increase and boost their bookings. This year, we launch the first edition of TheFork Summer to help restaurants to gain more visibility through different communication campaigns and also attract new diners with a new range of special offers. 
Summer is the peak season for bookings
According to a study released by TheFork, during the summer season, bookings increase +16%** compared to other periods of the year. And what's more, the volume of international tourist bookings has increased by +71% since 2019. ***
TheFork has a partnership with Tripadvisor and it is a global brand live in 12 countries which sets the perfect scenario to boost the visibility and bookings of all participating restaurants. This data, along with the increase of tourism this summer, confirms us that this summer is going to be BIG! 💥 
Enroll in TheFork Summer
Boost your visibility & multiply your bookings
TheFork users are different, and that's how they will benefit your business
Based on a study conducted by TheFork, there are some statistics that show that TheFork users behave differently than others not using the app. We can affirm that our users… 
                  🚀 Have a 2x frequency of dining out VS average customer
                  🤩 Do -15% "no show" vs restaurant website bookings
                  🍽️ Spend +14% dining out VS average customer
 
Last but not least, you need to know that the share of tourists' bookings on TheFork are of +35% *** which means that TheFork summer will bring you diners from all over the world helping you to increase your visibility and boost your bookings. 
And the advantages are for all restaurants
Restaurants in touristic areas can be sure not to have a dining time not booked as the anticipated high demand will be topped with an extra incentive for already eager diners, giving more opportunities to restaurants to build customer loyalty and a strong reputation. 
Restaurants in less touristic areas can take TheFork Summer as an opportunity to attract new diners by offering special discounts. In fact, when diners have the opportunity to dine with special offers they appear to be more inclined to book restaurants away from tourist attractions. And not only that, but restaurants will also benefit from a huge media campaign that will boost their visibility on different channels!
Join TheFork Summer today by activating  the discount 50% off  from July 1st to September 4th. Let's make the best summer together!
*Internal study conducted by TheFork  about restaurants who participated in special offers 06/21
**Country Booking Evolution  - July 2019 Analysis, All operating countries
 ***Smart Supply - Tourism Analysis  March 2022 - Share of Tourist Bookings - All operating Countries - All online (excl. Rs widgets)