Hire the best chef for your restaurant
22 November 2018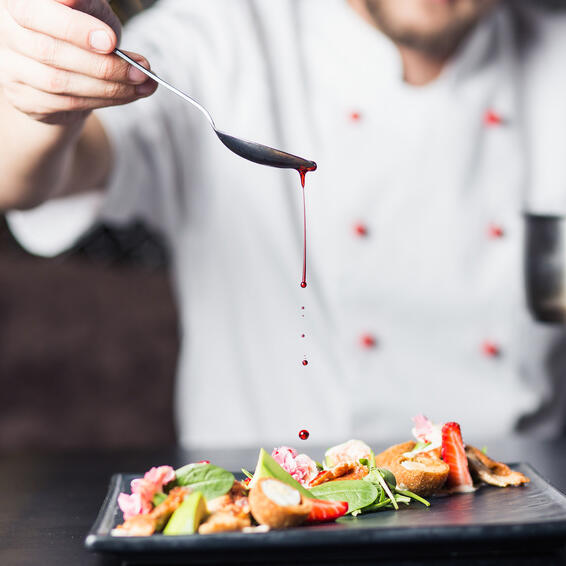 Who is the rock star of a restaurant? The chef, of course. Chefs are now the protagonists of the wider culinary scene, and are considered among the most fundamental figures of any restaurant. The chef is responsible for the dishes that leave the kitchen, whether they really satisfy the customers, their flavor, quality, presentation, as well as getting them on the table in time. The million-dollar question:
How can you meet and hire these superheroes for your restaurant?
.
Define the profile
The first step is establishing what kind of head chef you're looking for, depending on the features and requirements of your business. A restaurant serving fine cuisine may need a more creative chef, with executive skills, while a pizzeria needs a chef who knows the product very well and can manage orders quickly, and a health food restaurant should look for a chef who is more focused on nutrition, for example.
Is being a good chef a question of talent? Of course! But the chef also needs other qualities to keep everything running smoothly. In this article, you'll learn how to define the best profile for your restaurant:
The perfect chef for restaurant management
Define your recruitment strategy
Once you have a clear idea of who you're looking for, there are different ways to find the right person:
Evaluate your existing kitchen staff. This is a very strategic option, because you might already have a skilled employee just waiting for a promotion. You could keep working with someone you trust.
Another option is asking other members of the restaurant community, like cooks, chefs, suppliers, or other managers if they know someone who matches your desired profile.
If you prefer a more formal process, you can always look for a chef through a recruitment agency, who can introduce you to the candidates that best fit your requirements.
It's also a good idea idea to publish ads in hotel and restaurant industry pages.
With these CVs in hand, you can start by ruling out those whose profiles don't match your needs. Take note of whether a person has worked in different places for a year or two, and doesn't have continuous experience in a single location. That's not necessarily a bad sign: it could mean that they have more varied and diverse experience, and be familiar with different culinary trends.
The interview
In this first meeting, you can choose a relaxed and extended interview over something to eat or drink, so that the candidate can feel at ease and open up.
In any case, you should ideally be able to gauge this person's level of passion and commitment, as well as their interest in the job. It's also important to note whether they have a friendly and cordial attitude, and seem pleasant. There is no use hiring the chef with the best technique if they're impossible to work with.
Remember that any chef becomes the leader of the team, so it's important that they enjoy managing staff and strive for excellence.
It may be very useful to ask questions like these during the interview:
What are your favorite restaurants and why?
What are the latest culinary trends that you know and can prepare?
What ingredients have you worked with and know best?
Ask about their experience with storing and preserving ingredients, as well as taking inventory.
What suppliers have you worked with and how did it go?
How would you resolve conflict with the kitchen staff?
What kind of restaurant are you looking to work for, exactly?
What dishes would you include in the menu and why?
What kind of cooks would you want in your team?
What digital tools have you worked with, management software, etc.?
Good and bad aspects they remember from past jobs.
Once the interview is over, it's important to check references. Call or email the restaurants where they've worked to find out why they left.
The test
Observing a chef at work in your kitchen is the ultimate test. If you only have a few candidates, they can each come in for a full day (it's best to do this during a more quiet shift, to avoid delays).
If more than one candidate passes thist test, you can keep testing them over a few weeks. Once you finally find the perfect person, you can suggest a paid trial month.
Things to note during the test:
Their dexterity when using tools, how they hold the knife, chop ingredients, etc.
Their level of tidiness and organization while cooking. Their focus on health and hygiene.
How quickly the execute orders and their attitude. If the chef keeps calm under pressure, that's a very good sign.
How they use resources, whether they recycle ingredients or waste them.  
Knowledge of recipes, techniques, and tricks for preparing food.
Knowledge of measurements, weights, and cooking methods.
Coordinating the kitchen team's efforts and communicating with the wait staff.
Fact: if a chef isn't effective all around, no matter how creative they are, it's best to find a replacement as soon as possible. Often, very intense relationships are formed in restaurants between colleagues, and this may come into play when it comes time to let someone go. That's why it's important to have a competent chef.
Culinary careers are a profession above all. It's an immense amount of work, which requires true passion: the kind of passion any restaurant manager or owner is familiar with. Make sure you hire the best possible chef to lead your kitchen towards your shared goals. You'll notice the difference!
If you found this information interesting, click this link to discover all the tools ElTenedor has to offer your team.