Explore 2022 Food Trends to boost your customer satisfaction
01.05.2022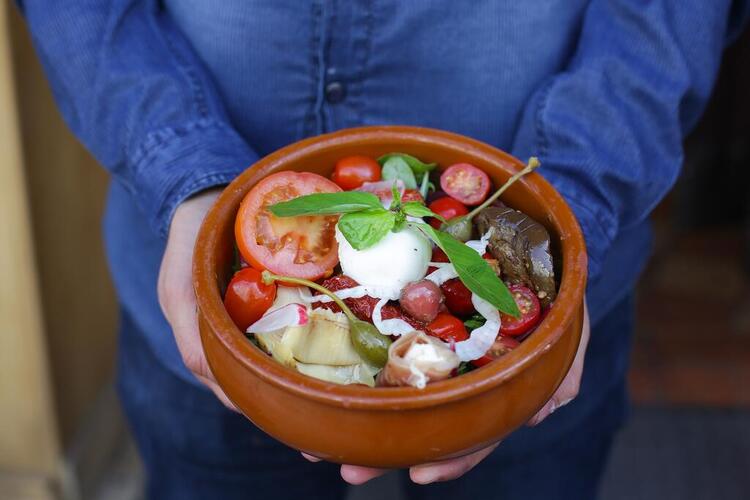 The restaurant industry has been challenged a lot during the last two years of pandemic and consumer lifestyle has strongly been disrupted too. Alongside the increase in environmental issues and the development of technology where virtual worlds  undermine our relationship to reality, new concerns arose around the uncertainty of the future of economy, health, earth and identity.
To better understand new consumer expectations, TheFork, in partnership with Nelly Rodi, decrypts the impact of these evolutions on the food & restaurant industry and the resulting trends for 2022 but also the years to come through 4 major movements:
1- Back to origins : the rediscovery of ancient products and the rise of world cuisines as cultural statement
Uncertainty context makes consumers anxious and they tend to solve that by immersing themselves into food memories and traditions which bring them comfort and security feelings. Ancien seeds, bread et bakery, or coffee are some of these refuge products that are making their comeback in the spotlight. 2022 could be the perfect timing for your restaurant to explore new recipes, diversify beverage and dessert menus and pay tribute to your Chef's expertise and cuisines' influence.
Photo by @wesual
🌾New trends your restaurant can explore:
The use of ancient seeds like Kerzna, Tamarin, Fonio, Teff, Millet or Sorgho considered magic seeds because of their nutrition power. 
The diversification of your coffee offer from hot, to iced or even sparkling cold brew coffee. Consumers are looking for new aromatic palette, to suit their mood anytime of the day 
The new bakery trend: Bread is one of the oldest food in the world and essential to many daily diets.Some restaurants explore healthier ways of baking using old levains, barley flour or even activated charcoal.
The rise of cultural statement,  new gastronomic scenes
The return to origins also involves a return to culinary tradition, and allows the emergence of new gastronomic scenes like the african and south american ones which, thanks to globalization travel across the globe, highlighting the best of the local traditions
2- Food for (good) future : the evolution of sustainability practices where responsible and conscious processes are defended by food industry players and talents, helped by new technologies
As global food demand generates 22 to 37% of greenhouse gas emissions*, food and production habits must change for a more virtuous approach, and all industry players have a role to play in it. 
🌾New trends your restaurant can explore:
Slow Food cuisine with organic, seasonal and local producers' products. 
Reduce cooking:  reducing the volume of ingredients, using them entirely to reduce waste and cooking " non beautiful " vegetables
Plant based products: since Farming meat is quite harmful for the planet, you could explore some plant-based alternatives for your menu like Animal-free meat, a plant-based egg,plant-based seafood 
Desirable sustainability: For many, being vegan means always eating the same food. Well not anymore as many restaurants are offering burgers, tacos and even barbecues for vegans, why not revamp some of your recipes to satisfy vegan customers?
Boost your business with our PRO version now
Free until March 31st 2022
3- Self Food :  The impact of food on consumer well-being, whether physical or psychological
In this context of the health crisis, personal wellness and self care matter a lot to consumers and it's deeply correlated to the food they eat as food is fuel for energy. Food has many powers, it's time to use them to their fullest. 
🌾New trends your restaurant can explore:
Inspiration from Blue Zones: Blue Zones are places of the globe where people tend to live older and better, such as in ogliastra region in Sardinia, Okinawa in japan, in the Nicoya peninsula in Costa Rica. It appears that one part of their longevity recipe comes from the food they eat. Blue Zone Project is a community that gives a certification to Blue Zone restaurants. Why not add to your menu some dishes from Blue Zones that help people improve their lifestyles in order to live longer?
Zero spirit: In Europe, we are very used to enjoying food and wine pairing at the restaurant but some consumers are also more and more conscious that drinking too often or too much is harmful for the body and the brain. Why not satisfy those customers with alternatives of classical spirits without alcohol (ex:Spiritless Kentucky 74, Ritual Zero Proof, Caleño Dark & Spicci, Salcombe or even new wine without alcohol, created by the famous british wine taster Matthew Jukes.)
No diet mood: The anxiety and uncertainty generated by the pandemic context encouraged people to be less obsessed with special diets and weight loss and focus more on the pure pleasure of eating tasty food, fat and sweets included. It would be a shame not to offer your customers some nice comforting dishes and pastries (here are some flavors hits Oreos, chocolate fudge, popcorns, italian food, cheese…)
4- Food beyond the plate : How the latest technological innovations can benefit the world of food
Covid-19 is an accelerator of digital transformation. Launch of the metaverse, development of NFTs and cryptocurrency, these innovations are shaking up our daily lives, but how do they fit into the world of food? What are the sensation enhancers and technological innovations your restaurant can bet on to provide amazing dining experiences?
🌾New trends your restaurant can explore:
Augmented reality: some restaurants are betting on augmented reality to surprise their customers. How? With special glasses to show their restaurant menu in AR for instance.
3D printed food : Whether it is for "producing" or cooking, food 3D printing is growing whether serving the creativity of chefs or for reducing food waste or improving a dish are examples of uses.
Metavers & NFTs at the service of gastronomy: Food is a great place for imagination.

Creativity is in the DNA of the food industry.

But people crave for more, for chefs and brands to break the codes. There is a need to go beyond limits, that is now possible with Metavers and NFT. For example, Burger King and McDonald's, both released a NFT this year. Burger King ones were offering calls from celebrities, free meals or simply 3D art. McDonald's ones were art on their iconic products.
Technology continues its path in the food industry for unexpected results such as 3D Printed food, NFTs in the food industry. Those innovations are not meant to replace the gastronomic experience but to sublimate it, transcend it in order to make it always more exciting but also take into account the challenges of durability. 
With the support of the 4 above Food and lifestyle Trends insights, we strongly believe that restaurants can dare to be bold in 2022 and diversify their menus to surprise and delight their loyal customers and attract new ones to be even more profitable. Embrace 2022 Food Trends to boost your customer satisfaction!
Stay tuned for other market trends on the Fork Blog!
*Source: Institute for Climate Economics