5 Keys to Build your restaurant marketing Budget
10.14.2018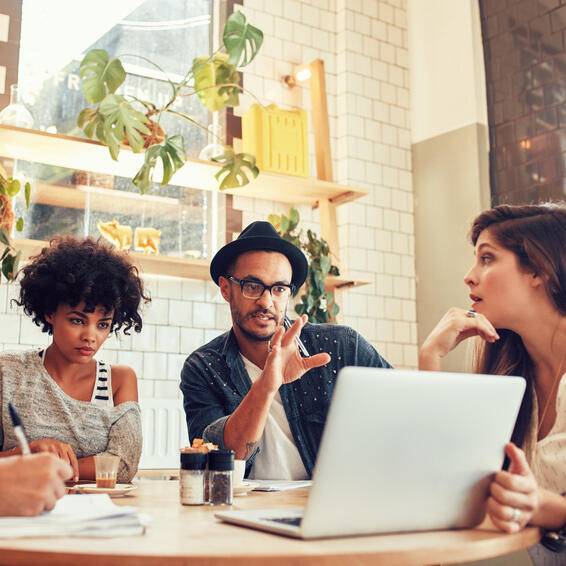 Ensuring the best return on investment is the main objective of a restaurant's marketing budget. Managing to invest in the most adequate resources, strategies and staff for the restaurant's marketing needs is one of the main goals of any restaurateur in this age of digital transformation. How do I achieve the best results? How do I invest efficiently and fill tables?
Since every business has its peculiarities, there are no exact formulas. However, there are 5 considerations that can be applied to any restaurant that is planning their marketing budget. Pay attention:

Reviewing the expenses and profit history
You need to know the results of previous years in order to determine the next budget. Answer questions like:
How much was prior net income?
Which advertised products and services did customers spend the most on?
How many new customers became loyal customers and through which campaigns?
How much was the ROI for the previous budget investment?
Analyzing this information is crucial to understanding
which measures worked, which ones are still underway and, of course, which ones resulted in losses
. It is also important for understanding if the investment in marketing is excessive, adequate, or insufficient with respect to the amount of customers that have been acquired during the period examined.
For example, a restaurant may have invested in content and advertising on Twitter in their previous budget with a very low ROI and determined that their potential clientele has changed and now consists of millennial women whose main social network is Instagram. Or a business may have invested in live music several nights per week without great results and determined that, on certain days, there has been a greater influx of families with children who would appreciate having entertainment for them.
Defining fixed investments
Other important variables to define before creating the new budget are the main ongoing investments and costs for the marketing plan. In fact, there are activities that are essential for business, such as web site operation, a presence on portals such as TheFork to receive online reservations, printing the weekend menu, promoting sporting events in key time periods, the e-mail service provider, social media ads...every restaurant has its needs.
Accordingly, you would have to adjust these figures based on price inflation for these services and operations.
If you are still reading this and do not yet have a marketing plan, read this article with a free template to create one.
Establishing realistic objectives
Why do I want to invest in this budget? That is the million-dollar question. It is important for objectives to...
Be clear and specific.
Be quantifiable.
Be feasible, even if they pose great challenges.
Deliver major results for the business.
Be divisible into time periods.
The measures for attracting new customers may not be the same as the ones for turning them into loyal customers, increasing sales during a specific time of the day or improving the
restaurant's brand image
. These are objectives with different paths and, undoubtedly, different budgets.
One general objective can be:
"Increase restaurant food sales from Tuesdays to Fridays by 15% over the next quarter".
And its specific objectives:
Develop an e-mail marketing campaign to attract the area's business executives.
Launch a discount and loyalty program for repeat customers during that time of the day.
Accordingly, it is important to measure a specific time period so that you can actually calculate the ROI of every objective, because
there are campaigns that can take longer than others to produce results
, since they require testing, adjustments, learning, and improvements during the process. This is common in e-mail marketing campaigns, where trials are conducted until the promotions and content that interest customers the most are found.
Defining the budget and investment model
Now that the objectives are established, here comes the moment of truth: How much do I invest in the marketing budget for a restaurant?
Before we provide figures, we can evaluate different budgeting methods:
Based on the previous year, in terms of structure, numbers, costs, risk margins, etc.
Taking into account the competition's budget, whether it's investing more or the same according to the marketing strategy that they are executing.
Taking into account executive decisions for new projects or needs in other parts of the restaurant.
Or a combination of the above. A mixed budget that combines the structure of the aforementioned budget, the competition's budget and future projections.
With all this information, we can determine the amount that we will invest with greater confidence and a smaller loss margin.
Adapting to changes in the industry
One key factor that we deem vital in this day and age is taking into account the trends and changes that are occurring in the industry when planning the marketing budget for a restaurant. Customers' consumption habits are constantly changing, and restaurants must adapt to them if they want to have their tables full most of the time.
Along the way, we can find new products that become trendy, updates to social media tools, new preferences for consuming digital content, etc., and the marketing budget will vary according to this. For instance, nowadays we know that succulent food videos and images generate greater interaction than text. What awaits us tomorrow?

Remember that here at TheFork, we create tools to make digital adaptation easier for restaurants, and to help businesses get more out of their budgets as well. At the reservation portal, we have various features to attract and retain customers and to give our member restaurants the best advertising.
There are a plethora of possibilities with TheFork Manager! It allows you to manage your reservations in real time, create a customer database as well as execute e-mail marketing campaigns and manage and respond to online reviews. Oh! we also develop web pages for free. All in one.
Click here and get in touch with our advisers so that you can learn more about the benefits that we offer, especially when it comes to wisely investing in your marketing budget. You won't regret it!