Decorate a Restaurant
03.30.2022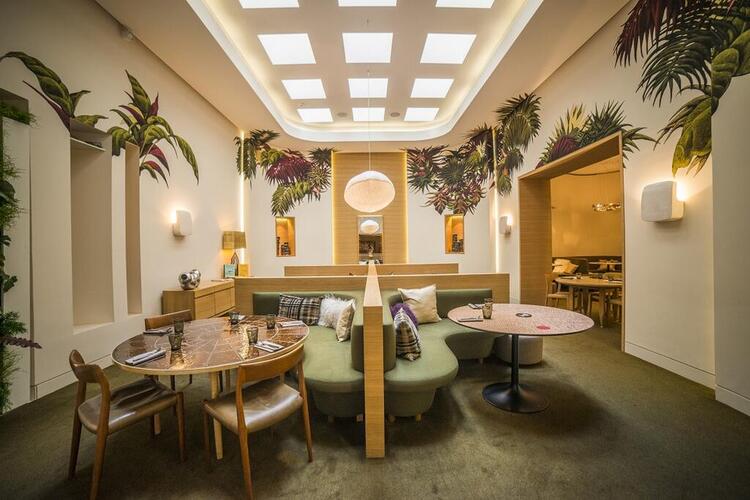 Along with amazing food and excellent service, diners today are looking for a visually appealing restaurant experience. Especially in light of stiff competition from take out and home delivery dining options, restaurants have to work harder to draw customers in the door by cultivating a unique, alluring environment in which every detail counts from the way the food is plated, to the choice of dishware, lighting, chairs, pictures, signs or door. In short gone are the days when a restaurant could afford to treat decoration as an afterthought. If you are designing a new restaurant or want to give your venue a new look, you don't have to be an interior designer to create a captivating restaurant environment, inside and out. To start thinking visually and out of the box, try these decorating ideas for restaurants.
Design tips to decorate your restaurant
🌳 Go green. Thanks to heightened environmental awareness, many consumers look for restaurants with an eco-friendly approach. While reducing food waste is a priority, your restaurant's environmental commitment is also reflected in your decorating choices:
Reuse materials  (salvaged concrete, reclaimed wood..) and buy products made from recycled or rapidly renewable materials (cork, bamboo…).
Install high efficiency LED lighting & decorate with plants, a green wall, and upcycled furniture or objects.
Choose eco-friendly low VOC, water or plant based paints
Eliminate single use plastics e.g. with straws made from glass, pasta, hay or metal. 
📍 Think local. Work with local businesses or artists to decorate your restaurant. Buying local both reduces your carbon footprint and supports your community:
Contact local artists to display their work on your walls. Change the  art regularly and feature your exhibition space on social media. Invite customers to special events to view the art and enjoy wine tasting or unique menus inspired from the paintings.
Collaborate with a local florist or community garden for your bouquets and plant decor.
Integrate your region's traditional building materials (red brick, slate, stones, wood…)
Boost your business now
with our PRO version
🌟 Showcase your strengths. Many restaurants specialize in one type of cooking style, product, or experience. Whatever makes you unique- from coffee art to perfectly grilled premium quality meats to mouth watering desserts, make it a central focus of your decorating theme and let your strengths shine!
Feature an open fireplace or grill if your specialty is grilled meat. Allow customers to watch the grilling action and be mesmerized by the glowing flames. If you work with local farmers to source your meat or seasonal produce, why not display attractive pictures of your suppliers with their story?
Spill the beans if your venue's mantra is home-roasted premium coffee. Let customers see your secret to roasting and grinding great coffee by prominently showcasing equipment and your selection of beans. Don't forget: consumers today are interested in where their food and drink comes from!
Entice dessert lovers by showing off your dessert selection preferably in a central area where people can get up and admire them. Highlight desserts in a window display to draw people in. Invest in beautiful platters and pie or cake servers tailored to each dessert.
🧼 Design a restroom worth remembering. Many restaurant restrooms are at best an afterthought and at worst downright distasteful. Yet studies show that a poorly maintained, unattractive restroom is sometimes enough to keep some customers from coming back even if they enjoyed the meal.
Make sure your restroom is always perfectly clean. Assign a staff member to inspect it and keep it stocked with  liquid hand soap, toilet paper and if possible an energy efficient hand-drying system or recyclable hand towels.
Paint the walls an attractive, restful color and install proper lighting, and a lock that works. If you have the space, provide a changing table for a kid-friendly restaurant.
Don't forget to respect your overall design style. Remember the restroom is often where your customers go first and last: and you wouldn't want them to leave your restaurant with a bad impression would you?
🪑 Keep it comfortable: Don't compromise on customer comfort. Unless you deliberately want customers to be in and out of your restaurant as fast as possible, you need to provide them with a comfortable dining experience from start to finish. 
Provide easy-sit sturdy restaurant chairs with enough leg and arm room to allow customers to relax and enjoy their meal. Ensure tableware is user-friendly and pleasant to touch.
Don't forget customers come in all shapes and sizes so be sure to provide some seating adapted to heavier or taller builds in particular. 
Don't cram customers in. The risk of crowded seating is that clients will be unhappy and leave negative reviews. On the other hand, comfortable customers are likely to stay longer, spend more on extras, and above all come back.  
☀️ Eye Catching restaurant exteriors. Creating an attractive restaurant environment from the outside in is a powerful way to attract customers, to make people feel welcome and cultivate a unique identity.  
Make a proper entrance: the way people feel when they come in the door to your restaurant is vital. Make it easy for customers to come inside with a door that is easy to open (not too heavy nor too light) and a pleasure to look at and touch.
Create a stand-out restaurant front: your restaurant front is a great opportunity to communicate who you are to your potential customers before they even come in. Think carefully about what you want people to see from the street (whether that be your products (cakes, dried meat, spirits..), your decor, your seating or your staff. Use a combination of colors, signs, lettering, logos, window displays and lighting to embody the unique customer experience you offer and make people want to stop, stare and step in.  
Tempt them with a terrace: if you have the space, create an inviting terrace perfect for the warmer months. Even a few potted plants or flowers can create a green haven. And serving outdoors gives people passing by the opportunity to admire your food or drinks. 
As you can see, there are multiple ways to make your restaurant an eye-catchy place while creating a perfect ambiance and a different experience to your dinners. Grab a paper, write down some ideas and give a new look to it! 🎨