Easter promotion ideas for restaurants
Published 03.14.2022 - Last update 03.29.2022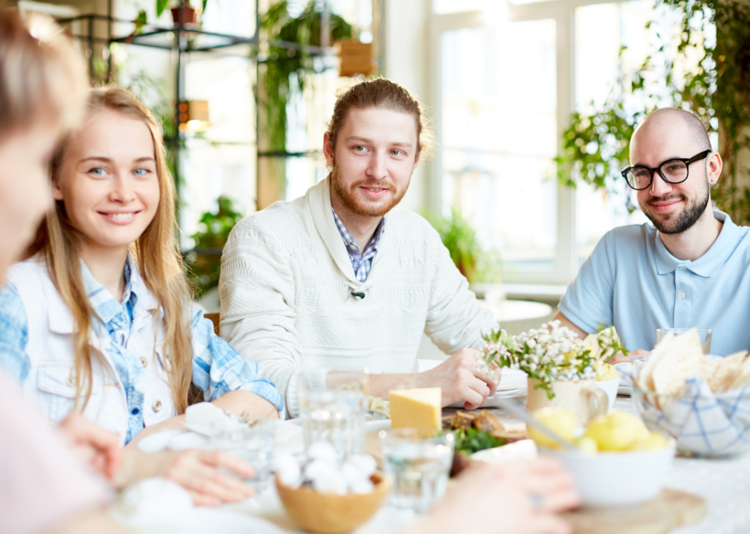 While Spring has not officially sprung, it is fast approaching (at least in the northern hemisphere) bringing with it  the promise of more sunlight, warmer temperatures, the return of green growth  and Easter, one of the most widely celebrated holidays in the world. While it does not have a fixed date, Easter is always celebrated on a Sunday between March 22nd and April 25th. It also happens to be a potentially big  weekend for eating out. According to one study Easter is one of the five top holidays for restaurants. But don't worry if you have not yet planned a special Easter weekend promotion, there is still time to spring into action thanks to the tips below. 
Easter is coming
Observed this year on April 17th, Easter means different things to different people. For some people, Easter is a secular holiday celebrating the coming of the spring, the regeneration and rebirth of nature, and above all the arrival of the  much anticipated Easter bunny (or the "flying bells" in France) who brings chocolate eggs to children. And while many countries have their own unique Easter traditions from water fights in Poland, to the Easter witch in Sweden, and flower carpets in Guatemala, the holiday is nearly always  celebrated  with family gatherings and festive meals. 
Like Valentine's Day or Christmas, Easter is a great opportunity to connect with and surprise your loyal customers and draw in new guests with special promotions, a fresh, exciting Easter menu, and fun events for the whole family. So here are a few ideas to keep your restaurant's Easter celebration hopping!
Easter specials and deals
Why not reach out to your loyal customers by sending them an Easter special offer or deal such as 20% off for early reservations for Easter brunch, lunch or dinner. And don't forget to advertise your Easter promotions and opening hours on your website and social media pages well in advance of Easter weekend. This is especially important as not all restaurants are open on Easter Sunday. You could also instruct staff to mention your Easter specials and deals to customers a month ahead of the holiday.  
Boost your business with our PRO version now
Free until March 31st 2022
Easter menu ideas
Make your Easter menu festive and significantly different from your regular menu options: why not delve into local traditional Easter specialties, or draw inspiration from the many delicious traditional Easter dishes from all over the world. In France and Italy for example, oven roasted Lamb stuffed with garlic and served with Rosemary potatoes are an Easter staple. Note that lamb  traditionally symbolizes the coming of spring while Christians  refer to Jesus as the Lamb of God. In the US and in Austria ham is more commonly served baked and honey glazed or mustard coated and baked in bread. In Poland, Zurek, a creamy, tangy fermented soup made with a rye starter, sausages and hard boiled eggs is an Easter favorite, while in Brazil Bacalhau or codfish with rice and potatoes is a must. Be sure to also offer equally enticing vegetarian options.  Whenever possible, feature locally produced spring vegetables and fruit. Keep in mind that Easter is an important holiday for families, so many of your guests will come with children. You may want to offer a special kids menú or at least kid-sized portions at a reduced price. 
Easter desserts
There are many typical Easter desserts such as the Italian Colomba di pasqua or  dove cake made with candied lemon peel,  almonds and powdered sugar, or the  Russian Paskha, a molded pyramid shaped dessert made from sweet cheese curds and covered with flowers or nuts,  or Folar da Páscoa from Portugal, a cake filled with sugar, cinnamon and a hard boiled egg, along with luscious chocolate Easter cakes, to name a few.  We recommend offering a selection of several indulgent desserts along with at least one lighter option such as a fruit soufflé or mousse. 
Easter decorating ideas
Don't forget to decorate for Easter. You may or may not want to go with baskets of decorative  eggs,  bunnies, or chicks, depending on your restaurant's vibe. However, nothing says Easter like  a few tastefully arranged bouquets of spring flowers such as tulips in all shades, bright yellow daffodils or forsythia, and cherry branches. When choosing dishes or table cloths keep in mind that Easter is traditionally associated with pastel shades of green, pink, purple, yellow, and of course white.  And why not set miniature baskets of complimentary Easter chocolates or pastel coloured almonds on the table at the end of the meal. 
Easter brunch
Easter weekend is  ideal to feature a special fixed price brunch menu if you don't already have one. This may be especially appealing to customers who plan on hosting their own elaborate Easter dinner and would like a break from cooking for guests. Make sure to include several sweet and savory Easter breads and baked goods such as the classic English hot cross bun, Spanish Torrijas (similar to French toast but fried in olive oil and flavored with lemon), or Eastern European egg twist bread often stuffed with raisins. And above all now is the time to get creative with eggs, the ultimate symbol of new life and rebirth. Think eggs benedict, frittatas, quiches, souffles, omelets and more. And why not offer Champagne or your own unique Easter cocktails.
Easter activities for the kids (and adults)
While the adults are enjoying their  cocktails or after-dinner drinks, keep the kids smiling and busy with these fun Easter activities. 
🖍️Provide paper, washable markers or crayons and hold a contest for the best picture of the Easter Bunny. Or offer paper egg cut-outs to decorate. 
🥚Host a chocolate Easter egg Hunt but only if your premises is large enough to handle it. 
📖Hold an Easter story or poem contest for older children. 
🐣Print out a fun Easter quiz or activity sheet. 
🍫Offer customers the opportunity to win a prominently  chocolate filled Easter basket, invitation to a wine tasting or free meal certificate, in exchange for filling out their name and email for a raffle.
Now that you've got all these Easter facts and ideas, you're ready to welcome everyone in the best way to celebrate this time of the year!