How to create a festive winter holiday vibe in your restaurant
11.18.2022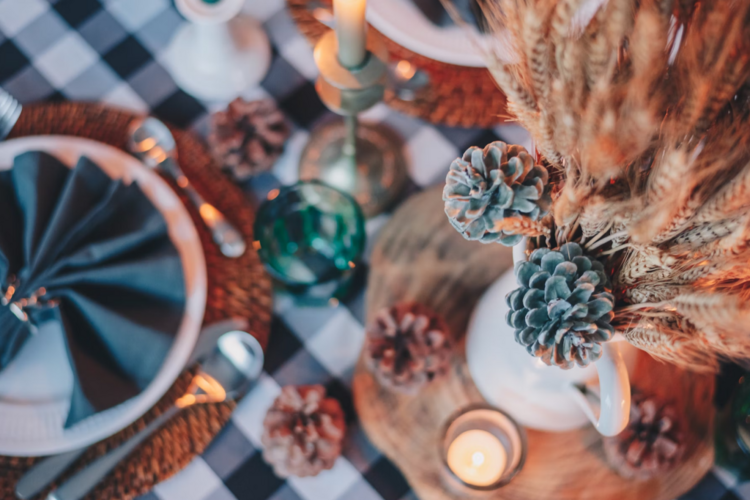 Winter is upon us and whether it's cold outside or still sunny and warm, it's beginning to look a lot like Christmas! One of the most looked forward to holidays around the world, Christmas is coming soon. Is your restaurant ready to celebrate?
Whatever your style of restaurant, the weeks leading up to Christmas can be a wonderful time of the year to bring customers in from the cold and holiday hustle and bustle to eat, drink and be merry.

While this time of year is the ultimate season to be jolly, it also involves organizing multiple family get-togethers and festive meals, attending end-of-year work parties, decorating for the holidays and of course, accomplishing the much loved and dreaded ritual of Christmas shopping. Even the most unconditional Christmas lovers who thrive on Christmas music and Santa sweaters may feel a bit snowed under. Want to help customers relax and take a moment to really enjoy the spirit of Christmas? Try our Christmas ideas to create an irresistibly festive and bright vibe at your restaurant throughout the entire month of December and into the new year.
🍽️Make Christmas shopping fun with a cheery lunch or brunch menu throughout December. Give weary shoppers a welcome break from trying to find the perfect gift. Keep the menu festive but simple so diners can take the time to enjoy their meal and yet get back to their shopping quest quickly.  Why not feature a selection of rich, comforting soups such as creamy butternut, spicy pumpkin, or chunky potato leek served with savory quiches, scones, and classic pies (try butternut sage and walnut quiche, traditional chicken pot pie or cheddar scones). Celebrate with classic egg dishes such as eggs benedict with hollandaise sauce and roasted spinach and mushrooms, Christmas frittata with red and green peppers, or scrambled eggs with smoked salmon. And it's very difficult to resist traditional Christmas desserts such as pecan pie, pumpkin pie, fruit cake, Christmas pudding, gingerbread cookies and stollen cake, to name a few.
🎭Boost your visibility and attract new customers by partnering with a local movie theater or cultural venue. December is often a time to enjoy the fun with family and friends such as ice-skating, local Christmas events or catching a Christmas concert, show, or movie (especially once the kids are on holiday and relatives begin to visit). Customers who drop in for a meal with a ticket stub from one of your partners get some special Christmas drink or dessert or a special kids meal offer. 
Boost your business now
with our PRO version
🎫 Create your own festive holiday season events such as an art show dinner featuring the work of local artists on your walls, a tea time Christmas caroling event with a local choir, or a family-friendly Christmas luncheon with games and a visit from Santa for the kids. Or if you have the space, promote local musical talent with a series of holiday concerts. 
🤝🏻Christmas is also the season of giving to those who are especially in need of help.
Show customers you care about your community by donating food during December to your favorite non-profit or charitable association. Or organize a small concert fundraiser.  On a smaller scale, you could organize a raffle ticket sale and donate the proceeds to an organization whose work you admire. The prize could be a gourmet meal for two in January or February, traditionally a slower time for many restaurants. 
🎁 Many people truly struggle to find just the right gift for their loved ones at Christmas. Offer your customers the perfect gift solution: a gift certificate voucher for a gourmet meal for two or a special event such as a cooking class, or wine tasting. Let them choose from the regular menu or create a premium customized experience in consultation with the chef. Remember foodies love experiences like learning how to make some of your signature dishes or understanding wine and food pairing. 
🎄 Deck the halls, walls and outdoor spaces of your restaurant in fairy Christmas lights for a magical, cozy mood in the evening, especially now that the days are getting dark so early. Give your dining room a warm inviting glow with plenty of red and white candles and create a cheery, tasteful look all day long with a pine branch and pine cone centerpiece, bright red poinsettias or any other floral arrangement in rich Christmas-y hues, cheerful reds or snowy whites.  Don't forget the Christmas wreath to welcome your customers in the door!
📱 However you plan to celebrate the holiday season at your restaurant, be sure to promote it across your social media channels. Social media is free, it opens up communication with customers and with the right posts, reaches local targets. Why not post a short video of your chef making a Christmas dish or dessert? Hosting a special holiday event? Create a contest for the best UGC pictures or video. Ask customers to submit their favorite holiday recipe. The winning recipe could be revisited by your chef and reposted. Be sure to add hashtags and a call to action to all your posts for more impact.  
Remember Christmas festivities don't end for most people on December 25th. The period between Christmas and New Year's is a busy one with many people off work and kids home from school. Help customers keep the spirit of Christmas alive and well all season long and into the New Year!