How to make a Restaurant Business Plan
09.27.2021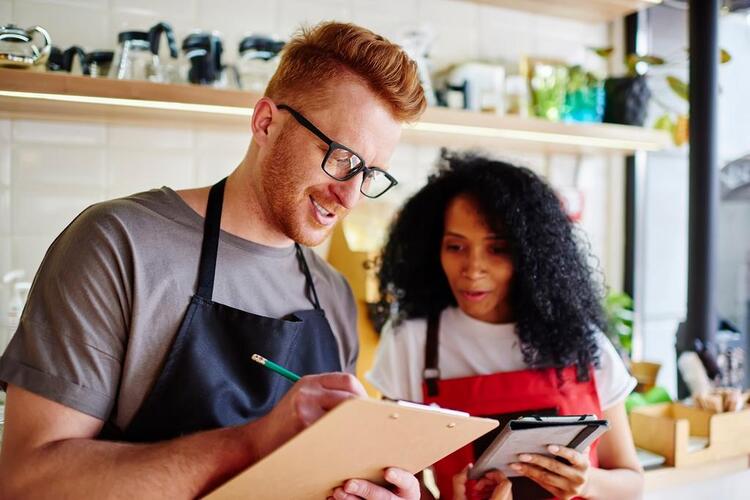 Every restaurateur has started their restaurant journey with a restaurant business plan.
It is essential to have a strong, clear, and detailed restaurant business plan to outline the concept and structure of your future restaurant.
While you have spent countless hours planning and visualizing your restaurant, investors and other business partners don't yet know what your restaurant is all about; This is the opportunity to show you have a clear plan of action to get your restaurant started. The Restaurant business plan reflects everything from your possibilities, to your potential, to your limitations. It is a map that tells us where to go and predicts your chances of success in this industry. Although there are no formulas for making one, there are some variables that are indispensable when it comes to creating a restaurant business plan. Here is the most basic step-by-step guide to starting a restaurant with the best future prospects:
Business profile/initial analysis
A first logical step is to determine the restaurant's characteristics with the greatest-possible detail. It is the starting point for developing the project afterwards.
✔️The type of business you wish to market: Family, traditional, specialised, a macro restaurant, a franchise, a small bistro, a tapas bar, etc.
✔️The type of cuisine you wish to serve: fresh market cuisine, signature dishes, creative cuisine, traditional cuisine from a region, international cuisine, green-friendly cuisine, vegan cuisine, etc.
✔️A profile of your potential customers: Women, men, generation Z, families, couples, executives, tourists, students, etc.
✔️The location and its characteristics: What type of area is it, why are you interested in this place, what are its advantages, large influx of people or quiet area, business and office district or a leisure and recreational neighborhood...
By determining this information, you can know the nature of the business that you are going to set up at its core and from there, tweak its characteristics to increase its chances of success.
Profile of the industry/market analysis
The second basic step would be to observe your restaurant's direct and indirect competitors and the behaviour of the general market that you seek to enter, especially with regard to the characteristics of your business.
✔️Market potential: Your cuisine is an industry trend or is a type of business with many economic prospects, or is appealing to different types of customers, etc.
✔️Market limits: Complicated weather in the area, a saturation of similar restaurants, the low purchasing power of customers in the area...
✔️The competition's potential: They use quality products, have very accessible prices, a very creative and varied offering or a very specialised and personalised offering, a good reputation or a long history in the area...
✔️The competition's limits: All restaurants serve the same thing, scant digital marketing activities, recurring complaints about certain dishes, lack of space, uncomfortable decorations, they lack the technological tools for management, service delays, etc...
Using this analysis, you can incorporate elements to your initial restaurant profile and improve it. For instance, if you determine that the majority of your competitors have bland or unattractive decoration, you already know that having very comforting and more modern decoration would be a very strategic move.
This also holds true if you determine that customers demand certain types ingredients in your market; you would already know that including them in your menu would be ideal.
Marketing plan
Using all the previous information, you can take the next step, which is a bit more complex and consists of defining the bread and butter that will sustain your restaurant and its launch.
✔️Verify the restaurant's production capacity: At this point, you must determine how many diners you can serve per day and how many meal services will be carried out per day and week based on the location's space and the production capacity that you can handle for your market launch.
✔️Create the food selection: Now you can design a debut menu that is delicious, attractive and above all profitable, not very extensive nor simple, and that includes the right dishes to satisfy the taste buds of your potential clientele. We also must define the type of ingredients that you will use, the level of quality and freshness, the type of provider and an estimate of the cost of carrying out this menu.
✔️Define the ambiance and facilities: What type of environment do you wish to create? At this point, it is very important to determine if you already have a location and what its potential is, or if you have an empty space and need to do a full overhaul. For instance, if you consider sustainable facilities or certain types of materials, you need to create a cost estimate for this renovation.
✔️Determine a communication strategy: Which channels will you use to promote your business? Which measures will you take for the launch? How will you advertise your offering? Social media, specialised websites, search engines, flyers, alliances with businesses in the industry and, of course, whether these measures will be carried out by a marketing agency or professional along with an estimate of how much you would need to initially invest in it.
Financial plan
You have arrived at the most crucial step out of all the ones you will take for the restaurant business plan. It implies taking into account all the costs and profits that you will forecast for your business. In this step, you will determine the following:
✔️Type of company: Will you start a company with various partners or a company with various employees, or will the owner register as a self-employed worker conducting a business activity? What will be the legal format of the business and, particularly, which type of taxes and legal contributions must you take into account to add to your calculations.
✔️Management plan: At this point, you will quantify the number of the employees needed to begin, an estimate of salaries according to the market, the necessary equipment, machinery, tools, technical equipment and their cost, as well as the remaining operations for opening the restaurant every day.
✔️Initial investment and upfront expenses: With all the previous information, you can now determine how much money you would need to begin and what will be your fixed and variable costs for the period that you specify. It is very important to consider the industry's constant changes and any variable that could destabilize your plan.
✔️Sales percentage: Here you will determine how much to charge for your culinary experience and, based on this information, how much in sales do you need to make within a time period to cover the initial investment and operational expenses in principle.
✔️Profitability estimate. Finally, with all these forecasts, you can know when you will begin to see profitability within your timeline by putting into practice this business plan. The most important thing is to achieve a high occupancy rate and manage fixed and variable costs well to ensure continuous benefits.
Quite a task! Have you ever drafted such a plan before?
Keep in mind that this is a summary of the most essential things to consider when creating a restaurant business plan. It is a highly complex project that naturally grows based on the business. In any case, we hope that it serves as a guide to get you started!