Activate today TheFork Pay, TheFork's digital payment solution, free until the end of the year!
06.01.2021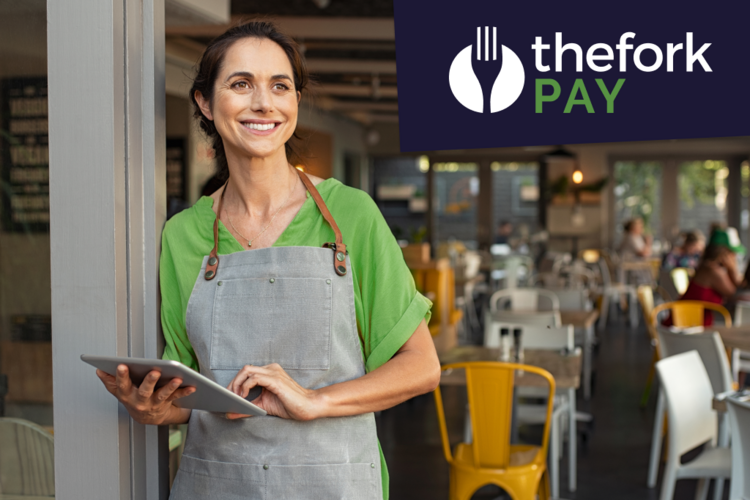 Diners today are getting accustomed to digital payment options when dining to eliminate wait times and simplify their payment options. Feed this demand with TheFork Pay, an innovative, digital, secure, and contactless way to accept payments and smooth the restaurant payment process.
Activate TheFork Pay for free, and easily navigate it directly within TheFork Manager.
Discover TheFork PAY and how it works for your restaurant
When using TheFork Pay, diners will automatically receive a notification prompting them to pay on their mobile device by simply inputting the payment amount and choosing amongst a range of accepted payment forms (visa, amex, giftcard, etc.,). Once the amount and method has been chosen, diners will then be able to add a tip, a suggested amount indicated or with the option to leave a custom amount. After, the payment is then complete and can easily be tracked and viewed within your TheFork Manager account.
Activate TheFork PAY free to:
Reduce payment time and smooth out your service flow.
Activate easily, quick, and Free* with integration directly on TheFork Manager.
Improve your customer satisfaction by offering a convenient & innovative way to pay.
Attract more diners by being amongst the restaurants that can accept gift card payments, and redemption of other incentives like Yums campaigns targeted to TheFork Pay users.
Increase tips with **17% of TheFork PAY users tipping when using this payment method, and more than 50% continuing use after one time
Activate TheFork PAY now
free until the end of the year!
Activating TheFork PAY won't just bring great benefits today but also in the future because it will empower your restaurant to receive more bookings thanks to TheFork Gift Card. Learn more about the advantages of TheFork GiftCard for your restaurant.
19 000 restaurants among TheFork restaurant partners have already activated TheFork PAY in France, Italy & Spain. Join them today, and activate TheFork Pay Free*! 
Learn more about the 5 advantages you get with TheFork payment solution >>
Still have questions about TheFork PAY features? Check out our FAQ TheFork PAY arrives in restaurants: everything you need to know
 
*No Additional Fee: To accept Gift Card you must activate TheFork PAY. Payments made via TheFork PAY are usually charged at a rate of 0.95% + €0.50 per transaction (excluding VAT). As an exception, TheFork will not charge you for payments made via TheFork PAY until further notice with the aim to support the restaurant industry in the post-covid recovery period."