Get ready to receive more bookings thanks to TheFork Gift Card
11.16.2021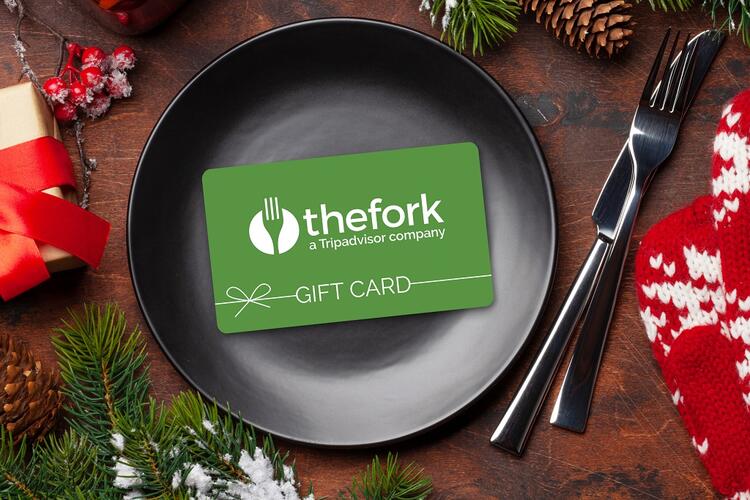 Dear Restaurants, It's the Season ❄️
The holiday season has finally arrived, and this year it's set to be better than ever, being the first holiday and end of the year celebration spent out with family and friends since 2019 before Covid times. Diners are ready to spread the holiday spirit through dining, happiness, and gifts! 
TheFork gift card is among those great gifts! 🎁 
TheFork gift card allows diners to treat their family, friends, and colleagues and share the unforgettable experiences of dining exclusively at restaurants on TheFork accepting TheFork Pay. It's a very special gift launched by TheFork to support the restaurant industry by encouraging people to dine out and enable restaurants to benefit from the Gift Card revenue all year long. TheFork Gift Card offers a solution to restaurateurs who need to keep diners coming back after a particularly difficult year and to respond to the evolution of the market and diner needs.
On average, 77% of diners revealed they prefer to receive an experiential gift for the holidays and 29% prefer for that gift to be a giftcard.
TheFork Gift Card 🎁: Feeding the desire to share experiences and boost restaurant success this holiday
TheFork Gift Card can be used in a network of 26,000 partner restaurants across Italy, Spain, and France offering a culinary experience to loved ones and also generating additional income for restaurateurs. The Gift Card allows restaurateurs to reach new customers and retain them. 
Activate TheFork Pay to welcome Gift Card Users 
TheFork Pay is our innovative, digital, secure, and contactless mobile payment solution for restaurants to accept standard payments and gift card payments. With the holiday season underway and free activation, now is the perfect time to join the 26,000 restaurants who have already activated TheFork Pay.
Activate TheFork PAY now
free until the end of the year!
Whether you have a high-end gourmet restaurant or small local favorite, this holiday and after is the perfect opportunity to boost your business and welcome all the diners who will be searching for restaurants accepting TheFork Gift Card.
Wow your diners and new diners this season with delicious cuisine, tons of holiday spirit, unforgettable experiences, and the unique chance for them to enjoy the gift of dining with TheFork Gift Card at your restaurant.
*Survey conducted by TheFork October 2021 in Italy, Spain, and France