Get ready for your restaurant reopening
Published 03.01.2021 - Last update 04.21.2023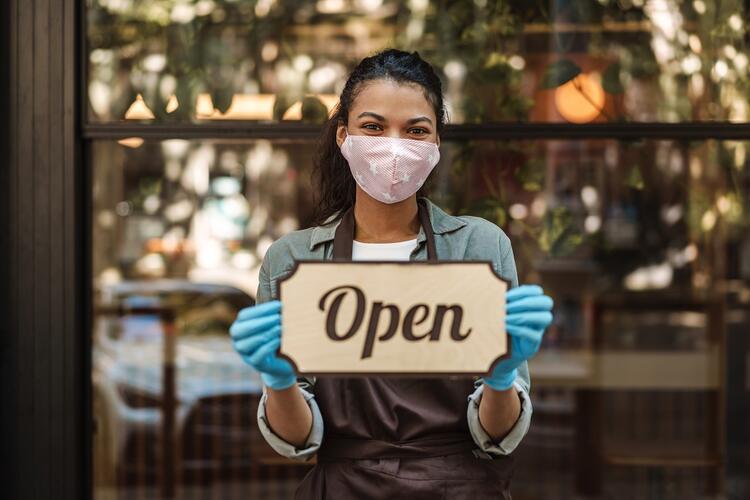 Prepare your reopening checklist
After the 2nd Covid wave and lockdown which strongly impacted the restaurant industry, the UK government is planning to reopen restaurants soon! In order to get your restaurant ready for re-opening we listed some key actions and tips for you.
First things first, here's a practical checklist to be ready to welcome guest again at your restaurant:
Make sure to order masks,  alcoholic gel or plexiglass plate if you plan to use some
Begin to order your dry ingredients to refill your stocks
Shorten your menu to ease your restaurant management
Elaborate easy to prepare recipes if you have less employees to restart your activity
Assess how many employees you will need for both lunch & dinner (taking into account a lot of workers are still working on remote so lunch activity might be lower than before)
Take the time to update your restaurant profile on TheFork Manager
Your restaurant is re-opening soon? 
Here's a quick checklist to support you updating your restaurant profile on TheFork Manager and get ready to receive bookings again!
Update your calendar and opening hours depending on your new availabilities so that customers can know when you are open and you cannot 
Upload your Christmas & NYE Menus if you have some to both inform TheFork users and raise their interest
Think about updating both your preset menu and a la carte menu 
 Make sure you update your stocks to be compliant with Covid regulations
Indicate the party size based on your government restrictions
Display your Covid Badge on your TheFork profile to show users that you are compliant with the covid safety regulations.
If you are equipped with a terrasse, prepare it and add it to your floorplan to welcome clients there too
 Boost your restaurant online visibility
Manage and improve your online reputation. Taking care of all your reviews and comments and your social media channels is key to convey a good online reputation for your business.
People are looking forward to coming back to the restaurant!  Update your pictures, especially food related pictures to attract the eye of our users and push them to book.
Communicate on social media about your restaurant reopening & send dedicated CRM & SMS campaign
Update your Google MyBusiness profile to make sure users know your restaurant reopen
Activate useful marketing levers to get more bookings
Bet on social media
Did you know that TheFork restaurant partners can now benefit from a free booking widget to install on their social media pages to get more bookings? In just a few clicks, install TheFork Restaurant Booking widget on your Facebook and Instagram restaurant pages and get more reservations!
Learn more about this feature here 
Rely on TheFork Loyalty program
If you are not part of TheFork loyalty program yet, it's time to join and capitalise on this great loyalty program to attract more customers and keep them coming back. Learn more about it here.
Bet on Special Offers to boost your business
Wishing to optimize your restaurant occupancy? Rely on TheFork Special Offers to boost your bookings at low peak hours, fill in your empty tables and generate revenue all day long. At TheFork, special offers can be a 20%, 30%, 40% or 50% discount and implementing such an offer has a significant positive impact on your restaurant visibility, bookings and reviews. 
Did you know that a 50% discount increases your restaurant page views by 6,5 times and bookings by 11, so many additional potential diners reached*
*Source: analysis from TheFork conducted in July 2017 regarding special offers performance   
Better communicate with your customers
With PRO & PRO+ versions of TheFork Manager you can build your customer database and prepare emails and sms campaigns to announce your re-opening and special offer. Premium Software access is free for 6 months if you register by February 2020, seize the opportunity to grow your business!

In order to accelerate your business recovery, we also worked on some tips to support you diversify your offer to generate revenue all day long. Learn more about it here.
Try out our PRO version now
software is free for the first 6 months