Get the most of TheFork Pro & Pro+ restaurant software to accelerate your recovery
05.05.2021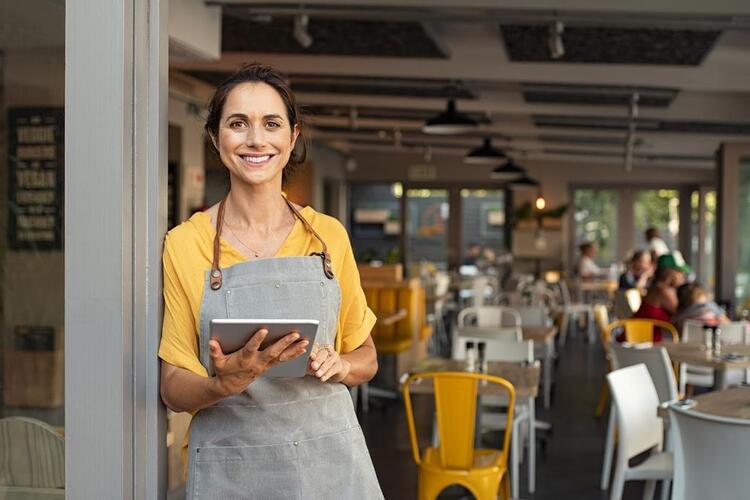 Rely on TheFork premium management software to increase and manage your bookings!
With more than 80k restaurants partners and 29* Million monthly visits, TheFork is the #1 restaurant discovery and reservation platform app in Europe, Australia and Latin America. As preferred partners and pioneers in offering digital solutions for booking management and restaurant marketing, we are supporting restaurants in their digitalisation so they get the most out of technology to optimize their restaurant management and boost their revenue. 
Trying TheFork Manager Pro and Pro+, our premium reservation and table management software, will help you manage smoothly your restaurant reopening. 
There's no better timing to try it, our premium software is free of charge for X months. Seize this opportunity to partner with TheFork and make your restaurant stand out from competition by boosting your online visibility and multiplying your bookings.
Boost your online visibility
Did you know that 42%** of the bookings are made when the restaurant is closed
Thanks to TheFork Manager Pro increasing your online visibility has never been easier. Indeed, today more than ever, it is crucial for a restaurant to pop on search engines as consumers use the internet before making a booking and potential diners trust online reviews as personal recommendations. TheFork Manager Pro features, will allow you to display and quickly update your restaurant profile and availabilities online to attract more customers.
Among TheFork Manager Pro features, discover the essentials to boost your restaurant online presence.
Being bookable anytime, anywhere is what our software will do for you ! No more missed bookings when our tool allows people to make reservations even when you're closed. 
It is significant to notice that 32%** of the bookings are done up to 2h in advance, meaning these are potential missed bookings. 
Using TheFork Manager Pro will help you attract new customers and boost your revenue. 
Be Visible where it matters and the way it matters
Did you know that 80%**  customers use the internet before purchasing. 
Rely on TheFork Manager Pro to offer the visibility your restaurant deserves by being visible where it matters most. The internet is like a deep ocean where the information often gets lost, so why take the risk not to see your restaurant pop up to the eyes of interested diners. 
TheFork Manager Pro is not only a software: it is a support given by restaurant experts helping you to make your restaurant shine. Indeed, TheFork local support teams are available 7/7 by phone, email and chat. Your account manager is available to advise you to develop your business making the most of our marketing solutions.
Centralise all channels in one single platform
Manage all your bookings in one single platform with TheFork Manager Pro. Why not using our customizable booking widgets available with the Pro version to conquer the internet. Make your restaurant bookable not only on TheFork but directly on Facebook, on Google and our own website: but manage all your bookings in TheFork Manager. 
You're not working with TheFork yet ?
If you want to boost your bookings, Try out our PRO version now
 Manage your restaurant like a chef  
TheFork Manager Pro is software easy to use, customizable and offers diverse solutions for your restaurant management to optimize your team efficiency as well as your bookings and customer experience. 
Reduce no shows and last minute cancellations
It is important to say that, 
TheFork customers have only a no show rate of 2.5%**
Reducing no shows and last minute cancellations is not an easy mission to tackle but part of the restaurant journey, that is why TheFork Manager is offering solutions such as the re-confirmation emails and the credit card imprint.
To save time and reduce no-shows, use the booking RECONFIRMATION feature. Our restaurant partners can now send automated reconfirmation requests to their customers via email, text message, or both. Indeed, our restaurant partners can send automated reconfirmation requests to their diners by email, text message or both.  via email, sms or both. Moreover, you can decide when it's best to reconfirm (ex: 2 hours before service) and even customize the reconfirmation message.
Knowing if your diners are cancelling or not  will help you fight against No-Shows.
Our Pro and Pro+ versions are reducing the no-show risk with the Credit Card imprint feature. 
Did you know that using Credit Card imprint can reduce up to 65%** of the no shows?
You can reduce the risk of no-show and cancelation by setting up a credit card imprint feature on TheFork Manager! You will then request a credit card guarantee from your customers when they book at your restaurant or when you decide to implement a special menu for seasonal celebrations ( Christmas, New Year's Eve, Valentine's Day). You have the right to charge the sum you set if a client does not follow the cancellation policy or does not show up. The bank footprint can be customized to meet your specific requirements.
These features are very helpful for your bookings management, especially for group reservations or seasonal menus as it will drastically reduce your cancellations or no shows. 
Better manage your occupancy rate and  floor plan
Manage the different areas of your restaurant and multi-seated meals with our interactive restaurant floor plan tool.  Our table management system will increase your table rotation. 
Today with the covid-19 crisis, it has become necessary to have full control over your inventory and your floor plan to be tailored to the different safety measures.
A digital floor plan will enable you to better control your bookings and revenue. TheFork is making everything to simplify and optimize the restaurant management in such a difficult time for the industry: therefore, TheFork Manager allows you to  define cover volume per time slot and per reservation source (walk in dinners, online). The digital floor plan feature helps you to visualise the best table disposition, set a number of guests per table and ensure to be compliant with safety distances to respect.  
Optimizing your floor plan is a great asset to improve your availability and space. Discover more advice to handle your stocks and floor plan here. 
Improve customer experience
Discover how you can make the most of TheFork Manager CRM tool Pro and Pro+ versions. 
- Communicating with your client database is key to reassure them and keep them posted about your opening hours, special menu...Thanks to TheFork Manager tool you can prepare personalized emails to inform your clients about your restaurant news.
- As it is necessary to communicate better and this is what TheFork Manager aims at with transactional emails. 
- Your diners experience relies on service, so dig deeper in your customer knowledge with your CRM tool and learn what diners are looking for and target them the right way. For instance, asking your diners their seating preferences when they're booking online thanks to our customizable booking widgets can make the difference! 
Our Pro+ version is the perfect CRM tool to make your existing clients come more often, indeed ⅓** of customers that discover a restaurant on TheFork come back. 
Make your diners come more often thanks to these features: 
Export/Import/Segment your database
Create easily email campaigns
Get help from hundreds of templates 
Create your own branded templates with no coding language knowledge
Easily test your campaign before sending.  
Track campaign(s) results
It is time to try TheFork Manager Pro/Pro+ versions for FREE*** ! Optimize your booking and table management and get premium onboarding to boost your revenue with the help of our industry experts. 
*Source: All visits on all devices, October-December 2019.
** Source: Internal analysis conducted by TheFork on all bookings made in all countries from April 2019 to April 2021.
***Offer only applicable to new clients and applies to TheFork Manager Pro for X months and for contracts signed before September, 30th 2021.