How does TheFork PAY work for Restaurants
Published 07.16.2020 - Last update 10.25.2022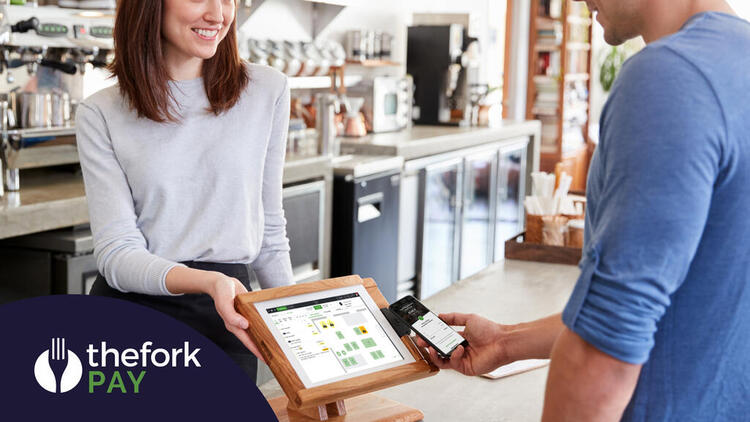 TheFork PAY is the completely free and innovative mobile payment solution by TheFork
More and more dinners ask to pay directly from their mobile phone when they are at the restaurant. That's why TheFork brings the perfect solution with TheFork PAY. 
TheFork PAY is a payment solution on mobile quick and easy to use. Also, this new feature of TheFork PAY, is the world's first completely free QR code-based payment system for restaurants, as transaction fees are waived, unlike credit card payments.
JOIN US NOW to make the most of TheFork PAY for your restaurant
If you are a restaurant Partner with TheFork, you can already benefit from it, you just have to confirm, correct or add your bank details and accept TheFork PAY terms of use. In case you aren't yet working with TheFork, we are glad to inform you that this feature is available directly on TheFork Manager , hence you won't have to buy POS access or any other technology to benefit from this key feature. 
How does it work for restaurants? 
TheFork PAY is so easy to use! Once you have activated it, here are a few steps to use it for your restaurant.
Print the receipt normally and bring it to your customers' table, they will enter the amount on their TheFork app and complete the payment. Here's what they will see.
2. When your customer has paid, you can check directly on TheFork Manager thanks to a credit card icon that you will see next to the booking of the same customer on TheFork Manager system.
3. You will also receive an email with the details of that specific transaction. Also, if you have downloaded the TFM3 app, you'll receive a notification directly on your mobile phone. 
4. In addition, at the end of the service you will receive a summary email with all the day's transactions
Have all the steps at your fingertips by downloading TheFork PAY one-pager 
How does it work for clients
The benefits are not only for you, but also for your clients. They'll only need to follow 4 simple steps: 
    📲 Introduce the total amount of the bill or split it between the diners if they wish. 
    💳 Select the method of payment they prefer. They can pay via credit card, Apple Pay...
    👛 Choose the tip they want to leave. 
    ✅ Receive the confirmation of the payment. 
Now that you know all about TheFork PAY, is time that you don't forget all its advantages and how easy is to use. For that, we've prepared a one-pager you can use to remember all of it. 
Feeling that TheFork PAY can be an asset for your restaurant management?
Learn more about how it works here!