TheFork PAY: 5 advantages you get with TheFork payment solution
07.28.2020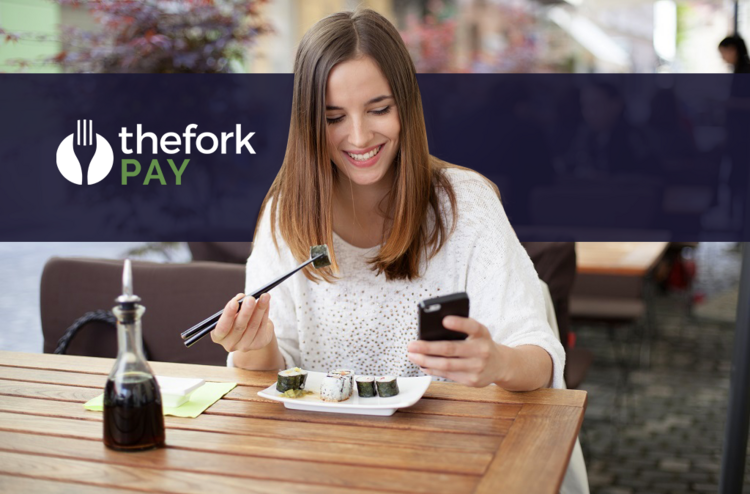 Did you know that payments via mobile phones are increasingly popular worldwide? People feel reassured by the possibility of paying with their mobile phone especially in this period when it is essential for them to reduce human contact due to the health emergency.
But this trend started even before the COVID: a research conducted in Italy by Doxa in October 2019* for TheFork revealed that almost 70% of respondents intended to use digital payment solutions to pay for the restaurant. That's why we developed TheFork PAY!
TheFork's mobile payment solution integrated into your account on TheFork Manager.
Thanks to TheFork PAY, you'll get 5 key advantages for your restaurant:
NO FIXED COST AND ADDITIONAL POS
With TheFork PAY you don't have to add any POS or other types of devices. According to a survey** by Altroconsumo, merchants can spend up to 200 euros for the installation of a new POS and up to 55 euros each month for the fee. TheFork PAY does not imply any fixed expenses, but only a small percentage of the transactions actually made by your customers, whose costs are in line with the market. Overall, therefore, you will have an additional payment method, but without having to make additional investments in new technological devices.
EASY TO USE
Adding technological solutions, especially when it comes to payment solutions, is always good for a business. You may already be wondering if you will have to train your staff to use it. The answer is no, because TheFork PAY is very easy to use and already integrated into your management software.
FASTER SERVICE
TheFork PAY allows you to cut some steps of your restaurant's service. What does this mean? That you can potentially speed up the service and increase the rotation of the tables. Furthermore, no customer is happy to wait to pay, so this greater speed in such a delicate moment of the gastronomic experience can certainly positively influence customer satisfaction and ultimately their willingness to return to your restaurant.
MORE PROPENSION TO LEAVE A TIP
Which customer likes it when the waiter is standing right next to the table, waiting for him to pay the bill and maybe leave a tip? TheFork PAY eliminates this embarrassment and from the first tests carried out it encourages people to leave a tip. Although it is not traditional in Italy, the fact that the app explicitly asks you to do so can incite the customer to leave a tip. Based on the tests done on 30 TheFork Partner restaurants, approximately 20% of payments made with TheFork PAY include a tip.
LESS HUMAN CONTACTS
Human relationships are a fundamental part of the gastronomic experience, but these days it tends to scare customers who are slowly going out after the lock-down. As for the contact-free versions of the menus, it is essential that your restaurant meets the new needs of customers who want to minimize human contacts, avoiding the queue at the cashier or sharing a POS. According to the Sum Up observatory, for bars and pubs from 4 to 10 May 2020 there has been a 55% increase in digital transactions. TheFork PAY allows you to add this payment option in an absolutely integrated way with the management system you already have.
You're already working with TheFork? Just update your profile on TheFork Manager and gain access to TheFork PAY.
You're not yet ready working with TheFork, register here and get the most of TheFork PAY