TheFork PAY arrives in restaurants: everything you need to know
Published 06.08.2020 - Last update 05.20.2022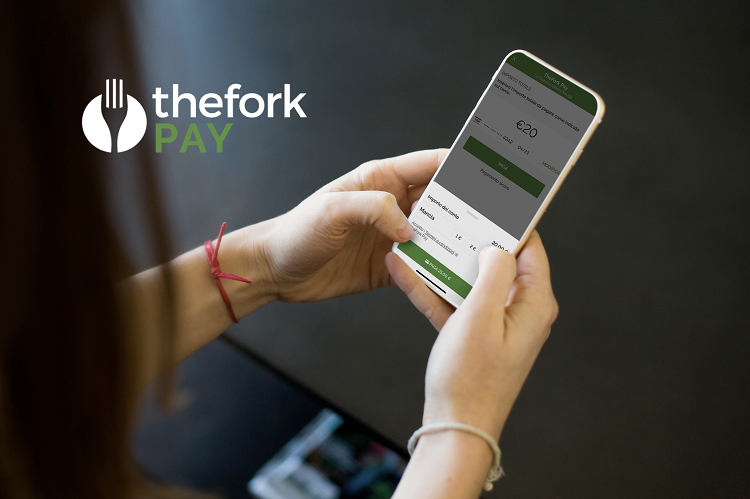 Discover TheFork PAY
TheFork PAY is TheFork's innovative technological solution for payments via smartphone in your restaurant.
It allows users who book through TheFork, to pay their bill directly via TheFork app.
It is completely integrated in TheFork Manager and it's free* now, perfect timing to test it.
Other benefits for your restaurants would be:
more security for you and your clients because of less queue for payments
it's free
faster and more efficient services, potential greater customer satisfaction and more tips form your client.
If you still have questions about TheFork PAY here are all the answers!
How long does it take for the money to be credited on my bank account?  
You will receive the money on your bank account within 2 business days from the time of the transaction.
How can I identify the transfer?
The money will be transferred on your bank account from Stripe Payment UK Ltd, TheFork's payment service provider.
TheFork's cover fees that I've always paid, would be deducted from the transfer of TheFork PAY transactions? 
No, TheFork's cover and subscription fees will continue to be invoiced on a monthly basis. You will be able to check them regularly by downloading the invoice through TheFork Manager.
What should I do if I change my bank details?
If you change your bank details, we recommend you to inform TheFork as soon as possible through your account manager, in order to avoid delays in payments' transfers.
Where should I see the details of the transactions paid with TheFork PAY?
You will receive an email as soon as the client will finalize the payment. Moreover, in TheFork Manager you will see a credit card icon next to the name of the client who made the reservation and paid withTheFork PAY. By clicking on the icon you will see the payment's details: client's name and surname, payment's date and hour, total sum and money paid and any tips. If the client has done multiple transactions, you will see each amount separately. Right after midnight, you will also receive a recap email with all the transactions done and the total amount paid, tips included. If during the day you haven't received any payments, no email will be sent.
If the client paid more (or less) than expected, what should I do?
If the client wrongly paid less than the required amount, he can settle the difference with a second transaction with TheFork PAY. Moreover, you are free to manage any differences with other means of payment.
Who is going to insert the bill amount?
The client will manually type the bill amount directly in TheFork app on his smartphone.
Can TheFork PAY be integrated in my cash register software? 
No, there is no automatic integration between TheFork PAY and your cash register at the moment.
How do I manage the bill if the client pays via TheFork PAY?
Nothing changes for you: you will print the bill and bring it to the client's table.
What should I do in case I apply a promotion or I accept Yums? 
Nothing changes for you: you will specify the promotion or the loyalty program's discount on the bill as always.
Can I manage the payment and transactions with TheFork PAY with TheFork Manager app?
No, for now TheFork PAY option is visible just in the desktop version of TheFork Manager.
How can I see the tips left by my customers?
Inside TheFork Manager, by clicking on the credit card icon next to the name of the person who did the reservation and paid with TheFork PAY, you will see the amount paid by the customer, splitted into the amount of the bill and the tip. In the recap email you'll receive after midnight, you will also see the total amount of tips received for all your payments.
Why am I required to accept Stripe's terms?  
You are required to accept Stripe's terms because TheFork has appointed Stripe as its payment service provider, which is needed due to the regulated nature of payment services. Your agreement with Stripe is a separate agreement from your agreement with TheFork and will apply to the provision of payment services to you as part of TheFork PAY.
Will I have to pay fees to Stripe on top of TheFork PAY's fees?
No, you do not need to pay any additional fee. 
How do I know a customer has paid? 
You will have multiple ways to check that your customer has paid: you can either check for the credit card icon next to the customer's reservation in TheFork Manager or check your emails. We will always email you when the payment has gone through.
I don't see the credit card icon next to the customer's reservation: what should I do?
First, if you have TFM2, check if the "Icon" column is activated in the setting; if you have in TFM3 it is shown by default. Secondly you can try to refresh TheFork manager page. If the icon still does not appear, check your emails as we will always send you a payment confirmation email when the payment has gone through. If you see no icon and no email, you can ask your customer to show you the payment confirmation email they have received.
What about chargebacks with TheFork PAY?
As with all credit card payments, users can request a refund from their card provider for fraudulently paid amounts. You should deal with these in the usual way with the relevant card provider. Note that if your monthly chargeback rate exceeds 0.5% of the total volume of your transactions, TheFork has the right to suspend the provision of TheFork PAY.
Can I refuse a payment via TheFork PAY?
TheFork PAY is an additional feature for TheFork partner restaurants. If a customer see the option to pay via TheFork PAY, it's because you have activated the functionality to accept payments via TheFork PAY. If you don't want to activate TheFork PAY, this may ultimately result in the termination of your partnership with TheFork. Do not forget it is an additional service you are offering to your clients to improve their satisfaction.
Not restaurant partner yet ? Join us right now and benefit from TheFork PAY and TheFork manager key features to fill in your restaurant.