12 tips to fill your restaurant
05.29.2017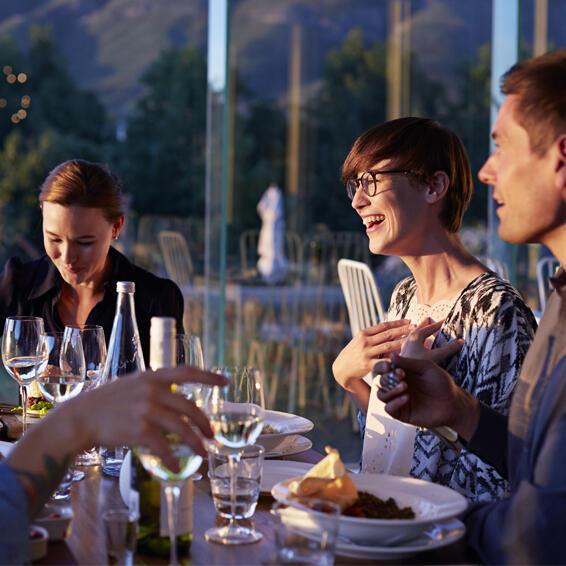 Just registered on TheFork? Congratulations!
Now follow our 12 tips to realise the full potential of your restaurant online and especially on TheFork!
6 tips to get started
1 - Complete your restaurant's profile on TheFork

A detailed page (prices, full menus, restaurant category, quality photos, chef's name, etc.) encourages customers to stay on your restaurant's page and at the same time increases the chances they will book with you.
Just like passing a beautiful restaurant with a smiling server, you feel at home and you want to stay!
2 - Add a bookable menu to your restaurant's profile on TheFork

Why not offer a tempting and bookable menu on your restaurant's profile?
This should help you to attract more customers.
 .
3 - Install a booking button on your restaurant's website and Facebook page

The booking button from TheFork makes it easier to convert visitors to your website or your Facebook page into bookings. It's completely free, our team installs it for you and there's no commission on place settings.
40% more reservations with a booking button.
4 - Increase the number of place settings that can be booked on TheFork

Increase your capacity of place settings that can be booked online (TheFork, TripAdvisor, your website and your Facebook page) via your TheFork Manager account. Our team is here to help if needed.
This step is easy! Want more online bookings?
5 - Use TheFork Manager to manage all your reservations

By adding your reservations made by phone, in person or by e-mail to your TheFork Manager, you will have access to all your reservations (online and offline) at a glance. You can build a complete customer list and increase your reliability rating on TheFork, this will improve your ranking on TheFork and you will receive more bookings!
This will help you save valuable time when preparing your service!
6 - Take control of your restaurant's TripAdvisor profile

If this is the case, take control of your page by clicking www.tripadvisor.com/owners. You can then update the page content, then monitor and respond to reviews.
You might not know this but it is possible that your customers have already added your restaurant on TripAdvisor.
6 tips for greater success
7 - Ask customers to give their reviews

You catch more flies with honey than with vinegar. Getting feedback and comments from customers is important. One of the best ways to do this is to ask them nicely at the end of the meal to leave a review on TheFork and TripAdvisor. Customers will usually do so. Don't insist too much if they don't want to, let them decide for themselves.
Customer reviews are extremely useful to monitor the quality of your service and to persuade other customers to book with you.
8 - Respond to negative and positive reviews

If a customer leaves a negative review, we encourage you to take a deep breath and respond with a simple and sincere explanation, try to be concise. You can also invite them to come back to make it up to them.
Sometimes a customer might be dissatisfied and that's normal, we all make mistakes!
9 - Join the loyalty programme to be more visible

Each time they book, our customers collect Yums - TheFork loyalty points. They can trade these Yums for a loyalty discount of €10 or €25 off their next reservation on TheFork with one of the participating restaurants. By joining the loyalty programme, your restaurant will be more visible on TheFork, so you will receive more bookings. This will allow you to welcome our 'foodie' customers who go to restaurants regularly. Finally, participation in this programme is free, TheFork automatically reimburses you for the loyalty discount as a credit. Act now and ask your TheFork adviser to register you right away!
TheFork's loyalty programme drives our best customers to your restaurant free of charge.
10 - Participate in special events

We strongly encourage you to take part. Restaurants participating in these kinds of events usually get a lot of visibility on the site plus the mobile app and through email campaigns. These events generate a lot of reservations.
With TheFork restaurants can participate in events such as festivals, restaurant weeks, etc.
11 - Keep in touch with your customers

You can use your TheFork Manager loyalty tool to communicate with some or all of your customers by sending them email campaigns and/or text messages.
A smart way to build customer loyalty by encouraging them to discover your new menu or to reserve a table for  your next special event!
12 - Provide a special offer to encourage people to book a table in your restaurant

Of course, you know that sometimes it is really hard to get customers, especially on Monday evenings for example. But did you know that you can provide a special offer at certain time slots to get more reservations? You could start a service more easily with a -30% discount on the menu from 7pm to 8pm (like a happy hour) and start the evening in the best possible way - with customers!
You will appear higher in TheFork rankings and rankings and be highlighted be highlighted on TripAdvisor.