Introducing Yums, TheFork's diner loyalty program.
Published 03.31.2021 - Last update 04.07.2021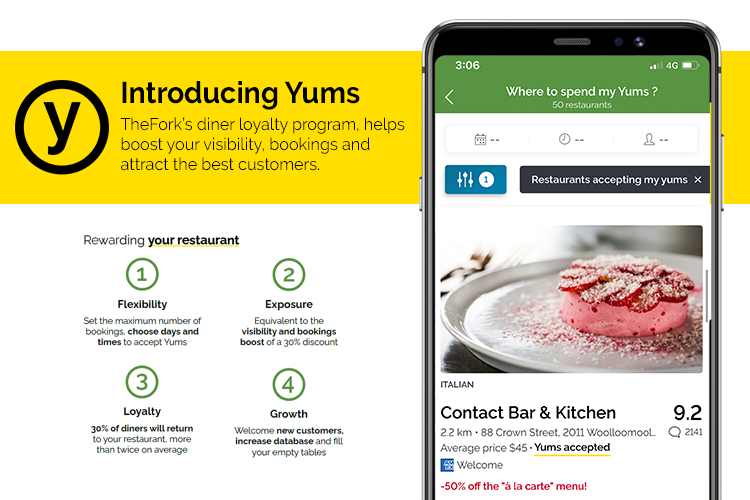 What are Yums?
Yums are the points earned by customers when they book on TheFork.
Diners can then exchange their points for discounts on reservations in a participating restaurant... Which could be yours!
The points are awarded as follows: a reservation via the app earns TheFork customers 150 Yums, whereas a reservation made on a computer or mobile site earns 50 Yums. When they have earned 1,000 Yums, customers get a $20 discount. For 2,000 Yums, the discount is $50.
How it works?
What's in it for restaurant owners?
Participating in the Yums loyalty program will empower restaurant owners to boost their business by:
Generating more reservations through exclusive visibility with dedicated Yums banners, the Yums section on the app's homepage and emails.
 
Welcoming more loyal guests into your restaurant. Users of the Yums program are very regular and very reliable (only 0.4% of no-shows).
 
Getting the opportunity to retain customers in the long run.
 
Co-financing up to 50% of the loyalty discounts, which will be automatically deducted from your TheFork invoice in the following month.
*Source: TheFork Global Data, 2019, 2021
Contact your Account Manager and join the Yums loyalty program today!