TheFork reveals new brand identity
Published 06.22.2023 - Last update 06.23.2023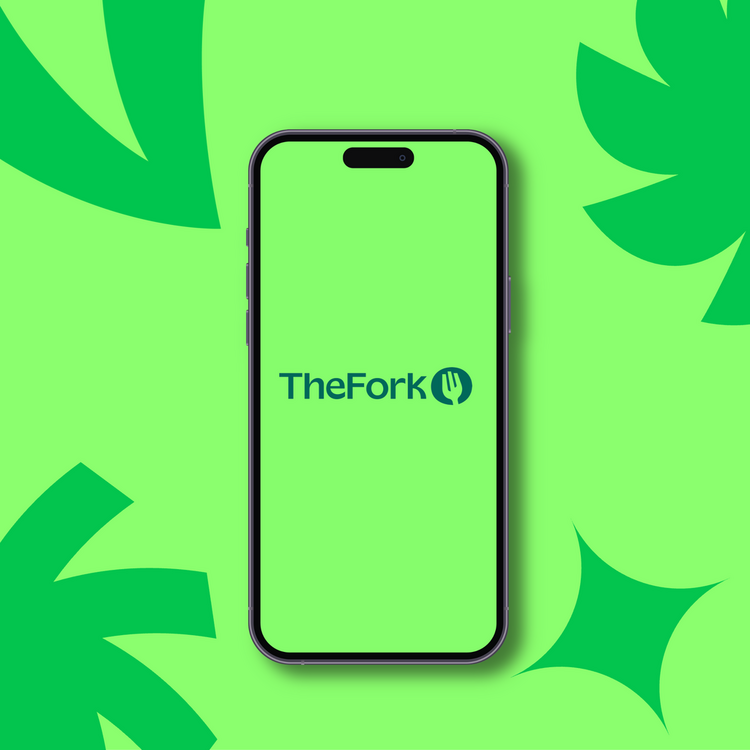 Grab a chair and join our table, we've got some special news to share with all our incredible partner restaurants.
Today is a very exciting day at TheFork as we launch our new brand identity! With a fresh new look and feel, it's energetic, full of flavour and personality. Everything we do is inspired by our core mission: we exist to bring people together, feed the human spirit, and champion restaurant culture because we believe that the best things in life happen around the table, and as our partners, this happens every time you welcome a diner at your restaurant.
Our rebranding journey was driven by this commitment to offer everyone the chance to experience unforgettable moments when dining out. Our team at TheFork are constantly seeking out innovative ways to realise this commitment ourselves as well as helping our restaurateurs succeed in their own indivualised visions. These key values are at the heart of our new brand identity and plans moving forward.
So what exactly has changed?
✨ New logo,  and new look
Looks aren't everything, but check out our new tantalising logo and design. We worked with the best in the business in order to fully unleash the magic at the heart of gastronomic experiences. Our new and improved distinctive assets are an ode to our mission back in 2007 and reflect our continued journey towards becoming an even bigger, better and more dynamic brand.
🔊 Exciting upcoming social media strategies
Keep an eye out on our social platforms over the next few weeks and months! With our new TOV, we'll be working on new ways to excite, engage and celebrate our community of TheFork foodies across our growing audiences.
🍴 Continued efforts to satisfy restaurants and diners and maintain our title as Europe's leading booking platform
At TheFork, we're on the ball with happenings in the gastronomic industry and are constantly exploring ways to innovate. Our brand identity relaunch is just a taste of the new and exciting endeavours to come. 
What does this mean for restaurateurs?
Even though the best kinds of growth and evolution involve some form of change, we can assure every one of our restaurant partners that you can expect business as usual from us. You can sit back and keep on doing what you do so well: bringing people together around the table through unforgettable dining experiences. In the long run, this growth will be a positive force for our restaurant partners. Our aim is to keep our current diners happy and coming back for more meals, and connect with new diners who are introduced to TheFork through our new look and feel. More satisfied TheFork users= more satisfied diners= more benefits for restaurateurs. Simple as that.
New look, same mission
Trends may come and go, but one thing remains certain: our mission to bring people together through incredible dining experiences and adapting to this in an increasingly digitized world. We want to champion restaurant culture which lets us live out these special moments, and nurture not only bellies, but also spirits. Our new brand is a reflection of all of this, and through it, we aim to support and connect you with an ever-growing community of food lovers.
🥁 And most importantly… 
We want to say an enormous thanks to each and every one of our incredible partner restaurants, who now make up a strong community of 55,000 restaurateurs. Since 2007,  they've been at the heart of that special link between diners and restaurateurs, made up of equal parts passion and dedication, which, when combined creates these unforgettable moments, turning millions of meals into millions of memories. We remain dedicated to helping our restaurant partners thrive by putting the very best of technology at their service, thanks to our powerful restaurant management tools, advanced marketing capabilities and connecting with the broadest base of loyal diners. 
🥂Here's to the future of unforgettable dining-out moments
In the coming days, we invite TheFork community and partners to witness our new brand come to life across our app, website, social media channels, and communications. We look forward to sharing this exciting chapter with you and to everything we achieve together from here on out. Onwards and upwards!