TheFork Festival is back! Take part in the UK's biggest restaurant festival and increase the number of your bookings.
Published 09.04.2023 - Last update 09.12.2023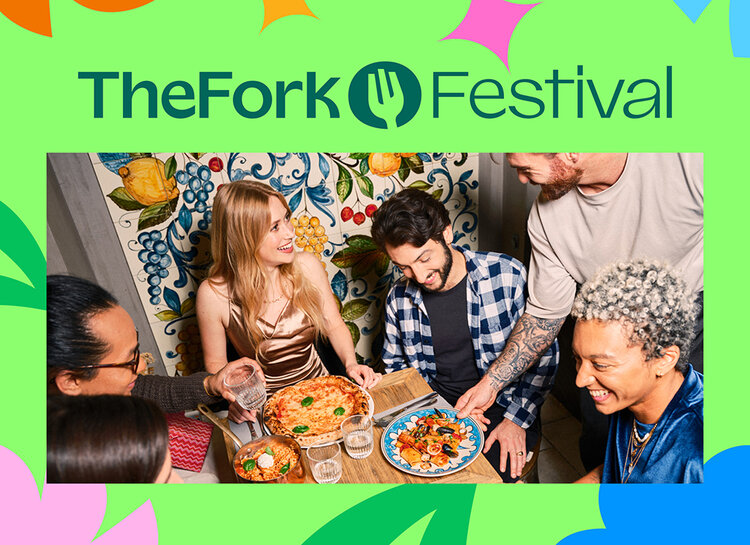 Tap into the power of TheFork community and multiply your number of guests times 5* during TheFork Festival!
Looking to keep your tables filled now summer has come to an end? Look no further: TheFork Festival is back! It presents the perfect opportunity to boost your visibility, increase bookings, and maximise revenue. Make the most of our vibrant community of restaurant lovers and attract new guests in London and across the UK. Let's finish 2023 with a bang!
What is TheFork Festival?
TheFork Festival is our biggest dining campaign of the year and serves as the ultimate chance for restaurants to elevate their marketing game, warding off any autumnal slumps. This culinary celebration brings together food enthusiasts and participating restaurants from the UK and all across Europe. This autumn, get ready for an influx of bookings, spanning from October 12th to November 26th.

Drawing from the impressive results of previous festivals, it's clear restaurants that hopped on board during the last TheFork Festival in the UK saw their guest numbers multiply by a remarkable factor of 5*. It's a testament to how special offers can work wonders for your restaurant this season! And here's the cherry on top: studies reveal TheFork customers are a delight for your business. They dine out twice as often as other guests, have a 38% lower likelihood of no-shows, and generously spend 14% more on average**.
Sign Up Today
Increase your visibility and receive more bookings
Get ready to shine during TheFork Festival
TheFork Festival restaurants enjoy a significant visibility boost throughout the campaign. TheFork platform (web and app) witnesses an additional traffic surge of +1 million users per week, ensuring restaurants in the festival's spotlight bask in enhanced visibility. As diners explore new dining destinations, this is your moment to make sure your restaurant shines and captures the attention of new diners. With years of successful festival events under our belt, we've continually refined our marketing and media mix, guaranteeing participants secure the maximum number of bookings possible.
Why join TheFork Festival?
1. Increased online visibility
Firstly, let's talk visibility. The festival rolls out custom banners all across our platforms, captivating newsletters, and optimised search result placements thanks to your increased relevance to TheFork users. This exposure catapults your restaurant's recognition, bolstering brand awareness and establishing your name among diners.
2. Higher number of reservations (each day of the week)
The magic of TheFork Festival lies in its knack for attracting foodies, even during quieter periods. This translates to happy guests at your tables each week. Not just boosting foot traffic but also reviews. With more diners sharing their culinary experiences, your ratings soar, cementing your online reputation.
3. End-of-year boost of income
As the year wraps up, TheFork Festival steps in as your ultimate revenue booster. With a constant stream of patrons indulging in your culinary creations, the festival becomes a lucrative year-end strategy that concludes on a high note.
4. Next level result tracking
With our brand new revenue statistics feature, you'll know exactly how much you gain from the Festival. Watch your number of page views skyrocket, understand the additional gains after subtracting costs, and have the ability to fine-tune the promotion to position your restaurant perfectly for thriving.
TheFork Festival isn't just an event; it's a catalyst for success. Thanks to your heightened visibility, a bustling guest list, and a revenue-packed celebration, you're sure to finish 2023 on a positive note. 
Keen to take part? Your account manager is here to set you up for success, ensuring you finish the year in style. Not part of the TheFork Family yet? Click here to get started.
*Internal study - Jan 2022 to May 2023 (only restaurants with at least 1 guest are taken into account)
**TheFork internal study, Australia, France, Germany, Italy, Spain and UK, April 2022