Showcase your restaurant, boost your bookings and increase your revenues during TheFork Festival
01.10.2023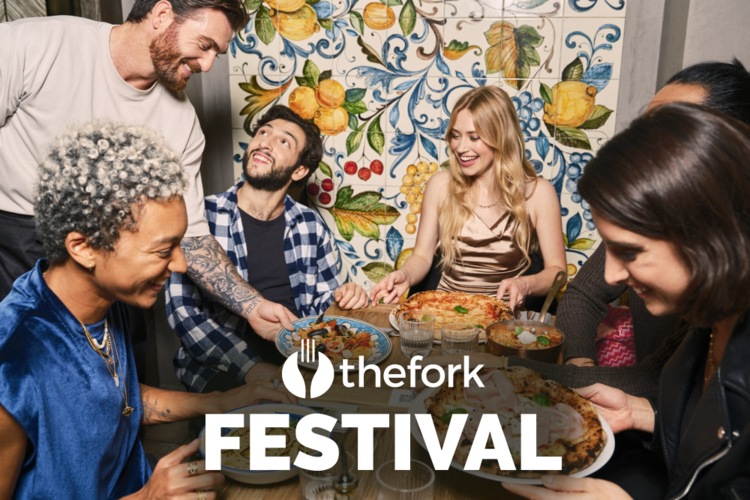 Double your bookings through the TheFork Festival!
Thanks to TheFork's multichannel marketing campaign across various online and offline channels, participating restaurants in London and across the UK benefit from significantly increased visibility. Our restaurant partners state that the three most effective marketing levers to boost their bookings are discounts, online advertising, and TV campaigns.  In fact, TheFork platforms get a traffic increase of +1M** users during TheFork Festival, which represents a huge demand for participating restaurants!
Why are offers important to your restaurant? In our experience from past TheFork festivals, we discovered the restaurants that participated in the last Festival and offered special discounts experienced an increase of 3x the number of new customers acquired compared to the pre-Festival periods.
Participating restaurants have on average a +60% increase in net bookings compared to pre-Festival periods***
Join TheFork Festival from February 16th to April 2nd to gain as many as 3x more customers!
The latest TheFork Festival campaign will allow restaurants to not only maximize revenue but also acquire new customers who spend more - these being TheFork users. You're probably wondering why we are saying our users are different compared to other diners… and it's not just because they belong to our network.
According to data from a study conducted by TheFork, we know TheFork users…
🚀 Dine out 2x more VS the average customer****. 
TheFork users are real food lovers. They're always seeking new restaurant experiences which makes it more likely they will find you within our app. 
🤩 Are 15% less likely to "no show" vs restaurant website bookings*****. 
Thanks to our different actions to fight against no-shows like booking confirmation, reliability index, or re-confirmation push notifications, our users know how to behave better - giving you the confidence you need to manage your restaurant. 
🍽️ Spend +14% more when dining out VS the average customer****. 
As TheFork users are really passionate about gastronomy, they are more willing to try and enjoy more dishes and end up spending more on the final bill. 
 
Why do all restaurants benefit from TheFork Festival?
Both established and up-and-coming restaurants in London and across the United Kingdom can achieve success in terms of bookings and revenue growth from TheFork Festival.
Established restaurants will be able to build customer loyalty and a strong reputation. They will also ensure t all their spots are booked as not only the regular customers will come but also eager diners will be attracted by the special offers. 
New or up-and-coming restaurants will have the perfect opportunity with TheFork Festival to showcase their restaurants and attract new diners thanks to the huge media campaign that will boost their visibility on different channels! But not only that, thanks to the special discounts, new customers will be encouraged to dine out. Did you know when diners have the opportunity to dine with special offers, they appear to be more inclined to discover new restaurants and book with those that they haven't tried before? 
Don't just take our word for it…
"I've found TheFork to be a very user-friendly booking system, and I love the marketing tools and campaigns available, such as Yums and TheFork Festival. TheFork Festival is a great way to generate bookings. We achieved over a 100% increase in bookings, around 80 additional bookings per day and as a result, gained an additional £20K revenue per month!"
CK, General Manager, RedFarm London
Discover more about TheFork Festival and sign up today!
Enroll in TheFork Festival
Acquire new diners & boost your bookings
* Internal study conducted by TheFork in all operating countries for restaurants participating in TheFork Festival Q2 2022 vs pre-Festival period
** Internal study conducted by TheFork - Awareness media Analysis  TheFork Festival Q2 2022 vs previous period - All operating countries
*** Internal study conducted by TheFork Restaurants participating in TheFork Festival Q2 2022 vs pre-Festival period - All operating countries
**** TheFork x Kantar April 2022 Study, all countries results (FR/SP/IT/DE/UK/AU)
***** Internal study conducted by TheFork in all operating countries comparing Rs no show per channel, TheFork vs restaurant website bookings overall, August 2022