Group Bookings Have Increased Nearly 50% : How Restaurants Can Capitalise On The Rising Demand
08.09.2023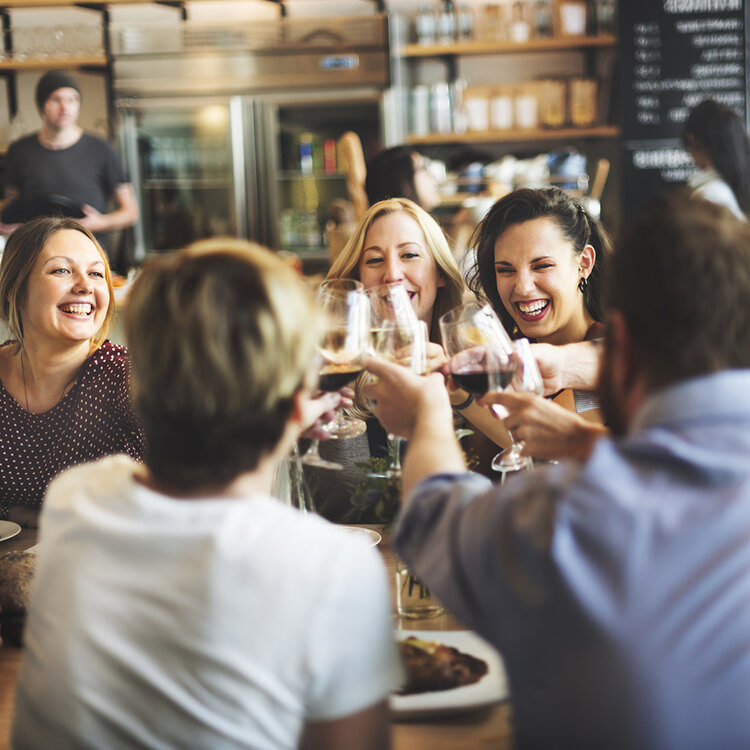 As a restaurant owner, you're constantly seeking ways to attract more customers and increase your revenue. One growing trend you shouldn't overlook is the rise in group bookings. Hosting a dinner party at home used to be the go-to choice for gatherings, but recent data reveals that dining out offers better value, cost efficiency, and a hassle-free experience for both hosts and guests. 
In this blog, we'll explore the advantages of restaurants over home-hosted events, share insightful statistics, and provide tips on how you can cater to group bookings effectively.
Dining Out vs. Hosting at Home
According to our own research, the cost of hosting a dinner party at home has soared. Rising supermarket prices have made it up to 91% more expensive to host for a group compared to dining out and splitting the bill. Hosting entails not just purchasing ingredients but also considering the time and effort required for preparation and cleanup. In contrast, restaurants offer the convenience of a three-course meal at a fraction of the cost, allowing hosts to relax and enjoy the occasion.
At TheFork we've seen the growing popularity of restaurant bookings for large groups,increasing to 49% in the past six months alone. Furthermore, specific cuisines can prove especially costly for hosts. For example, a Greek-themed dinner party for six can amount to over £95, while dining out at an authentic Greek restaurant averages only £19 per person. These figures emphasize the significant savings and overall value that restaurants provide.
Adapting to Group Bookings
To capitalise on the rising demand for group bookings, it's well worth adapting your menus and facilities to be able to offer larger booking options and private dining rooms to accommodate gatherings of various sizes comfortably. Moreover, you can incorporate home-cooked favourites into your menus, enabling guests to enjoy familiar dishes in a restaurant setting. This shift not only enhances the dining experience but also helps you to attract more diners seeking affordable and enjoyable meals with friends.
Try TheFork for free
Are you a restaurant owner who wants to find out more about TheFork? Let's get in touch.
What Industry Professionals Have To Say:
Industry professionals and other restaurant owners echo the sentiment that dining out is an excellent choice for group gatherings. Charles Oak, Hotel Director at 8 at The Londoner, noted the increasing interest in dining experiences that replicate the comfort of home. Joanna LaForge, spokesperson for 28-50 Oxford Circus, emphasized the importance of offering affordable, enjoyable dining experiences while adapting to the current challenging environment. These testimonials highlight how restaurants are meeting customer expectations and creating memorable group dining experiences.
Different cuisines have varying costs, but the benefits of dining out extend beyond price considerations. Our data shows that dining at a restaurant offers exceptional service, food discovery, and a delightful ambience that can't be replicated at home. While Indian, Italian, Spanish, and other cuisines may have varying price differentials between dining out and cooking at home, the added value of the restaurant experience makes the slightly higher cost per head insignificant.
Boost Restaurant Revenue
With the increasing costs of hosting dinner parties at home, restaurant dining has emerged as the more cost-efficient and enjoyable option for group bookings. Restaurants provide excellent value, convenience, and an exceptional dining experience for both hosts and guests. By adapting menus, incorporating home-cooked favorites, and catering to larger groups, you can tap into this growing trend and attract more customers. 
Embrace the benefits of hosting group bookings at your establishment, and enjoy the positive impact it can have on your business. Partner with TheFork to streamline operations, boost revenue, and showcase your restaurant to millions of potential diners. Click here to get in touch.