Sharing is caring: Increase customer spending by adding shared dishes to your menu
11.15.2022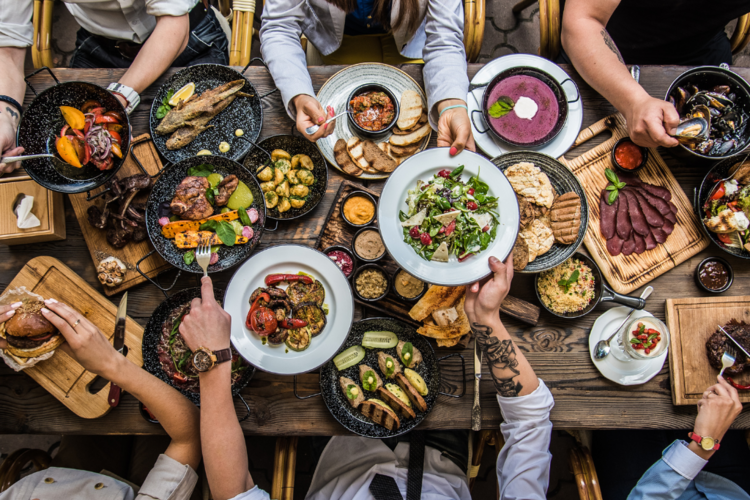 It's no secret the cost of living crisis is impacting consumer spending habits, from Netflix subscriptions being canceled to cutting back on the number of weekly (or daily) Amazon orders, we're all feeling the pinch. And when it comes to dining out, customers are also looking at ways to curb their spending, perhaps opting just to have a main course rather than starters and desserts. Behaviours like this have seen customer spending fall by 14% (£25.38 to £21.80)* compared to last year.
So how do you combat this?
How are restaurants countering this decrease in customer spending?
According to research by Lumina Intelligence*, restaurants are combating the reduction in spending by introducing more shared dishes to entice diners to spend more money. This includes starters, mains, and dessert dishes to increase spend per head and deliver an improved experience for their customers. 
Offering shared dishes has also helped restaurants increase the efficiency of their operations as by offering shared dishes they are able to prep ahead of time and need fewer people to do so.
If you're thinking about ways to increase spend per head and get more customers through the door, offering shared dishes and deals on alcohol looks to be a savvy option. Even Michelin-starred restaurants are turning to this strategy to maximise their revenue and bookings.
The Guardian reported Kerridge Bar & Grill London will soon be introducing a new sharing menu to allow diners to try their various dishes**.
How can TheFork help to promote new menus and shared dishes?
TheFork restaurant partners receive a free customisable page (see example below) to help restaurateurs like you increase the online visibility of your restaurant. Using this page, there are a few ways that you can help to promote your new dishes, menus, and restaurant ambiance to increase reservations and tempt customers into trying more of your delicious eats.
You can update your profile information with the address, opening hours, and reviews, as well as upload mouthwatering photos of your (shared) dishes and menus to set the customer's expectations and tempt them to make a reservation.
Posting pictures of your restaurant and the dishes you offer alongside your menu is the best way to entice new and existing diners to come and experience what your restaurant has to offer. Share a few images of some new, delicious sharing dishes to your TheFork profile and you may just see your restaurant bookings increase as well as spend per head! 
In addition to this, you can add special offers and incentives such as our Yums loyalty program to entice customers to book a table at your restaurant. Once the customer is through the door you can delight them with a variety of shared dishes to enhance their dining experience and make them feel like they're really getting their money's worth. 
Sources
* https://www.lumina-intelligence.com/product/menu-tracker/
** https://www.theguardian.com/food/2022/nov/13/sharing-menus-on-the-rise-…
Want to know how you can get your free customisable page? Easy. Register with TheFork today and get ready to have thousands of potential diners looking and booking at your restaurant. Click below to get started!
Get your free customisable page on TheFork
Sign up to one of our plans today!