How do you get more reservations using Reserve with Google?
Published 11.07.2023 - Last update 11.10.2023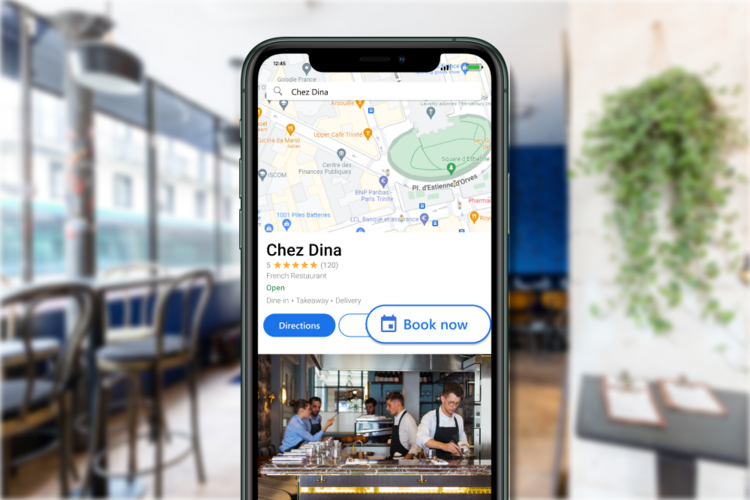 In 2017, Google introduced a new functionality that allowed online users to reserve services through the search engine: Reserve with Google. A year later, restaurants in the United Kingdom could also receive reservations from guests via Google Reserve, as it is also regularly called. So the service has been around for a while, but you might still be unsure about how the reserve button on your Google profile works. In this blog, we reveal exactly how Reserve with Google can benefit you and your restaurant.
What is Reserve with Google?
How many websites do you directly enter the URL of in the search bar of the browser on your laptop, app or smartphone? Probably not that many, it's more likely that you find the website via Google. With a search engine share of over 90%, Google is definitely the biggest player in the United Kingdom, and it makes things as easy as possible for visitors to find what they're looking for. 
Reserve with Google functionality allows Google users to reserve a service or place through your business page. That could be a hairdressing appointment, a museum visit or even a table in a restaurant. 
In doing so, Reserve with Google reads online availability from your reservation system and displays the available times and covers. By partnering with TheFork, you automatically receive Reserve with Google - completely free of charge.
The guest sees a table for 4 available tomorrow at 19:00 and makes the reservation with Reserve with Google, from the search engine. Reservations via Google will then show up in your reservation system, TheFork Manager. The reservation then automatically appears in your overview, and the table is no longer bookable - via any channel.
Try TheFork for free
Are you a restaurant who wants to gain bookings through Google, find out more about TheFork, our software or your benefits when joining TheFork? Let's get in touch.
What does Reserve with Google mean for restaurants?
As a restaurant, why should you get started with Reserve with Google? How does Google Reserve get you additional reservations? And what role does TheFork play in this process?
An additional channel
You can think of Reserve with Google as an additional channel for reservations. Not only can guests make a reservation via Google in the browser, but also via Google Maps or the Google app on the phone.
On TheFork app, users can quickly find nearby restaurants via an interactive map. Google Maps works the same way, serving as a convenient way to make a reservation directly from the app in just a few steps.
A big advantage of Reserve with Google is that the number of steps to make a reservation is, like TheFork, very low. This means the chances of a guest dropping out of the booking process are minimal.
Adding the reserve button costs you nothing, and with TheFork's Pro+ package, the reservations you receive via Reserve with Google are absolutely free.
A new group of guests
Anyone who uses Google to search for a restaurant could potentially end up at yours. Not only those who use the search engine to look for a restaurant in your town but also those who use Google Maps to search for a table near a certain location.
This is especially true during the summer season when tourists from home and abroad visit new places. They'll use Google to discover and make a reservation at the right restaurant, making Reserve with Google a good channel to utilise.
Guests who come to visit your restaurant via Reserve with Google will show up in your reservation overview in TheFork Manager just like all other reservations. Don't worry, all available times are pulled live from your restaurant floor plan so guests can see an accurate availability.
Did you know...
Google isn't the only partner of TheFork that gets you more reservations as a restaurant. Guests can also book restaurants via Instagram, Facebook, Tripadvisor and the MICHELIN Guide.
Here's how to activate Reserve with Google
As mentioned, Reserve with Google is included in TheFork's packages. With the Pro+ package, not only is activating the reserve button free, but all reservations are commission-free!

Want to learn more about Reserve with Google, partner with TheFork or request a no-obligation call with our experts at TheFork to discuss what we can do for you? Then click here.