Introducing the Booking Widget Homepage: Let Your Guests Book More Than Just Their Next Meal Out.
08.15.2023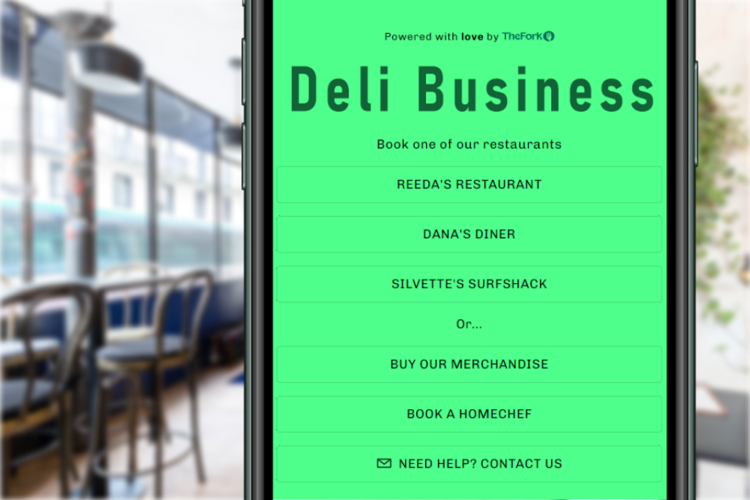 Remember back when a restaurant was just a place to snag a table for some grub? Well, those days are long gone. Restaurants have transformed into brands, a realm of possibilities – a place where you can book experiences, purchase merchandise, and even consider spending the night. TheFork understands this evolution and is proud to introduce an innovative solution that encapsulates the multifaceted nature of restaurants – the Booking Widget Homepage. As the lines blur between buying and experiencing, this free feature lets restaurants, hotels, and groups show off everything they offer in one online space.
Your central hub for any kind of booking
Consider the Booking Widget Homepage as a springboard for all you have to offer. It's one overview, designed your way, where you can add redirections to the different booking widgets or links. Guests can book whatever it is you want them to book. And like we said, it isn't just about booking tables anymore. Let our latest innovation, which builds on the recently reworked booking widget, spruce up your online presence and showcase what you're all about.
This one-stop shop works across all your channels. People checking out your website or social media can easily jump from one booking to another. Imagine this: you've booked a table for dinner. But then you're thinking, "Why not stay the night?" So, you book a room. Next morning, you secure a table on the rooftop for breakfast and grab a cool cap as a memento. You're having such a blast that you decide to get a gift voucher for a dinner+stay package as a wedding gift. And then you spot an upcoming wine tasting event and grab tickets without missing a beat.
The power of flexibility
And that's just us painting a picture of what might be possible. What you put up for booking is entirely up to you. You're the expert on your business, and the booking widget homepage is the tool you need. This unified approach provides a consistent and enticing presentation that enhances your brand's full spectrum of offerings, simplifies the booking process, and opens up exciting new avenues for upselling, cross-selling, and revenue generation.
The diversity of potential bookable options makes it ideal for restaurant groups. Refer users to your other venues, sell merchandise to guests, and add a single booking button on your social media pages, allowing your fans and followers to choose the restaurant they prefer. 
Try TheFork for free
Are you a restaurant owner who wants to find out more about TheFork or our brand-new widget? Let's get in touch.
Four benefits of the Booking Widget Homepage
To sum up, the new Booking Widget Homepage is set to take your restaurant game up a notch in a few exciting ways:
Better Engagement: Your Booking Widget Homepage becomes a window into your world, offering potential customers a sneak peek into what makes your establishment special. This increased engagement can lead to more online bookings and a stronger online presence.
Easy Booking in One Place: Simplify the booking experience for your customers with our easy to use booking widget. Instead of navigating through multiple websites or channels, they can explore and reserve various experiences directly from your dedicated Booking Widget Homepage.
More Ways to Earn: The ability to offer diverse experiences means you can cater to various customer needs. Whether they're seeking a romantic dinner, a weekend getaway, or a unique gift, your business becomes a go-to destination.
Consistent Branding: Maintain a consistent brand identity across all online touchpoints. The Booking Widget Homepage ensures that no matter where customers discover your offerings, they experience a unified and compelling presentation.
Creating your own Booking Widget Homepage
Setting up the Booking Widget Homepage on your own channels is a breeze using TheFork Manager. Use the user-friendly interface to customise the layout, showcase stunning visuals, and list the range of experiences you offer. Once ready, seamlessly integrate the homepage into your digital presence, reaching more people and offering them exciting options.
Ready to dive in? This fantastic feature is free and available for all Pro packages. Bookings coming from the social widget remain free. Head over to TheFork Manager, and go to Settings > Booking module > Homepage. And don't forget, if you need help setting things up just right, our support team is right there to lend a hand whenever you need it, through the online chat in TheFork Manager. 

New to the party and curious to learn what TheFork is and how you can set up your booking widget homepage yourself? Let's connect – leave your contact details here, and we'll reach out at your convenience for an explanation, free of obligation.