How to Hire a Chef For Your Restaurant
Published 10.12.2022 - Last update 09.05.2023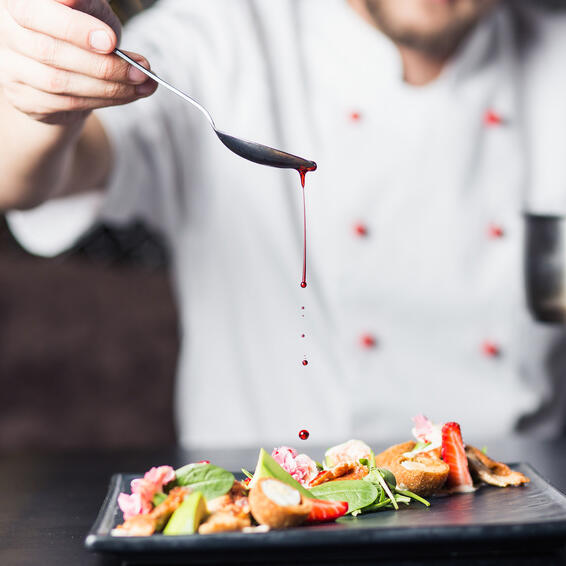 Who is the rock star of a restaurant? The chef, of course. Chefs are now the protagonists of the wider culinary scene, and are considered among the most fundamental figures of any restaurant. The chef is responsible for the dishes that leave the kitchen, whether they really satisfy the customers, their flavor, quality, presentation, as well as getting them on the table in time. 
Restaurant kitchens tend to be fast-paced environments where effective teamwork is critical. The head chef must be an inspiring team leader capable of managing all kitchen operations,  passionate and knowledgeable about food and a savvy business person. A great chef has the power to transform a restaurant into a thriving, profitable business. Below are a few tips on how to hire the right chef for your restaurant's needs.
How to hire a chef 
Define the profile
A restaurant serving fine cuisine may need a more creative chef, with executive skills, while a pizzeria needs a chef who knows the product very well and can manage orders quickly, and a health food restaurant should look for a chef who is more focused on nutrition, for example.
Is being a good chef a question of talent? Of course! But the chef also needs other qualities to keep everything running smoothly. In this article, you'll learn how to define the best profile for your restaurant. 
Define your recruitment strategy
To hire a chef, start by defining what your chef's position entails and the essential qualities, skills and experience you are looking for in a chef.
Key considerations
What type of chef are you looking for? The main types of chef are Executive chef or Head chef, sous-chef, and line chef. 
When and how often do you need the chef to be available? Are you offering a full-time chef position?
What will be the chef's responsibilities? Note: be as specific as possible.
What types of cooking skills and food styles are you looking for? (vegan, plant-based,  sushi, pastry & baking, pizza maker, gastronomic, breakfast food, knowledge of wine and beverages, excellent knife handling skills…)
What qualifications are you looking for, if any? 
How many years of restaurant experience do you require and which is more important to you: formal culinary education or experience?
How involved will the chef be in the business aspects of your restaurant?
What type of soft or "people" skills are you looking for?
Hint: This step will help you write an accurate description of the chef position for a job ad. It will also prepare you to ask the right questions for the chef interview. If possible, involve someone else in the process such as the manager, so as not to forget key points.
Write a chef job ad that makes candidates want to apply 
The chef job ad should include a detailed, accurate description of your chef's future duties and responsibilities, but not only. Remember you need to make the chef job ad appealing and stand out from all the other restaurants looking to hire a chef. Think about what makes your restaurant unique and provide a teaser highlighting your restaurant's philosophy & core values, physical space and/or design environment, vibe (upscale, casual, fast-food…), menu (seasonally driven, organic, traditional/trendy) and working environment. Be sure to include the chef salary and any perks or benefits you offer such as:
Paid vacation time
Bonuses
Retirement plan
Health insurance plans
Advancement opportunities
Hint: Experienced chefs are in high demand so consider that in many cases the chef will be interviewing you as much as you are interviewing him or her. The job ad may be the first contact the chef will have with your restaurant: make it professional, descriptive, and clear.  Above all make sure your restaurant comes across as a great place to work.
The test
Observing a chef at work in your kitchen is the ultimate test. If you only have a few candidates, they can each come in for a full day (it's best to do this during a more quiet shift, to avoid delays).
If more than one candidate passes thist test, you can keep testing them over a few weeks. Once you finally find the perfect person, you can suggest a paid trial month.
Things to note during the test:
Their dexterity when using tools, how they hold the knife, chop ingredients, etc.
Their level of tidiness and organization while cooking. Their focus on health and hygiene.
How quickly the execute orders and their attitude. If the chef keeps calm under pressure, that's a very good sign.
How they use resources, whether they recycle ingredients or waste them.  
Knowledge of recipes, techniques, and tricks for preparing food.
Knowledge of measurements, weights, and cooking methods.
Coordinating the kitchen team's efforts and communicating with the wait staff.
Hint: if a chef isn't effective all around, no matter how creative they are, it's best to find a replacement as soon as possible. Often, very intense relationships are formed in restaurants between colleagues, and this may come into play when it comes time to let someone go. That's why it's important to have a competent chef.
Let the world know you are looking for a chef 
How do you find a chef for your restaurant once you have crafted a great job ad and know exactly the type of chef you need? There are several ways of finding and attracting experienced chef candidates:
💻 Post your job ad on some of the most widely used online job boards such as Indeed, Linkedin or Glassdoor.  Also c,onsider specialized restaurant industry job boards for your country.
🔊 Leverage your social and professional network: Take advantage of your own social and professional circles (restaurant suppliers, peers..) and those of your friends and family to get the word out that you are hiring a chef.
👩‍💼 Use a recruiting agency: while this is a more expensive option, it saves time as the agency will vet candidates and provide you with a short list based on your needs.
👨🏽‍🍳 Hire internal talent: Is there a talented sous-chef in-house eager to take on more responsibility?  Hiring in-house is great motivation for all employees. In addition, you already know how the person works, if they are reliable, and their strengths and weaknesses.
🤝🏻 Word-of-mouth referrals:  Word of mouth recruiting is a natural process where employees spread the word about their business to others. Why not motivate your staff to help you find chef candidates.  Offer a referral bonus to any employee who introduces you to a chef that you end up hiring.
Hint: Chefs, especially younger ones, are eager to acquire a wide range of restaurant experience to build their resume. And good chefs tend to be curious foodies, interested in learning about new cooking techniques, ingredients and trends around the world. This means you may be able to attract candidates from farther afield: other regions, states or even countries. 
Culinary careers are a profession above all. It's an immense amount of work, which requires true passion: the kind of passion any restaurant manager or owner is familiar with. Make sure you hire the best possible chef to lead your kitchen towards your shared goals. You'll notice the difference!