How to manage staff schedules
Published 06.07.2019 - Last update 06.07.2019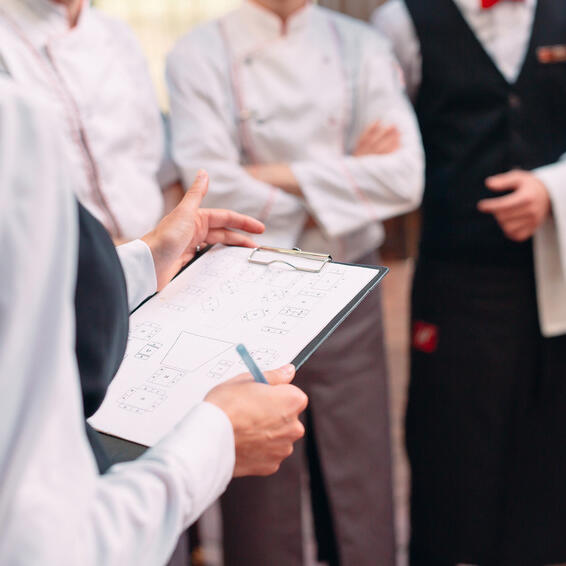 In this article, we'll address a complex topic, which is how to effectively and successfully manage staff shifts in a restaurant to keep everything running smoothly so that every member is happy and working productively. We believe that there is a lot more to this than creating a chart and scheduling shifts. It's important that there be a fool-proof plan behind it all, which can withstand last-minute changes and disruptions.
Does your restaurant have an effective shift cycle? Take note of these steps to get there!
Correctly define the demand for regular staff
A good strategy is to start by assessing each part of your business that will require staff. Management, kitchen, dining room, bar, cleaning, and of course, the staff you'll need for each area. This way, you'll be able to plan shifts based on the actual needs of your restaurant. It's also useful to have an estimate of the staff you'll need during specific periods of time, in order to keep everything as organized as possible.
Do you know how many staff members you need in the summer? What about for New Year's Eve, Valentine's Day, or in the middle of January? This information is crucial for your planning.
Keep a list of extra staff
The second thing you'll need is a list of people you can call to fill in for extremely busy times, for example, but also if your chef falls ill, if the head waitress needs a week off for a family emergency, or if the bartender is out for two days for a mixology course. Having extra staff on hand is as important as defining regular staff, in order to achieve a shift cycle with as few hiccups as possible.
What happens if the manager or owner is the one who's absent? Finding someone to fill in for them is all the more necessary! Having someone available ahead of time will always save you unnecessary stress.
Choose people with suitable availability.
Another simple aspect for successfully managing schedules is to hire people who are available when you need them and who can accommodate schedule changes if necessary. A highly-qualified team is of no use to you if problems always arise when it comes to covering each shift. It's also important for the people who come work for you to be fully aware of the nature of this business, and that they accept it from the start.
It should also be made very clear what kind of contracts and conditions they each accept, in order to legally comply with these agreements when it's time to assign shifts.
Create realistic shifts
Once you know what areas you need to cover and the staff you'll need for each one, you can start defining shifts. How many hours are necessary to get everything ready before the first customer arrives? And how long does it take to clean everything up once the last customer leaves? Schedule shifts that take into consideration every hour from the time the restaurant opens until it closes.
Secondly, define rest periods, which are as important as work hours, to ensure that all your staff, in accordance with their workload, has the necessary rest to do their best work.
Rotate staff using common sense
Ideally, you would rotate staff in a manner that's fair and equal for everyone, regardless of their rank or their position. This is key for everyone to work happily and respect their schedules.
To do this, maintain constant communication with the team and their personal needs. Know their limits, especially regarding time, and if they need to attend to personal matters or other needs. Some staff members may have 3 kids and still have more availability than someone without kids, but who has other scheduling limitations.
On the other hand, it's also better for shifts to be equal for everyone, and to avoid "privileges" for those who have been working at your restaurant longer, like assigning them more hours so they can earn more money or better shifts, as this may create conflict. Furthermore, it's best for all staff to be prepared to take on any level of work in the restaurant.
To top off all this planning, we'd like to introduce you to the perfect tool for your staff to get organised according to their shifts. It's TheFork Pro, whose many features includes the ability for each member of your staff to have a username and password.
If you haven't started using TheFork  yet, you can try it out for your restaurant by clicking here. You will see the difference!