Get your restaurant terrace ready and bookable
03.02.2021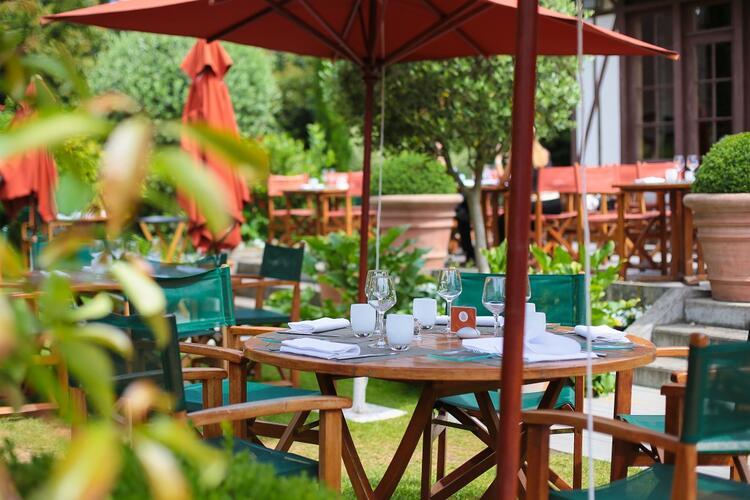 Sunny days are on their way, improving diners' mood and pushing them to look for the restaurants with terraces. Considering latest health & safety measures in force in restaurants to prevent Covid-19 from spreading, patios, indoor & outdoors terraces have never been so attractive for diners. Indeed, TheFork conducted a survey* among its users which showed that having the possibility to book terrace places outdoors directly onTheFork was actually the most important feature for them ( followed by the display of Covid Measures on the restaurant page and the possibility to have digital version of the menu).
So if your restaurant has a terrace, now is the time to advertise it and get it ready to be booked!
Did you know that 5,000** of TheFork Restaurants have already added the Terrace TAG on their restaurant page ? Contact your account manager to join them and boost your restaurant  visibility to attract more diners longing to enjoy outdoor dining! 
Make the most of your outdoor tables
Spring is coming, in addition to your seasonal menus and special offers, there is another key element you should think about optimizing : ​​your outdoor tables, patio or restaurant terrace. We gathered below some tips to help you transform your outdoors spaces into the inviting shelter TheFork users are looking for.
All green: After months of lockdown, people definitely want to escape from their daily routine and enjoy some fresh air. One decoration highly valued by customers are plants and vegetation. All the more practical in Covid-19 context, you can use them as a separation between tables, as refreshing decoration or to create a wonderful atmosphere at the entrance of your restaurant, it will catch the eye of a lot of customers. 
Good lighting: If you want to make the most of your business activity based on your opening hours, do not neglect lighting options. Good lighting options on your restaurant terrace will ensure the quality of your evening service and delight your customers until closing time. However, pay attention and don't go overboard with the power. The light is intended to create a warm and welcoming feeling, and not the other way around.
Heating: Think about investing in heaters, to make your terraces also available for later shifts or early in spring, when temperatures aren't always hot enough to make your guests feel comfortable.  Another idea is also to buy plenty of fresh blankets at the disposal of your guests, knowing that due to Covid Context, we would advice you to buy them in bulk because they will be for single usage since you will need to wash them and replace them after each customers' departure.
Colors: One of the best ways to attract customers to sit in your restaurant is undoubtedly color. You should use warm, bold, or creative colors to attract potential customers. The colors of your deck or terrace will be the most visible way to stand out from your competition and attract people. Also try combining the colors with the branding of your restaurant to strengthen your restaurant identity.
Waterproof and sustainable materials: As noted above, people now truly value the connexion between sustainability and restaurants they eat at, hence using sustainable materials to decorate your terrace could boost your restaurant popularity. If you also use a waterproof material, you will reduce expenses and be prepared for any kind of unexpected weather. Drizzle won't stop you!
After the last challenging year, people want to relax and the outdoor space plays a key role especially when it comes to booking a restaurant. To offer the best experience to your clients, there are a couple of things you can do thanks to TheFork Manager:
Boost your reopening with our PRO version now
software is free until May 31st 2021
Make the most of your restaurant space
Now that you've made sure your restaurant terrace is attractive, you need to take advantage of your space and optimize it, especially during these difficult times. And good news is that we provide you the best tools for that;  thanks to TheFork Manager, our restaurant management software you can tackle:
Space optimization: Thanks to our digital floor plan feature, you can preview the available space in your restaurant and then draw the limits to achieve a fixed space. Thanks to this, you can then try to find the best table arrangement without having to physically move a single table.
Respect of the safety measures: The digital floor plan will be of great help to comply with the rules of interpersonal distance, since you can find the best combination between security and space optimization in just a few clicks. You can also lock tables and define the distance between them directly on TheFork Manager.
Seating preferences: As the possibility of booking outdoor tables is now a high preoccupation for diners, this new feature available on TheFork manager, will enable guests to choose where they would like to be seated in the restaurant. The feature will automatically assign those reservations in the right areas (Inside, Terrasse, etc.)  and on the right tables (Standard, Tall, Low etc.) on the restaurant floor plan, an essential feature to manage social distance and satisfy your customers.
Time management: You can decide how many guests to receive per time slot and also limit them based on their booking origin (offline, online). If you still have requests that you did not expect, don't worry: thanks to the waiting list feature the problem is solved, since you can add the unexpected reservation to the queue so that, when a table becomes available, you can easily notify them to the client.
Terrace restaurant menu: Whether your restaurant is open indoor or just outdoor, think about creating a dedicated terrace menu to display on your restaurant page on TheFork to stand out from competitors.
Want to learn more about how to upload your PDF menu on TheFork Manager ?
Rather forecasting a reopening in Summer ? Get some good seasonal menu tips here to get your restaurant ready for summer.
Sources
*TheFork survey sent in June 2020 to 60 948 users in all the 22 countries where TheFork operates
**TheFork internal snowflake data based on global data as of 25/02/2020