Spring: The perfect time to set up a pop-up restaurant
04.19.2019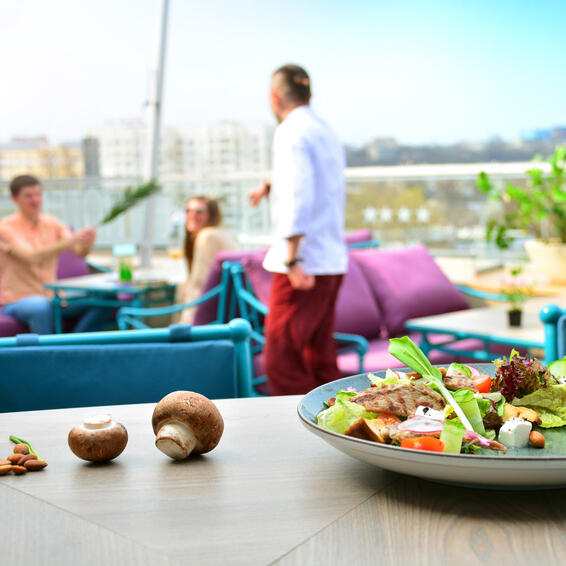 The annual gastronomic calendar has a lot of important dates, and spring is undoubtedly one of them. It's the perfect time for many restaurants to take their delights out of the oven andattract customers who have a desire for a good time and renewed appetites.
There is clearly a type of gastronomic business with a winning formula this season. We're talking about the pop-up format, where the restaurants offer their proposals temporarily in mobile places. An old factory, a five-star hotel, a public market, a bus, and a country house in the middle of a field are all spaces used by restaurant owners to set up a temporary restaurant during busy season.
Why set up a pop-up restaurant in spring?

Pop-up restaurants are a trend that have been around a while, but they are gaining popularity year after year because customers are becoming more familiar with them and prefer them as an alternative to traditional restaurants.

The season change is obviously the perfect time to set them up because, after winter, customers really want to go outside, to participate in recreational activities and live new culinary experiences.

In the spring, culinary tourism also increases, and that means tables at pop-up restaurants are more occupied, which attracts tourists.

In addition, the pop-up format is an opportunity for restaurant owners and chefs to be free to create bold, innovative dishes and make the most of them during the busy season.

Another interesting reason is that during this season, we have a wide variety of delicious ingredients that help diversify offerings and give us a flavorful, profitable menu.
And we could keep on citing reasons why it's strategic to set up a pop-up restaurant in spring. If you're up for doing it or if you have a pop-up gastronomic project, you can keep these ideas in mind to be the talk of the town this spring:
360º pop-up restaurant experience
A group of restaurant owners from different parts of the restaurant industry such as pastry makers, wine experts, mixologists, and specialized chefs could come together to create a unique culinary project during one of the best times of the year, with two principal values for customers.

The first value is that this would be
a complete experience
. It could take place in a reserved space, such as a hotel with an exceptional atmosphere, where signature dishes and desserts are part of a menu that also includes a special selection of wines and
cocktails prepared by a professional
trained in the art. In addition, you could add a well-known DJ to the project and, thus, offer an unforgettable experience.
And the second value? It would only last for 4 weeks, for example, so customers would flock to make reservations to not miss it.
It's certainly an ambitious idea, but if you have the desire, the resources and the contacts, it could be the hit of the season..
Pop-up haute cuisine and music
Spring is the time for music festivals. These events are ideal for setting up a pop-up restaurant for however long they last because the thousands of people in attendance get to know your brand.
What's interesting is that this business format usually stands out in a positive way at festivals, since they represent an opportunity to enjoy high-quality food in a more natural, dynamic atmosphere that is more casual than a traditional restaurant.
At musical festivals nowadays, it's very common to find a pop-up restaurant sirving sandwiches or hamburgers prepared by a 3-star Michelin chef, for example, or pop-up restaurants serving dishes to share made with exotic ingredients like insects and spices. Proof that combining music and haute cuisine for a short time period works wonderfully.
Cultural pop-up restaurant
One of the most interesting characteristics about the pop-up format is the mobility, which means you can take different cuisines all over the world. In this way, not only do we introduce our offerings in other locations, we also give customers the opportunity to taste typical dishes from other cultures..
Such as going to Japan and finding a pop-up restaurant serving specialties from Asturias, Spain, or being in New York and eating delicious typical dishes from Tuscany, traveling to Amsterdam and enjoying Italiain panzerotti, or to Barcelona to try French fondue while you're there for just a few days.
Is your mouth watering after all that? Of course it is! You'll also be more motivated to give this trendsetting
restaurant formata go This spring, we hope more and more customers are delighted by your pop-up restaurant, and we hope it's a resounding success.