Strategies to increase your restaurant revenue: attract families
Published 11.30.2015 - Last update 02.12.2020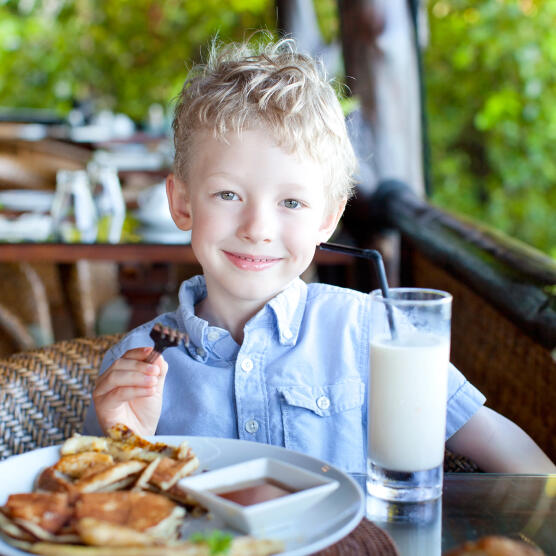 First and foremost, families and restaurants aren't necessarily concepts that always work well together. For some parents, the idea of going out to eat with their children is a truly unpleasant one that often turns into a nightmare.  They worry about seeing the servers being sent flying by a little one underneath their feet or hearing the couple at the next table complain about the noise.
While it may be an idea to ask families to control their children during family visits, restaurants can also help make the experience a happy one for everyone, a strategy that will also increase revenue.
Follow the tips below to prepare your food, restaurant, and staff so that you can provide these special and highly profitable customers with the best service possible.
#1- The menu
You don't have to just offer burgers or pizza You can offer children's menus that are healthy, balanced, with a variety of ingredients, which are presented in an original way. Make use of a nutritionist, for example. You can also offer smaller sized portions of your standard menu items for more choice or even offer a selection of purees for babies, all at a reasonable price.  You'll notice that you soon earn points with parents. To win over the little ones' palettes and ensure they ask Mom and Dad to come back to your restaurant, make sure you offer a range of delicious desserts created especially for them.
#2- Furnishings
High chairs for babies, covers for children, paper bibs, plastic cups and plates are all the essentials you need to welcome your young diners.  If your restaurant also offers buffet-style dining, you can create a space for children where the food is presented at their height so they can serve themselves. This will mean you can show that you're a kid friendly restaurant and are ready to welcome them.
#3- Welcoming your customers
This is a crucial point. In truth, families will come back to you if they feel that they've received great service, despite any unfortunate incidents with their children's behavior. From a strategic perspective, it's important that you ask your team to provide them with a warm welcome and service that is adapted to their needs. The little details will also make all the difference in making your clients feel at ease: allowing them to reheat a bottle, bring any specially home-cooked food, allowing mothers to breastfeed, and letting parents ask for changes to the menu, etc.
#4- The service
Your team must be aware that they be expecting families, who will bring additional demands during service. It's therefore essential that you prepare your staff for any incidents that they may have to deal with. Cleaning up vomit, food that's been thrown on the floor, or even little accidents. Being in a public place certainly won't stop any little ones from expressing their needs.
This quality of service, provided naturally and efficiently, will provide parents with ease of mind, which you will be recognized for.  A great plus for you and your business.
#5- Cleaning the area and equipment
An ideal scenario would be to have a kid's corner. A range of toys, play area, or play park with as many different items as possible. This will create astrong argument for families to come and eat in your restaurant.
If this isn't possible, you can also provide other materials for children, such as crayons or coloring pens, educational books, toys, etc.
#6-  Kids' events
Creating a calendar of events specifically for kids is also a great strategy that has a number of benefits. In other words, your restaurant shouldn't just be ready to welcome families, but should also schedule events that will win over children and adults alike. Weekends are an ideal time to offer this type of entertainment aimed at young diners. Magicians, face painting, games lead by kid's entertainers, balloon animals... whatever you choose, creativity will be your ally! Of course, you can promote your schedule on your website, social media, and in your email marketing campaign.
The keys to success:
Take a look at these two examples for a touch of inspiration.
- The Grup Xátiva, named as the best kid friendly restaurant in Barcelona.  You'll understand why after watching this video!
- Restaurant Inamo St James in London, has fitted touch-screen tablets into the tables to keep all customers happy, whatever their age.
Maya, a little girl who keeps a blog tells us what she thinks of the restaurant in this video.
To conclude, remember that the most important thing is the attitude that your restaurant projects with families. The strategy that will allow you to improve your revenue significantly will be being prepared to receive this type of customer and everything else that this entails. And above all, make sure there's a great atmosphere too. This will mean parents and children will feel at home and will want to come back.