Summer trends 2019: dishes to attract customers
Published 06.11.2019 - Last update 06.12.2019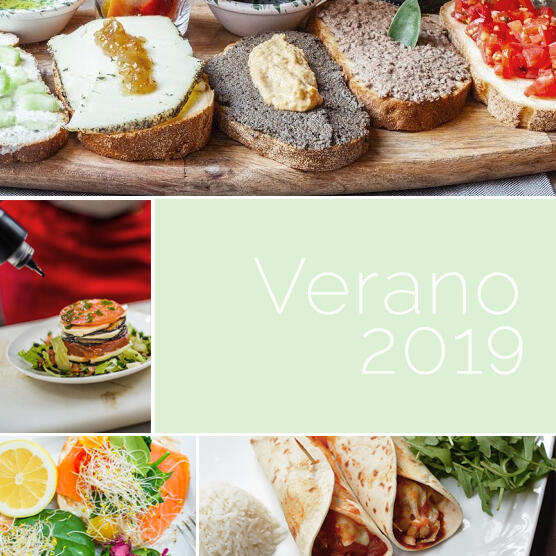 Are you on top of this summer's food trends? One of the toughest seasons in the restaurant industry is coming and in 2019, we want your restaurant to be full of happy customers. So we have compiled the most trendy dishes to attract more customers this season.
But first of all, we would like to remind you to publish your full menu for this summer on your restaurant's profile on TheFork since it will be beneficial for your business to be among the restaurant choices for the more than 21 million users that visit our platform every month. Click here to sign up if you still have not done so.
Now it's time for the dishes that will enchant your customers this summer. Pay attention, kitchen staff!
Original and colorful salads
This summer, we found a fantastic variety of salads whose fundamental concept is to focus on the greatest level of freshness possible and to mix ingredients, textures, colors and flavors that produce different sensations. For instance:
Bowls, which continue to be sensational. A dish with green leaves, kale, quinoa, apples, avocado, seeds and grains can be very appetizing and in demand. Other ingredients that go very well on bowls are fruits such as oranges, pomegranates, grapes, which provide that sweet and humid touch to the salad, and dry fruits such as nuts, pistachios or almonds, along with pumpkin seeds for that crunchy touch.
Seaweed salads. Edible seaweed are the perfect ingredients for summer salads because, in addition to providing flavor and freshness, they are also superfoods that provide nutrients and help digestion. Furthermore, they are becoming increasingly common and very accepted among customers. For instance, combining seaweed such as wakame or kombu with sesame, soy sauce, rice, pine nuts and cucumber can be a great success among your salads that are tailored to current trends for cooling down in the heat.
Salads with fish and shellfish. Seafood is once again front and center this season, not only as a main dish, which we will talk about later on, but also as part of other lighter dishes. For instance, think of a cold, short-cut pasta salad with prawns, or a salad with burrata, dry tomatoes, arugula and anchovies, or a salad with fresh cheese, salmon, romaine lettuce and black olives. How many customers would be delighted this summer if they found these on your menu? A lot!
Dishes with bread
Bread is another trendy ingredient this season, in different formats and combined with various ingredients. For starters, toast is a hit since it is a very practical and profitable product for restaurants, and it is very attractive and easy to consume for customers. Add toast with avocado, seeds, shellfish, cherry tomatoes, eggs, cheeses to your menu this summer and you will definitely delight customers who want to eat a light but likewise filling dish this summer.
Other ways to consume bread, this time the pita kind, are vegetarian kebabs that are, e.g., prepared with green leaves, bean sprouts, onions, tofu, yogurt salsa, and peppermint. It is also a good idea to include versions of the classic French croque-monsieur an oven-baked, sliced bread sandwich with different types of cheese, ham and bechamel sauce. It is a delight for the palate and an interesting option for the summer, which can be enjoyed as an entree and as a main course for brunch, for instance.
Vegan and vegetable hamburgers
The health trend is customary in the restaurant industry and this summer is no exception, which is why you will find an increasing number of customers who want to eat a good hamburger as a filling dish but with healthy ingredients. The Vegan or vegetarian hamburgers are the best option to satisfy this need. You can prepare them with low-gluten bread, delicious veggie meat, roasted tomato, caramelized onions, a variety of cheeses, vegetables, green leaves, etc. They are an excellent option to fuel up amidst all that summer activity but without compromising your health and figure, which is something that is increasingly important for diners during the swimsuit season.
Seafood
As we previously explained, seafood is once again trending this year. This is no random occurrence; rather, due to the awareness that customers currently have regarding the consumption and production of red meat, there is a prevailing trend towards preferring fish and shellfish for dietary proteins. As such, you will see the difference if you add more fish dishes. We encourage you to have codfish dishes with different sauces and sides, such as tuna or salmon skewers and especially two dishes that are currently favorites: carpaccios and ceviche. Any version that you make of them with fish and raw shellfish will become best-sellers on the menu.
Surprising ice cream
Ice cream continues to be the top dessert trend for the summer, although customers in 2019 want to experiment beyond vanilla and chocolate.
We are increasingly finding Instagram posts about activated charcoal ice cream, for instance, an ingredient that provides a very striking black color and notably helps digestion as well in spite of not delivering much flavor.
Another surprising version are vegetable ice creams that combine sweet ingredients such as chocolate, orange, or coconut with spinach, avocado or carrot. They can be a very interesting dessert for your customers this summer both in terms of color and flavor.
Do you want to fill your tables this season? In addition to preparing your terrace well and scheduling events with concerts, for instance, make sure that your dishes meet the latest food trends. Happy summer!