Activate TheFork PAY and receive more bookings thanks to Gift Card
11.30.2020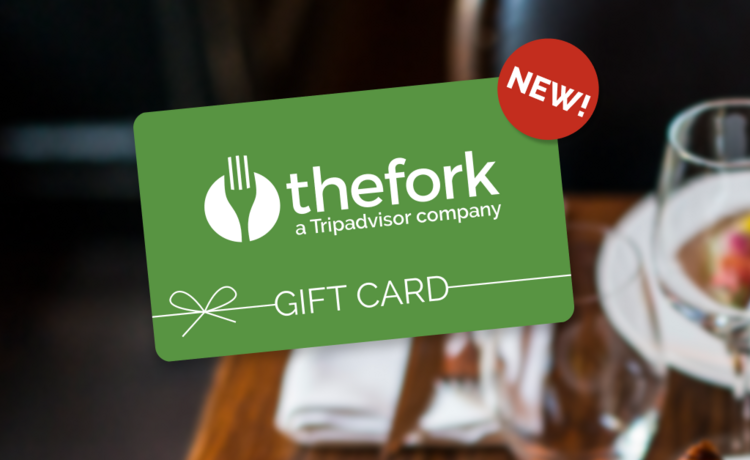 Accelerate your restaurant digitalization thanks to TheFork PAY and TheFork Gift Card
TheFork is launching its TheFork Gift Card in Italy, the first Gift Card that allows dinners to enjoy a restaurant experience in more than 6,000 partner restaurants accepting the Gift Card across all the country! 
In the COVID context, this brand new product will support the Italian restaurant industry by encouraging people to dine out as soon as the lockdown ends and help restaurant owners to benefit from TheFork Gift Card revenue once they reopen.
With 46%* of Italian interviewees considering gift cards as their favorite Christmas present, TheFork Gift Card is a true business opportunity for your restaurant in these difficult times, you will be able to benefit from the Gift Card offering when you reopen and offset the loss of income due to temporary or partial closure of their establishment. 
* Source Favorite Christmas presents among Italians in 2019 - Published by Statista Research Department, Dec 10, 2019
I-  Why activating TheFork PAY is key for your Restaurant
TheFork PAY is an innovative, easy and fast service with which TheFork users can pay the bill directly from the TheFork app and restaurants see payment directly on their dashboard on TheFork Manager. In Italy, already 6000 restaurants have activated this feature, why not yours? Since the launch, more than 10K transactions have been processed**
*as of 11/2020 ( tableau report)
Cherry on the cake 
Once you activate TheFork PAY, our innovative payment solution, your customers will be able to book a table and pay the bill directly on TheFork App thanks to their Gift Card, a new business opportunity for you!
Learn more about how this feature works for restaurants here >>  
Discover advantages  of TheFork PAY for restaurant owners here >>
Still having some questions? Explore TheFork PAY FAQ here >>
II- What are TheFork Gift Card Benefits for your restaurant
First what is TheFork Gift Card?
TheFork Gift Card is a digital & gourmet Gift Card that can be spent on a wide selection of partner restaurants of TheFork to enjoy and share regional gastronomy, cuisines from the world, high-end experiences and much more! After a year full of Humps and bumps, people are looking forward to coming back to the restaurant, with TheFork Gift Card they will get even more spending power and they will look for a new restaurant to try out!
An Opportunity To Tap Into A Wider Potential Of Clients
In addition, we expect that companies will buy TheFork Gift Cards to reward their employees and gift card can also be considered as a great christmas present. In that sense, if you restaurant already activated TheFork Pay, you increase your chances of getting more bookings from people receiving a Gift Card. Do not miss this business opportunity!
No Additional Fee To Accept Gift Card If you activate TheFork PAY
Join the 6 000 partner restaurants which already activated TheFork PAY in Italy, your restaurant will be eligible for Gift Card too/automatically; no additional fee to pay. If you offer this service, your clients can enjoy their meal…and maybe order an extra bottle of that great wine or olive oil they just tasted to takeaway.
A Way To Accelerate Your Restaurant Digitalisation Thanks To E-payment
Your customers will book their table and directly pay the bill on TheFork App.
Conclusion: Now is the perfect time to accelerate your restaurant digitalization and seize new business opportunities. By activating TheFork PAY, you will offer innovative digital payment to your customers and make your restaurant eligible for a Gift Card. The Gift Card increases the spending power of your customers and will incentivize them to come back to the restaurants when they reopen.