Send newsletters to attract and retain customers at your restaurant
Published 03.24.2020 - Last update 04.07.2020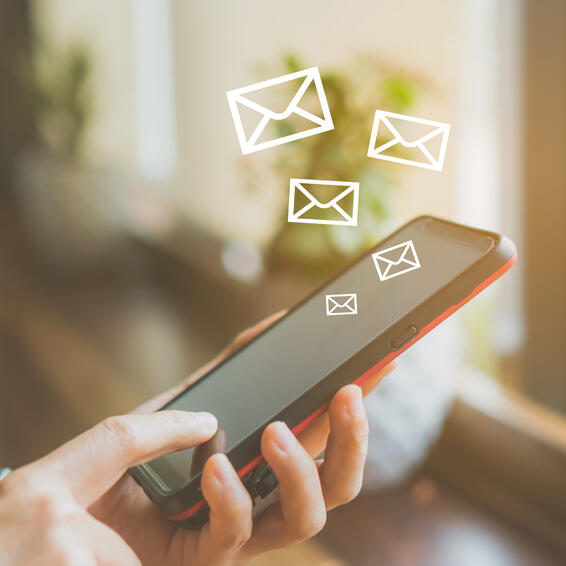 There is a marketing tool that allows you to consistently attract and retain customers. You most likely use it already, because it has been common in our industry for a few years..
It is a newsletter, or e-mails that you send to your customers at certain intervals to send different messages from the restaurant and to achieve marketing objectives. It is a great format that allows you to get your customers used to consistently hearing from the restaurant.
The fact is that to truly stand out and obtain results, it is ideal to have a strategy behind each message, along with a methodology that you can accomplish over time.
Take note of the following tips so that each of your restaurant's newsletters has a "high conversion rate", i.e. brings in many reservations.
Have a database
The first thing you need to begin sending newsletters is a database that includes your customers' e-mail addresses. You can build it by requesting this information when creating reservations, via social media, and by directly requesting it when diners eat at your establishment.
At TheFork, we offer you the option to register all of your customers' information- name, gender, telephone number, e-mail, birthday, and other preferences - so that you can use them in your marketing campaigns through a digital database. By doing so, every time a user wishes to make a reservation from our platform, information fields that are stored in this database are filled.
It is also possible to record information from phone reservations and walk-in customers directly into the system. In addition, other customer data such as frequency of visits, recurring schedules, no-shows, etc., are very valuable when it comes to focusing the messages that you send.
Click here if you still do not have a digital database.
Define the objectives of your messages
Which objective do you wish to accomplish with each newsletter you send? It is a question that you must ask yourself each time you send one. Generally, there can be two main objectives in our industry:
Attract direct reservations. In this case, you would use the newsletter to offer irresistible promotions and discounts (2-for-1 desserts, specific dishes for a limited time, free drinks during special times, etc.), and by doing so have direct reservations.
Retain customers and keep them connected to the restaurant. In this case, you can send information about restaurant news and events (special brunches, events with live music, festivities, changes in business hours, new locations, etc.) along with birthday greetings so that your brand is consistently on users' minds and you can achieve identification and subsequently strong loyalty.
Segment the database based on objectives
The following step would be to classify your customer database by groups so that your communications are truly effective. By doing so, you can create basic segmentations like, for instance:
New customers
Customers that have visited more than two times
Regular customers
Families
Groups of friends
Executives and companies
Couples
Single diners
By doing so, you can direct your content to customers that may be interested in it. For example, if your objective is to increase sales of a weekly menu card with discounts, you would send the message to new and/or occasional customers and not to regular customers who already have this card. Likewise, if your objective is to attract reservations on Valentine's Day, you can create a message that is mainly addressed to couples.
Be mindful of all the details
In order to design the newsletter, you can choose templates and designs that are tailored to your restaurant's image and use the same language in all your communications to achieve consistency.
It is also important to be mindful of all these details:
Put eye-catching subjects that easily explain the objective of the message and encourage the user to open the e-mail.
In the message body, always place "calls to action" or phrases with links that invite users to click and perform a particular action according to your objectives.
Place links to the correct landing pages where customers would intuitively know what to do.
Place icons with links in social media, the web, contact information and reservations sites such as TheFork, at the end of the message.
Once you have configured your template, segmented your database and created campaigns with the objectives you wish to accomplish, then you can create a calendar for regularly sending the newsletter to your customers.
Once it has been put into action, you can analyze the results of these messages to see if they are truly working. The least you could do is verify if the customers are doing what you want in the e-mails and if you have increased reservations during an analysis period while you send the newsletter.
Do you think it is complicated to run a newsletter by yourself? 
Click here to join our community and start to send newsletters to attract and retain customers.
Is your restaurant already on TheFork? Contact our advisers so you can learn about all the details for sending newsletters from our platform. It's worth it!