Discover TheFork 2021 food trends study
01.25.2021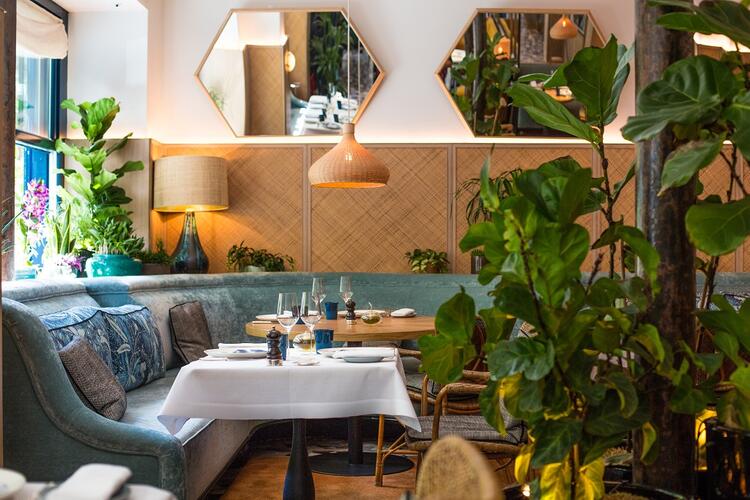 Discover how COVID 19 has shaped restaurants and diners perception of the industry
2020 was a complex year for the restaurant industry, TheFork, Europe's leading restaurant booking platform, tried to understand with the support of its community of users and restaurants how consumption outside the home has changed and what the restaurant trends are in 2021.
Times certainly have changed when we are thinking about what eating means. More than 89% of Brits think that Covid has impacted the way they consume food. How chefs have adapted their cuisine and their menu, the importance of digitalisation in a context where human contact is limited, the new habits of consumers who remain resilient and the growing awareness of eco-responsibility topics are among the subjects that TheFork has identified as strong trends for the year 2021 thanks to a large study of over 1000 diners and restaurants across the UK. 
Home-made or restaurant, where will Brits eat in 2021?
The Covid pandemic and the need to stay home have increased the amount of time spent cooking. The home-made trend is set to last in 2021, as 65% of respondents believe they will keep this habit.
However, dining out at restaurants remains irreplaceable and is a way to connect and share real-life experiences. Among the activities that they missed the most during lockdown is, going to a restaurant for 89.7% of Brits, even ahead of being able to meet friends and family (85%). During the summer after the first lockdown, the global level of bookings was almost similar to that of the previous year, and even experienced growth in Switzerland, Italy, Portugal, Sweden, and Belgium YoY. The same goes for lunch breaks, with 54% of people surveyed having worked from home in 2020, and as a result, many prepared their own lunch. Only 12% of homeworkers say they want to continue doing so, while 19% are eager to return to restaurants on their lunch break. 
Going back to restaurants will be slightly different in 2021 with a more careful consumer:  47% of respondents will take note of the restaurant security measures before booking, 40% will favour outdoor terraces and 52% will book more often online. Regarding the budget, the impact is limited, as only 17% will pay more attention to their restaurant expenses.
Delivery, a temporary solution
51% of Brits say they have ordered delivery or takeaway more often since the start of the Covid crisis.
Fortunately for consumers, the number of establishments offering one of these services during the COVID crisis has increased more than 40%. This trend has intensified during the pandemic, despite 59% offering takeaway or delivery before. However, solutions that allowed them to compensate for the temporary or partial closure of their establishments, are not the most sustainable, as restaurants struggle to achieve economic balance. Among restaurants that offer takeaway and delivery, few of them (31%) believe that it has allowed them to generate profits. On the other-hand nearly 40% believe that it has allowed them to stay in touch with their customers without necessarily losing or earning revenue.
Growing digitalisation  of the restaurant industry
COVID-19 has highlighted the importance of global digitalisation where physical relationships must be limited. The digital revolution was already on its way in the restaurant sector but mainly on the user side due to shifting consumer preferences and the increasing adoption of new technologies. From seeking information to booking a restaurant, up to sharing experiences on social media and leaving reviews, the restaurant industry is being digitised at each step of the value chain: 88% of consumers consult an online review before choosing a restaurant *.
Since the start of the Covid crisis, 79% of respondents use digital technology more often in their daily life with chatting online with friends and family (20%) topping the list, followed closely by food & grocery delivery (19.7%) and online shopping (17%). 
65% of restaurants also believe that digital tools have helped them during the crisis and 87% will continue to use them even after the crisis. Online booking (61%), online menu (61%), and digital contact-tracing record (55%) are the most popular tools that allow restaurants to streamline organisation and processes, to more easily manage distancing issues, to inform consumers and reassure them about compliance with protocols, and to keep in touch. More than ever, users needed transparency during this crisis and restaurateurs have moved from the dining room to social networks to contact them.  Nearly three-quarters ( 74%) of restaurants say they use social and digital channels more often than before.
The emergence of a new type of cuisine
This crisis showed the agility and creativity of the restaurant industry that developed new offers allowing them to benefit from other sources of income, such as make-at-home kits (12%) to reproduce recipes or selling grocery products (9%). Restaurants also had to adapt their menus to this new situation, whether by offering dedicated menus for delivery or all-day menus to fit new schedule constraints. We also saw the emergence of great chefs pivoting their signature plates towards less elaborate and more financially accessible dishes.
In addition, we also note the emerging trends such as the rise of chickpeas, alternatives to carbohydrates or even non-alcoholic cocktails such as Seltzer or the rise of Kombucha *


Sustainability takes a more important place on our plates
This crisis has helped to highlight the importance of sustainability issues. The forced slowdown in human activities allowed improved air quality in many cities with a reduction in water pollution in different parts of the world, and meat consumption fell for the second year in a row. Food is a strong lever to act for the planet since 26% * greenhouse gases are due to our food. 51% of respondents pay more attention to their food sourcing and quality (sustainable, organic food) and 22% have changed their food provider during the lockdown for more sustainable ones.
This awareness is also affecting the restaurant industry. 56% of restaurants pay more attention to food waste and 66% offer a reduced menu. They are 39% more attentive to the origin of their products and 13% have already taken the plunge by changing suppliers for more eco-responsible options.